Active filters:
Clear all filters

Wild Casino
Bonus Offer:
$5,000 Welcome Bonus
More Info
Available Games
Slots
Blackjack
Roulette
Live Dealer
Baccarat
Features
Great selection of slots
High-quality live dealer games
Excellent welcome bonus
Crypto-friendly

Ignition Casino
Bonus Offer:
$3,000 Welcome Bonus
More Info
Available Games
Slots
Blackjack
Roulette
Live Dealer
Baccarat
Features
300+ games
Crypto-friendly casino
Live dealer jackpot
Bonus galore for different verticals

Cafe Casino
Bonus Offer:
350% up to $2500
More Info
Available Games
Slots
Blackjack
Roulette
Live Dealer
Baccarat
Features
Accepts cryptocurrencies
Generous welcome bonus
Loyalty program
Kahnawake Licence
40

casinos found based on your search.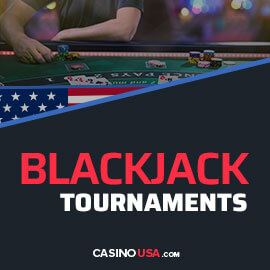 You'll have a chance to play against players on the same level, letting you improve your knowledge and try out new strategies.
The following article will introduce you to the concept of blackjack tournaments, explain the format, and provide useful tips on how to boost your winning odds.
What Are Blackjack Tournaments
In case you haven't noticed, online casinos organize various tournaments — for slots, game shows, and classics like blackjack and poker. Unlike famous poker tournaments, blackjack competitions have different rules.
If you understand blackjack, you can participate in such a tournament. The main difference is that you'd play against another player, not the casino or house. Although each player looks to beat the dealer, you'll be competing for the largest amount of chips in your possession.
Typically, a blackjack tournament has several short rounds with tables of six players that go up against the dealer and each other. However, not all tournament formats are the same. The most common are elimination competitions, where only the winner (and sometimes the runner-up) of each round progress to the next level.
The tournament prize pool almost entirely depends on entry fees paid by the participants. Some online casinos even guarantee prize money, despite not having a complete player roster.
Below, we'll discuss the most popular competition formats and provide valuable tips for participating and winning in blackjack tournaments.
How to Play and Win in Blackjack Tournaments
Unless you're a pro and have advanced strategies up your sleeve, you'll need help navigating the tournament and staying on top of the game. Here are some valuable tips to help you increase the odds of winning in a blackjack competition:
Choose a Tournament Format You're Comfortable With — There's no point in playing an unknown blackjack variant or competition format. Doing that will significantly decrease your chances of boosting your bankroll.

Read the Rules — Don't skim the rulebook. Read every detail and fine print to ensure you don't miss anything. Your skills and strategies won't be helpful if you don't know how the competition works.

Learn Every Nook and Cranny of the Basic Blackjack Strategy — Learn the basic strategy before building your own. Afterward, you will know when to deviate from it and make the necessary changes to secure a win.

Keep an Eye on Other Players and Their Chip Count — You should know your opponent's chip count at any given moment.

Be Aware of Betting Positions — Being the last to act in a round is beneficial. However, betting first on an elimination hand puts you at a distinct disadvantage.

Know How Much To Wager — Carefully analyzing a situation helps you identify when to bet big, small, or correlate, i.e., wager the same amount as other participants.
Tournament Formats
As mentioned, online and land-based casinos have come up with various blackjack tournament formats, each with a specific layout and rules.
The list below covers the most common ones you're likely to come across:
Daily/Weekly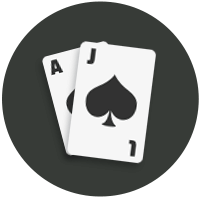 Daily and weekly tournaments usually have lower entrance fees and a laid-back atmosphere.
Casinos often use these competitions to entice new players to join. Sometimes, they are referred to as "mini" tournaments because of their inexpensive fees and lower rewards.
Elimination Format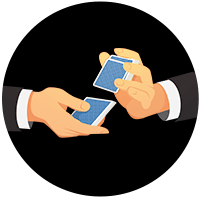 This is the most widespread format you'll encounter. These competitions have a predetermined number of rounds, usually no more than five.
Each game typically lasts up to 30 hands, and after the rounds, players with the least amount of chips get eliminated, and the most successful ones move further in the competition.
Non-Elimination Format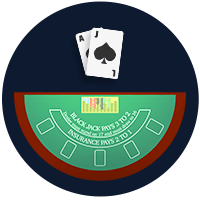 Instead of eliminating players, this type chooses the winner based on the number of chips. Therefore, participants play against each other, and the one highest on the leaderboard wins the round.
Sit 'n' Go Tournaments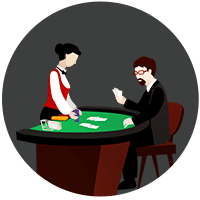 If you've heard of poker Sit 'n' Goes, you'll understand how these blackjack competitions work.
Essentially, this type includes six players that have signed up beforehand. After the required number of participants gathers, the tournament can begin. It usually occurs within a specific timeframe and doesn't let players join after the rounds have started.
Major Tournaments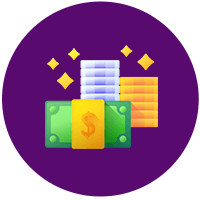 Unlike daily/mini tournaments, these have higher entrance fees and offer large prizes to the most successful participants.
Major competitions typically last several days and are held every month.
You'll need extensive knowledge and experience with blackjack and advanced strategies to participate in these competitions.
Live-Money Tournaments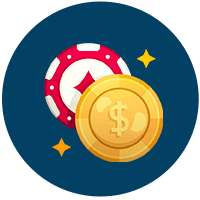 Like in poker, the chips you play with in contests have no intrinsic monetary value. However, live-money competition chips have value, and you can exchange them for cash once the tournament ends.
Pros and Cons of Blackjack Tournaments
Playing in blackjack tournaments has its bright and not-so-bright sides. You can learn more about the competition's pros and cons in the list below:
Different game variants — You can find a tournament for nearly all blackjack variants. That way, you can play a game you're comfortable with and increase your chances of winning.
Prize money — Even if you enter a low-stakes game, you can win neat prizes. Of course, the exact amount depends on several factors — the tournament type, the number of participants, and your experience.
Thrilling experience — Playing against other participants or your friends in a professional environment makes the experience more memorable and enjoyable.
Safety — Since rigging a blackjack tournament makes little sense and doesn't benefit anyone, you can relax and have a safe and fair adventure.
Entry fees — You cannot participate in a tournament without paying the entrance fee. Some competitions don't require breaking the bank to join in on the action. However, certain formats carry higher costs, most suitable for pros and high rollers.
Time component — You'll have to set aside time to participate in a tournament, even if you're playing online.
Strategies — Each tournament requires an advanced approach not used in classic blackjack games.
Conclusion
If reading this article enticed you to try your hand in blackjack tournaments, you know what to do. We've covered the basics and introduced you to the concept of these popular competitions.
All you have to do is learn the rules, build a unique strategy, and hit the nearest online or land-based casino. Good luck!
Want to try your hand at a blackjack tournament from the comfort of your home? Check out our list of the online blackjack tournament casinos here.
FAQ
How do blackjack tournaments work?
Blackjack tournaments are competitions between players to see who can win the most money in a set period. The tournament may be held in a single day or over several days, and the players may compete against each other or the house.
What is the difference between a blackjack tournament and a regular blackjack game?
A blackjack tournament is a competition in which players compete against each other to win the most money. In a regular blackjack game, players compete against the house to win money in a standard blackjack game.
How can I win a blackjack tournament?
There is no surefire answer, but some basic tips include studying the tournament rules, practicing blackjack strategy, and maintaining a cool head throughout the competition.
How many players typically participate in blackjack tournaments?
Blackjack tournaments typically host between 50 and 100 players.
What is the format of blackjack tournaments?
In blackjack tournaments, players join a "round robin" format, with each participant playing a set number of hands against each other at the table. The player with the most chips at the end of the tournament is the winner.
About the Author