Active filters:
Clear all filters

Wild Casino
Bonus Offer:
$5,000 Welcome Bonus
More Info
Available Games
Slots
Blackjack
Roulette
Live Dealer
Baccarat
Features
Great selection of slots
High-quality live dealer games
Excellent welcome bonus
Crypto-friendly

Ignition Casino
Bonus Offer:
$3,000 Welcome Bonus
More Info
Available Games
Slots
Blackjack
Roulette
Live Dealer
Baccarat
Features
300+ games
Crypto-friendly casino
Live dealer jackpot
Bonus galore for different verticals

Cafe Casino
Bonus Offer:
350% up to $2500
More Info
Available Games
Slots
Blackjack
Roulette
Live Dealer
Baccarat
Features
Accepts cryptocurrencies
Generous welcome bonus
Loyalty program
Kahnawake Licence
39

casinos found based on your search.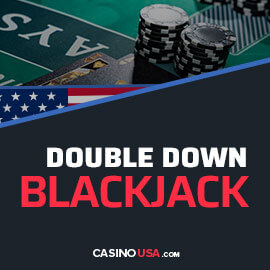 It's easy to assume that doubling down is only for avid risk-takers hungry for higher payouts. However, doubling down in blackjack is not some sort of foolish high-risk, high-reward type of move and can instead bring you a much better return if you're using it correctly.
Below, you'll find a breakdown of the doubling-down rule, explanations on when and when not to use it, and a neat doubling down chart that can help you the next time you're playing blackjack.
The Doubling Down Rule in Blackjack
Doubling down is one of several choices a player has after receiving their two initial cards in the game of blackjack. To double down basically means to double your initial bet.
The flip side is that, from that point on, you don't get to decide whether to hit or stand. Instead, you receive one card only to make your total.
When Should You Double Down
Naturally, you should only double down when you know you have a good chance of beating the dealer. But how do you know that?
There are a few simple scenarios where doubling down makes the most sense. Since 10-value cards are the most common in blackjack (10s, jacks, queens, and kings are all worth 10 points), you have to start with the assumption that a 10-value card is the most likely card to be drawn next.
If you draw to a total of 9, 10, and 11, it makes perfect sense to double down because:
Regardless of which card you draw next, you'll receive that one card only, so you can't possibly bust.
Drawing a 10-value card (most likely scenario) gives you a strong total of 19, 20, or 21.
Even if you draw a low-value card, you still have a chance of winning if the dealer busts.
Still, you must consider what the dealer is showing.
If the dealer has a 10 or an ace, you should maybe reconsider doubling down since your chances of beating them are not particularly high.
Another situation in which doubling down makes sense is if the dealer is showing a 5 or a 6. Following the previously explained logic of a 10-value card being the most likely card to show up, the dealer's likely total after drawing another card is going to be 15 or 16. This puts the dealer in a tough spot, as they must draw another card (remember, the dealer can't stand before reaching 17), which will likely make them bust.
However, even if the dealer is showing a weak card, you still must consider your total first, so only double down if your total is 11 or lower.
Having an ace as one of your hole cards also creates a potential scenario for doubling down. If you drew an ace + 5, 6, or 7, you'll get to a soft total of 16, 17, or 18. Because aces are worth either 1 or 11, even if you draw a high-value card like a 10, it will be added to 6, 7, or 8 and give you a relatively high total, although you would be cheering for a low-value card instead so to get closer to 21.
When Not to Double Down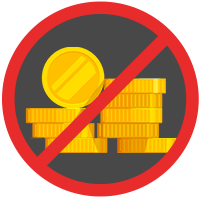 Doubling down is only beneficial in specific scenarios, so you should pretty much not use it in any scenario not shown on our strategy charts below.
A simple thing to remember is that if your hard total is 12 or higher, doubling down is not such a great idea because there's a high risk of you busting.
Hard totals of 8 or lower are also not great for doubling down, as it creates a bigger advantage for the dealer.
The Double Down Chart
Here are a few charts showing when to double down and when to avoid it. You shouldn't double down in any scenario not shown on these charts.
Your Hand Is 9, 10 or 11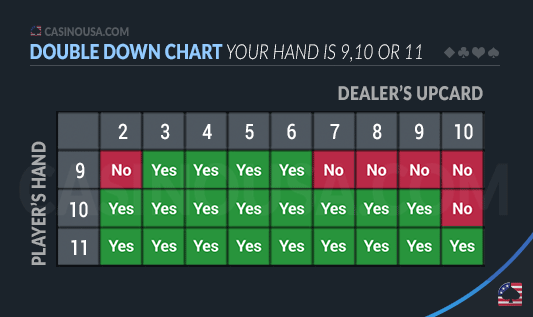 You Have a Soft Total of Between 13 and 18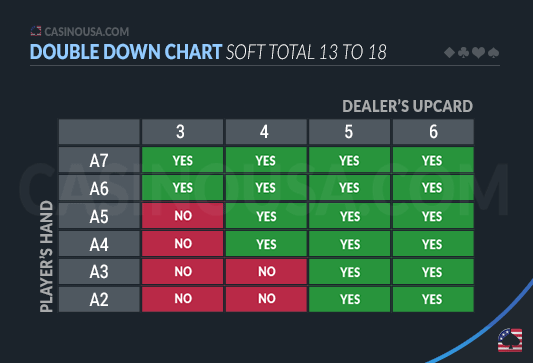 Check some of our other blackjack strategy articles to find more useful charts and learn when to hit, stand, split, or surrender.
Conclusion
Doubling down allows you to double your bet and, therefore, increase the payout in a game of blackjack. However, the move is only beneficial in certain situations, as shown on our charts, so make sure to follow them the next time you play.
FAQ
When can I double down in blackjack?
Most casinos will only allow you to double down on your first move. This means you can't double down after hitting or splitting.
When should I always double down?
It's always a good idea to double down when having a total of 11 unless the dealer is showing an ace, in which case it's better to hit instead.
Why do I only get a single card after doubling down?
Doubling down is done once you have some information on your and the dealer's hand. Being given more choices after doubling down would give you too much edge, which is why the casinos won't allow it.
Can I double down on 21?
No, if you get a natural blackjack, you win immediately and can't double your initial wager.
Can I double down multiple times in a single round?
No, you can double down only once and only after receiving your first two cards.
About the Author