Active filters:
Clear all filters

Wild Casino
Bonus Offer:
$5,000 Welcome Bonus
More Info
Available Games
Slots
Blackjack
Roulette
Live Dealer
Baccarat
Features
Great selection of slots
High-quality live dealer games
Excellent welcome bonus
Crypto-friendly

Ignition Casino
Bonus Offer:
$3,000 Welcome Bonus
More Info
Available Games
Slots
Blackjack
Roulette
Live Dealer
Baccarat
Features
300+ games
Crypto-friendly casino
Live dealer jackpot
Bonus galore for different verticals

Cafe Casino
Bonus Offer:
350% up to $2500
More Info
Available Games
Slots
Blackjack
Roulette
Live Dealer
Baccarat
Features
Accepts cryptocurrencies
Generous welcome bonus
Loyalty program
Kahnawake Licence
40

casinos found based on your search.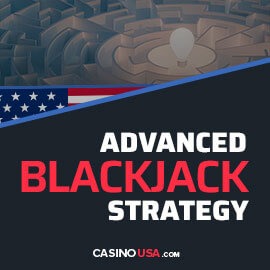 If you feel ready to get the best possible experience from playing blackjack, you've come to the right page. We will explore the methods and approaches considered difficult and advanced right here.
Advanced vs Basic Strategy
The basic blackjack strategy revolves around strategy charts. Simply put, a beginner needs to stick to these charts to make the best possible move for any situation. Once you get comfortable with the chart, you'll start to make the best possible decision intuitively, but that's not always enough.
If you really want to dominate the blackjack game, you'll have to consider strategies beyond the charts. Some of these strategies are actually very extreme and could possibly have you banned from a casino, so make sure to explore them carefully and understand their advantages and disadvantages.
If you want to test out strategies before playing blackjack for real online, blackjack strategy simulators are a great place to start.
Advanced Strategies Intro
Once you understand all blackjack rules in detail and have no trouble reading and applying blackjack strategy charts, it's time to consider other options. Read more about each strategy in the following section to learn how to apply it.
Card Counting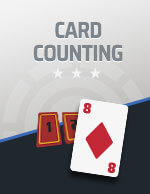 Card counting isn't as difficult as some might suggest. It is based on the fact that some decks in blackjack aren't shuffled after every round. In fact, if the hands are dealt from the shoe, it means decks aren't shuffled. It follows that the composition of the deck changes based on the cards that are dealt and are no longer in play.
As a card counter, your job is to keep track of the dealt cards by assigning them values. Aces and tens are assigned -1, while 2, 3, 4, 5, and 7 are +1. Finally, 7, 8, and 9 count as 0. The goal is to increase your betting size when the count is positive by the positive value. So, if your count is +5 and your betting unit is $10, you must bet $50. Whenever the count is negative, you need to keep the betting unit at just $10.
Remember that card counting is frowned upon and can get you in trouble. It's not illegal, but you can be banned in online casinos or asked to leave in land-based gambling properties.
Dealer Tells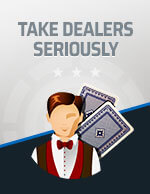 Every card game has a "tell," something another person might unconsciously do to suggest which cards they have or what they want to do without showing you their cards. In blackjack, dealers might, too, have these nonverbal cues, which could be considered a hint of what their cards are. A tell might be as simple as scratching their face or looking to the left or right.
We as humans often do these things unconsciously and repeat these movements, so if you're playing with a human dealer, this is something to consider. It's imperative to pay attention to these tells when the dealer looks at their hole card.
Insurance Bets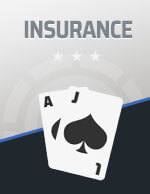 In some blackjack types, players can make an insurance bet if the dealer has an ace. In this case, they can get their money back if the dealer hits the blackjack, as insurance wagers have a 2:1 payout.
Making an insurance bet can help you reduce the house edge in blackjack, but only if you combine it with other strategies discussed in this article. They can't help you out that much if you're not applying other advanced strategies.
Manhattan Betting System or 2-1-2 Betting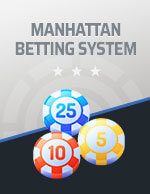 The Manhattan Betting System, also called the 2-1-2 betting system, is a positive progression betting strategy similar to that of Martingale, and it can be applied to online blackjack.
It starts by betting the two units of your default betting denomination. For example, if your unit is $10, you need to start by betting $20. If you win, you don't increase your bet right away but bet $10 instead. If you win again, you start increasing to $20, $30, $40, and more.
As soon as the dealer wins, you need to return to the start, bet two units ($20 in this case) and start the 2-1-2 progression once again.
Rule of 45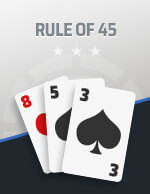 The Rule of 45 is a very specific play in blackjack and is applicable only in one situation. Imagine having 10/6, and the dealer has a 10-value card up.
If you're looking at the basic strategy chart, it all points out to hit, and there's a good reason for that.
But what if you're dealt 8/5, and the dealer has a 10, and you hit to get a 3?
You need to stand, as you have a valuable 5 out of the play. In fact, the Rule of 45 suggests that whenever you have a three-card 16 that includes a 4 or a 5, you need to stand, but only if the dealer has a 10.
Ace Sequencing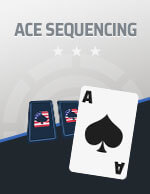 Ace sequencing is a type of shuffle tracking, and it's a technique that's simple on paper but very difficult to perform in real life, as you have to be a true blackjack master with a photographic memory to pull it off.
Essentially, ace sequencing means tracking all aces in the deck, even when it's shuffled. By learning the probabilities of the ace being dealt, you can adjust your betting amount and gain an edge over the dealer.
But how does one remember the aces?
Essentially, the player needs to memorize up to three cards discarded in the tray after the ace, as the chances are the dealer won't shuffle the deck as much to separate all these cards from the ace. When you receive the cards you memorized, you can expect the ace to be played soon.
Conclusion
As you can see, none of the covered blackjack strategies labeled as advanced aren't tricky on paper. However, many are advanced because they are challenging to pull off when playing the game. Moreover, some of them, such as card counting and ace sequencing, aren't really possible when playing online blackjack.
On the other hand, some strategies, such as the Manhattan betting system, aren't difficult to perform. However, no betting system can help you improve your chances but only assist with bankroll management.
Some strategies, such as the one concerning dealer tells, are applicable to live dealer blackjack, as these types of games feature human dealers who are streamed in real-time. Still, consider that live blackjack dealers are trained to have as few tells as possible, meaning you have to be a true professional to notice them.
Now that you understand the more advanced strategies and have tested a them out online. Why not try out an online blackjack tournament to keep things exciting.
FAQ
What are some advanced blackjack strategies that can be used to increase my chances of winning?
Some of the most popular advanced blackjack strategies are card counting, dealer tells, and ace sequencing (or any other popular form of shuffle tracking). Of course, we mentioned several others in this article, including the Rule of 45, the 2-1-2 betting system, and the insurance bets.
What are some of the most common advanced blackjack strategies used by players?
It depends. The most popular option is card counting, typically considered illegal by casinos, so we won't often spot a master card counter. However, if you don't want to use any illegal advanced strategies, you can stick to the 2-1-2 betting system and the Rule of 45, which are accepted but not as effective.
What are some of the drawbacks of using advanced blackjack strategies?
Some of the described blackjack strategies, such as card counting, are frowned upon by casinos, which means you can get banned if you're suspected of counting cards. In other words, the most effective strategies used by professional blackjack players are not allowed. However, if you want to play by the rules, you can always stick to the more friendly advanced strategies described in this guide.
What is the best advanced blackjack strategy to use?
All strategies presented here are effective up to an extent, but card counting and ace sequencing have the most potential to help you gain the edge over the house. However, they are also not really approved by online casinos. Therefore, by using these methods, you're always risking getting caught, so we suggest checking out other less effective but useful advanced strategies.
About the Author