Active filters:
Clear all filters

Wild Casino
Bonus Offer:
$5,000 Welcome Bonus
More Info
Available Games
Slots
Blackjack
Roulette
Live Dealer
Baccarat
Features
Great selection of slots
High-quality live dealer games
Excellent welcome bonus
Crypto-friendly

Ignition Casino
Bonus Offer:
$3,000 Welcome Bonus
More Info
Available Games
Slots
Blackjack
Roulette
Live Dealer
Baccarat
Features
300+ games
Crypto-friendly casino
Live dealer jackpot
Bonus galore for different verticals

Cafe Casino
Bonus Offer:
350% up to $2500
More Info
Available Games
Slots
Blackjack
Roulette
Live Dealer
Baccarat
Features
Accepts cryptocurrencies
Generous welcome bonus
Loyalty program
Kahnawake Licence
40

casinos found based on your search.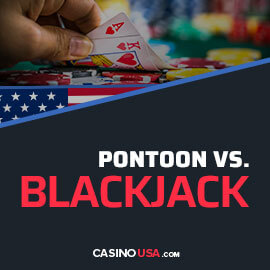 Blackjack and pontoon are two related casino card games, but they are not the same, nor is one a variation of the other. They have the same roots, a family of games called 21. This means that the goals of the two games are the same, but the underlying rules differ.
To make things simpler, let's discuss the rules of both so you can easily understand the differences.
General Blackjack Rules
Playing a typical blackjack game is simple, but you still need to learn the basic rules and strategies to win. Here are the rules that tend to recur in most variants of blackjack:
The goal is to get close to 21 or have exactly 21 without exceeding this limit.
Before each hand is dealt, you need to place a bet in the allotted space.
All number cards are equal to the number they represent, while the ace is worth 1 or 11 points. Face cards are worth ten points.
At the start of the deal, you get two face-up cards, and the dealer receives one face-up and one face-down card.
You can either Hit or Stand. Hitting means getting another card, and standing means keeping your cards without getting another. The dealer can do the same.
You can Hit as much as you want without going over 21 if you want to win. The dealer can do the same.
You get your money back if your score is the same as the dealer's.
Rules of Pontoon
Pontoon is a simple card game quite similar to the classic version of blackjack, but there are still many rules that will help you understand what makes it different from blackjack.
Here's what you need to know:
The goal is the same as in blackjack, to get as close to 21 as possible without going over.
Each card is worth the same number of points as in blackjack.
Your initial cards are face-up, but both of the dealer's cards are face-down.
The dealer wins if the hands are tied.
You can hit after doubling and double down on any two, three, or four cards.
You can only stand on 15 or higher.
The dealer has to hit on a soft 17 (a hand of 17 points that includes an ace).
Odds Comparison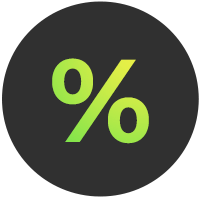 The house edge for pontoon is around 0.38%, while the house edge of a typical blackjack game is about 0.50%. This makes the odds of winning in pontoon better than the odds of winning a regular blackjack game.
All of this is because each pontoon version is essentially the same from online casino to online casino, while blackjack has many variations. Blackjack games also have different rules and, thus, different odds between online casinos.
It's also worth noting that the 0.5% house edge for blackjack applies to blackjack games with basic rules. However, most of these titles don't use the basic rules, which usually means that the house edge is typically higher, around 2%.
You shouldn't forget that you'll eventually start losing, no matter what. The very existence of a house edge means that the casino will always win, eventually. That's why it's typically better to cash out sooner rather than later, no matter how slight the house edge is.
Which Game Should You Play?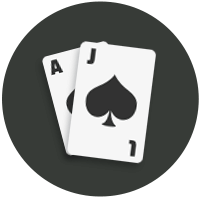 Most experienced blackjack and pontoon players would agree that playing pontoon is better for a few simple reasons.
First of all, the payouts are better in pontoon. In blackjack, they are 3:2, while in pontoon, they are 2:1. What's more, you have to forfeit this payout if you decide to split aces in blackjack but not in pontoon.
Pontoon is also better as you get to double down before hitting, which is not something you can do in blackjack. You can also continue playing a game of pontoon if you have five cards in your hand, even though it's hard to win at that point.
Naturally, none of this means that you shouldn't play blackjack. There are so many blackjack variants, and it would be a shame to miss out on them just because pontoon's rules are a little more favorable.
Conclusion
Now that you know the differences and which game is better for you, you can finally start playing any of these without worrying about which game is better.
Pick a good online casino with blackjack or pontoon games (or both!), make an account, deposit some money, and start playing.
FAQ
What is the main difference between blackjack and pontoon?
Even though the payout is the most significant difference between the two, the main distinction in the gameplay is that you can double down in pontoon before hitting.
What makes pontoon and blackjack similar?
Pontoon and blackjack are part of the same family of games, meaning that both games have the same goal — you must have fewer points than the dealer, and your score has to be 21 or less at the end of the hand. You'll lose in both games if you go over 21 or have more than the dealer.
Can I play both blackjack and pontoon online for real money?
Yes, you can play blackjack and pontoon in almost any online casino for real money. Albeit, it's worth mentioning that pontoon is not always available, while blackjack is almost always available in a good casino.
About the Author