Active filters:
Clear all filters

Wild Casino
Bonus Offer:
$5,000 Welcome Bonus
More Info
Available Games
Slots
Blackjack
Roulette
Live Dealer
Baccarat
Features
Great selection of slots
High-quality live dealer games
Excellent welcome bonus
Crypto-friendly

Ignition Casino
Bonus Offer:
$3,000 Welcome Bonus
More Info
Available Games
Slots
Blackjack
Roulette
Live Dealer
Baccarat
Features
300+ games
Crypto-friendly casino
Live dealer jackpot
Bonus galore for different verticals

Cafe Casino
Bonus Offer:
350% up to $2500
More Info
Available Games
Slots
Blackjack
Roulette
Live Dealer
Baccarat
Features
Accepts cryptocurrencies
Generous welcome bonus
Loyalty program
Kahnawake Licence
40

casinos found based on your search.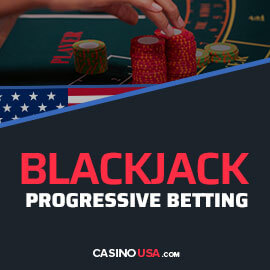 Its basic blackjack strategy can bring down the house edge to a mere 0.5%. And auxiliary techniques like card counting and proven betting systems can reduce it even further.
Card counting is not always feasible because casinos nowadays use automated shuffle machines to prevent the notorious practice. So that leaves betting systems.
There are mixed opinions about whether betting systems are really efficient. You can be sure of one thing — they won't detract from your gameplay. This makes them a no-brainer to try.
This guide will explore the most popular blackjack betting systems and discuss how they work in depth.
What Are Progressive Betting Strategies?
Progressive betting system is a bankroll management method commonly used by sharps and experienced players. Their basic principle is to adjust stake sizes according to the outcome of previous hands.
With progressive betting strategies, it's all about hot and cold streaks, depending on your preferred system. While they can yield huge payouts, they are also extremely volatile and can burn your bankroll very quickly.
Types of Progressive Betting Strategies
There are two types of progressive betting systems — positive and negative progression betting systems.
Positive progression increases your stake after a winning hand and reduces your stake after a loss. Basically, you need lucky streaks to be successful with progressive betting systems.
A progressive betting strategy can be a goldmine if you are on a hot streak. Depending on our entry betting level, several winning hands in a row can yield huge payouts.
Negative progressive system increases your bet on losing hands and decreases it on winning hands. You're banking that the dry spells won't last long and that you can offset them sooner or later.
Positive Progression Betting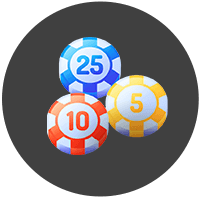 The idea behind positive progression betting is to ride out your lucky streaks until they last. Once the hot streak ends, you reduce your wager to its original amount or less.
Bankroll management is essential to implement any betting strategy. Knowing when to stop playing and avoiding getting carried away with the lucrative payouts is key.
Positive progression can help boost your budget significantly if you call it quits while you're ahead.
The two most popular positive progression betting systems are Paroli and Parlay.
Let's check out each of them separately: 
Paroli Betting System — With Paroli, you double your bet amount after each win. If you bet $10 on your first round and win, you'll stake $20 in the next round. In case of two successive wins, then you'll bet $40 in the third round. Ift the third round loses, you revert back to your $10 stake and start the cycle over.
Parlay Betting System — Also referred to as the pyramid, it's a system where you go all in with every win into a new bet. Profits from winning hands are staked along with the original investment. Suppose you stake $10 and win $15 on a blackjack. In the following round, you would stake $25 ($15 profit + $10 investment). In the third round, you'll bet $37.5, and so on.
Other positive progression systems include:
Reverse D'Alembert
Reverse Labouchere
The 1-3-2-6 system.
Negative Progression Betting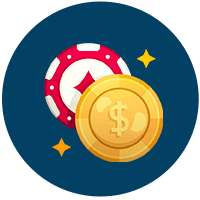 Negative progression betting strategies are systems where players increase bet amounts after a losing hand and try to recuperate the losses. This type of system has several variations, and the most widely used are Martingale and Fibonaci.
Martingale Betting System — It's basically a reverse system from Paroli. You double your stake after each loss and place the same bet after winning the hand. For example, if you bet $10 and lose, you'd stake $20 on the following hand. If the second hand wins, then you'd bet $10 in the third.
Fibonacci Betting System — Fibonacci betting system is based on the popular mathematical sequence in which each number is the sum of the two preceding ones. You'll follow the sequence when you lose a bet and proceed to the next number. For example, if you lost four consecutive rounds, you would stake three units for the fifth. When you lose a hand, you'd go back to two numbers.
Apart from Fibonacci and Martingale, there are a few other negative progression betting strategies that you can try out, most notably D'Alembert and Labouchere.
Conclusion
Using progressive betting systems can add an extra dimension to your blackjack game. Most of these strategies don't apply only to blackjack but also to roulette, craps, and baccarat.
Whether progressive methods work and to what extent is debatable, but they shouldn't be ruled out.
Regardless of which progressive system you use, you must manage your bankroll properly. Stick to your betting budget and avoid playing with the money that you can't afford to lose. With some of these systems, things can go south real fast.
FAQ
Are progressive betting systems profitable?
There are no guarantees. If you're lucky enough and you've picked the right system, who knows? They just might help you get over the hump.
How do progressive betting systems work?
Progressive betting strategies revolve around increasing and decreasing bet size depending on the outcome of previous hands. The increase in bet comes after losing hands with some types but after winning hands with others.
How big of a bankroll do I need for progressive betting systems?
There are no minimum requirements when it comes to progressive betting systems. You can employ these methods regardless of your budget size.
Will progressive betting systems interfere with the basic blackjack strategy?
No, because they're not connected in any way. Blackjack basic strategy reveals mathematically correct actions at every stage of the game. The progressive system involves changing the bet size at the end of each round.
About the Author