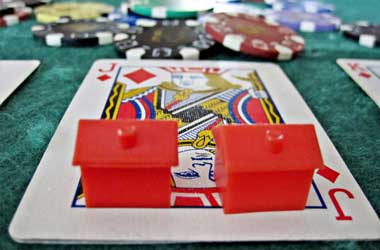 You've likely heard of the famous saying, "the casino (house) always wins". This is accepted as an undeniable fact in the community of educated and skilled gamers.
Much like gravity, the casino advantage is inescapable and ubiquitous. So, the question arises — How to win a casino if the odds are stacked against the player?
The answer is simple — play the games with the lowest house edge and learn to play them well.
Playing games with a lower house edge means that you have a higher chance of winning money on them. When the house edge is high, that is disadvantageous for you as a player.
Top 10 Lowest House Edged Casino Games
In our article, we rank the casino games that have the lowest house edge and give you the highest chances of winning if played skilfully.
| | | | |
| --- | --- | --- | --- |
| Place | Game | RTP | House Edge |
| 1 | Pontoon | 99.38%–99.66% | 0.34%–0.62% |
| 2 | Jacks or Better | 99.54% | 0.46% |
| 3 | Blackjack | Around 99.45% | Around 0.55% |
| 4 | Baccarat | 98.94% | 1.06% |
| 5 | French Roulette | 98.65% | 1.35% |
| 6 | Craps | 98.60% | 1.40% |
| 7 | Three-Card Poker | 98.50% | 1.50% |
| 8 | Pai Gow Poker | 97.50% | 2.50% |
| 9 | Slots | 92%–98.40% | Can be as low as 1.60% |
| 10 | European Roulette | 97.30% | 2.7% |
1. Pontoon
(House Edge 0.34%–0.62% with Optimal Strategy)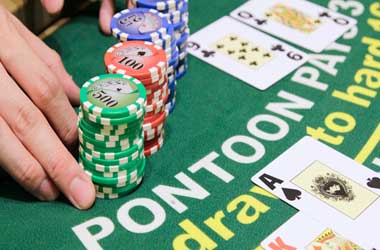 Pontoon is a card game that shares many similarities with blackjack and is considered a very close relative to the twenty-one. This game is usually played at Australian brick-and-mortar establishments. There are online versions as well, all in the RNG category.
The terminology used in this game can be confusing at first. For example, to twist means to hit; doubling down is called buying, and "to stick" means to stand.
A natural 21 is called Platoon, which is how the name of the game originated.
Here is a video showing how the game is played: link:
As you can see from the video, the objective is the same as in blackjack, and the gameplay is also similar. The player must score as close as possible to 21 without exceeding the number. Apart from the specific terminology, there are other differences to blackjack that affect the winning odds.
Although Pontoon has a lower house edge, we consider blackjack a much more preferable option.
2. Jacks or Better
(House Edge of 0.46%)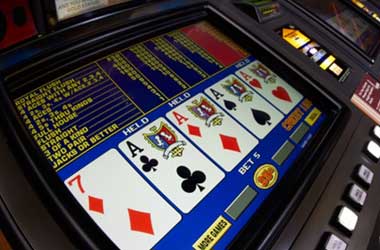 Jacks or Better is one of the most sought-after versions of video poker. The reason for that is evident — it gives a high payback with skilled players capable of achieving a figure of 99.54% with the proper strategy in play.
This effectively means a house edge of only 0.46%. To reach the lowest house edge, you need to play with the max stake (5 coins), while playing with the right strategy.
Jacks or Better is a top-rated game in Las Vegas and online casinos in the US.
The game is available only on digital machines of online casinos and machines at land-based casinos. Bear in mind that this is not a table game, and everything in this game is automatically run.
3. Blackjack
(House edge of 0.72% with the use of Basic Strategy)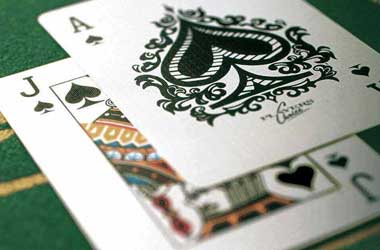 Blackjack is easily one of the most popular casino games, and also one that can offer some of the most profitable returns for a skilled player. The game is all about knowing when to split, hit, double down, or stand.
When you deploy the correct strategy, the house edge of this game can be lowered down to 0.5%. However, a bad player could end up playing the game with a house edge of over 2%.
Just like pretty much every other casino game, blackjack has RNG and live dealer versions. These variances may vary in rules, and the strategy should be adapted accordingly if you want to have a better chance of winning. Payouts are identical across online and land-based casinos. Blackjack pays 3:2, all other wins pay 1:1, and insurance pays 2:1. Deviations from these payouts are rare, but make sure you learn the house rules just to be on the safe side.
Keep in mind that in RNG blackjack, the cards are reshuffled before every hand, while in live games dealers keep drawing from the same deck until they hit a marker.
4. Baccarat
(House Edge Can Be as Low as 1.06%)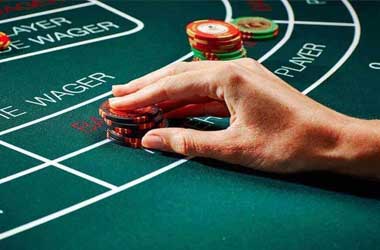 Baccarat, also known as Punto Banco, is one of the oldest gambling games in the world. It's trendy in land-based casinos, and it's getting more popular in online venues as well.
The main reason behind this popularity lies in the fact that it has a low house edge when you follow the perfect strategy. There are many Baccarat variations, and here are the most common traits among them:
Regardless of how many players are playing, only two cards are dealt. The hands are designed as "Player" and "Banker".
To win, a player must score as close as possible to nine, which is the highest possible score.
There are three possible outcomes — Player wins, Banker wins, or a Tie.
Card values are the same across all versions. Aces are worth one, 10s and face cards have zero value, and the remaining cards are worth their face value.
Keep notice that the house edge is low when you play on Player (1.04%) or on Banker (1.06%). It's not recommended to bet on the Tie because the house edge increases to 14.36% in that case.
5. French Roulette
(House Edge Can Be as Low as 1.35%)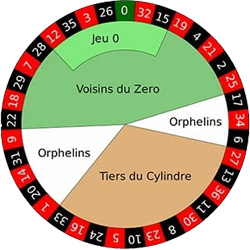 French Roulette is the oldest variant of the popular game, still played at numerous casinos both in Europe and across the ocean. The wheel used to determine the winning numbers is the same as in European Roulette.
It allows the same inside and outside bets, while the table layout looks a bit different. With that in mind, the game is supposed to have an identical house edge. However, there are two special rules that make the difference — la partage rule and en prison rule.
Simply put, with these two rules in play, you get half of the staked amount every time the ball lands in zero. A non-even money bet makes the house edge go above 2.5%, whereas an even money bet lowers it down to 1.35%. These two rules are nicely explained in this video:
6. Craps
(House Edge Can Be as Low as 1.4%)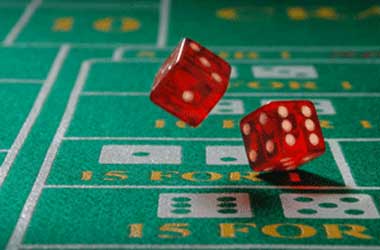 Craps is probably the most popular game on Las Vegas' Strip. There are multiple forms of craps, and they all come with a different house edge. Don't come/Don't pass bets are especially appealing to players as they carry an edge of just 1.4%.
At first glance, Craps seems to be an easy game, probably because the outcome is determined by a pair of dice. There are various bets available and each of them comes with its own set of rules.
For this reason, Craps is considered one of the most challenging games to master. With bets that have the lowest house edge, the outcome is determined after a series of dice rolls. If your lucky number is seven, then you should reconsider playing craps because this is the most hated number in the game.
Just like any other game of chance, you should learn the rules of the game and the outcome possibilities before rolling the dice. To do that, take a look at the video below:
7. Three Card Poker
(House Edge of 1.5%)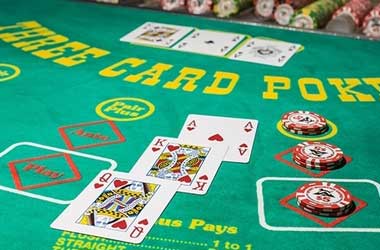 The three-card poker variant is becoming quite popular in online casinos due to its fast-paced gameplay. The croupier deals three cards to each player, and also to the house. The payout of this game varies depending on the dealer cards. Experienced players can achieve the 1.5% house edge, which is quite exceptional.
An effective strategy would be to play Queen high to achieve big wins, and it's your best shot of seeing your bet money back. The highest returns are paid on King high, and the probability of forming it is 0.1466063.
8. Pai Gow Poker
(House Edge of 2.5%)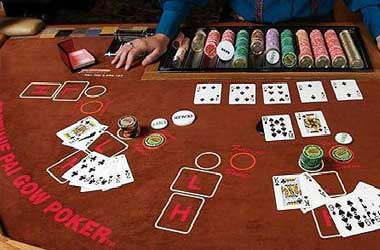 This poker version derives from the Chinese domino game carrying the same name. The game was adapted so it can be played on a standard deck instead of domino blocks. Pai Gow Poker is entertaining and gives a player a double chance to win.
The objective is to split the seven cards dealt to you and form a winning combination of a 2-card hand and a 5-card hand. Afterward, your hands are compared to the dealer's hands that are formed in the same fashion.
Pai Gow follows standard poker ranking with one notable exception. The second strongest hand in the game is called the wheel, and it consists of A-2-3-4-5.
The house edge of 2.5% makes this game a top choice for many gamblers.
9. Slots
(House Edge of around 2%)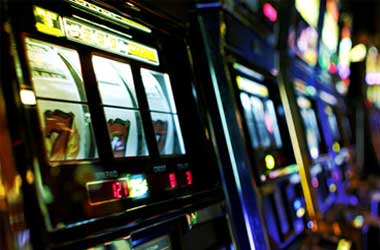 Online video slots are the most popular games at online casinos, and they take up the majority of every casino's game library. On average, you'll find over 500 different slot games in every reputable gaming venue. They come in countless themes, gameplays and, of course, they have a distinct house edge.
In general, slots with a house edge of less than 4% are hard to come by, but there are a few titles worth a spin. For example, a slot called 1429 Uncharted Seas has an RTP of 98.40%, which roughly translates to a 1.60% house edge.
Have in mind that these figures pertain to the bonus rounds. In the base game, the RTP is smaller (and the house edge is bigger).
Online casinos can afford to offer a low house edge on video slots because they have much lower costs than land-based casinos.
10. European Roulette
(House Edge of 2.7%)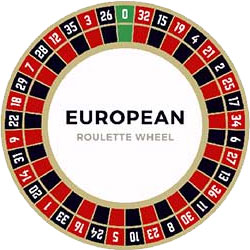 Moving on with the roulette variants, it's time to pay tribute to European (Single Zero) roulette. It's played on a single zero wheel, which lowers the house edge compared to double zero variants.
The math behind it is simple — the game has 35–1 on straight bets, but there are 37 pockets on the reel.
The European Roulette layout has 18 red pockets, 18 black ones, and the 37th is the zero pocket that doesn't fall in any of the categories. Therefore, on even/odds bets and red/black, the number of losing outcomes is 19 compared to 18 winning outcomes. This results in a house edge of 2.7%, which is almost twice lower than the American Roulette.
Final Thoughts
It's imperative to know the house edge of the games you start to play. In fact, it should be the most significant factor in deciding which game you want to try your luck with.
If you have any questions regarding the games from our list, feel free to ask them in the comment section below.
About the Author