41

casinos found based on your search.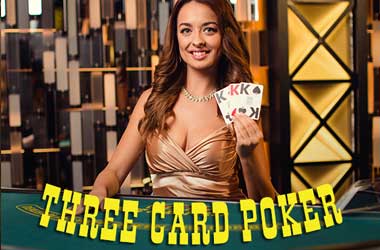 Evolution Gaming's Live Three Card Poker is broadcasted live to players through microphone-enabled webcams in a studio out of Latvia. Played with a single deck of cards via instant-play and mobile platforms, the object is to defeat dealers with a better hand, with each hand consisting of three cards.
The game begins with an ante wager followed by in-round betting. The simple format allows for novice or veteran online players to adapt their skills to this game quickly. Additionally, there is a live chat option where players can speak with dealers and visa versa.
As part of Evolution Gaming's arsenal of live games, it provides high-quality images and streaming, sounds and functionality. Protected through the use of standard security measures, it has become one of their higher sought after games with most casinos offering the Evolution Gaming software opting to include it within their live gaming libraries.
Best U.S. Live Three Card Poker Casinos to play this game
Poker is one of the most popular games in the United States. There are few casinos that do not offer it as part of their table game collection, and with the addition of online casinos in Nevada, New Jersey, Delaware, West Virginia and Rhode Island, those offering live dealer games focus heavily on providing multiple variations of the game, one of those being Three Card poker.
Each of the casinos we have listed are legal within those states and are considered the best in relation to the quality of play, promotional offers and overall experience.
How Live Three Card Poker Works
Those not accustomed to playing three card poker might find it confusing at first. Traditional poker is played with two hole cards and five community cards, whereas three card poker is played with a hand of three cards. However, having an open-mind will show that it is more simplistic to play than any other rendition of poker, and is easily mastered by those who are strategy-driven players.
Playing three card poker will see you playing against the dealer versus other players. In order for the dealer to qualify, they must have a queen or higher, and players will only need to have a 2 of hearts, clubs or spades to bet against the dealer. Whoever has the highest card value will win the hand, meaning if you have a king, and the dealer a queen, you win and visa versa. All winning hands are the same as traditional poker and include straights, flushes, straight flush, pair, high card and royal flush. Payouts range from 1:1 for a pair to 100:1 for a royal flush.
How to play Live Three Card Poker
Playing Three Card Poker isn't difficult and requires the placing of an ante bet. This is accomplished by selecting chip size and how many chips to be wagered on the first round. After the ante bet is staked, the in-round betting begins, and players can initiate bonus bets such as Pair Plus or 6-Card Bet.
Once all bets have been placed, players are given three cards face-up. If the card is good, players can move forward with their ante bet and bonus bet wagers. Otherwise, players can fold the cards and receive an additional three replacement cards by forfeiting their by ante bet. Once three suitable cards are dealt, betting against the dealer will take place. If the dealer doesn't have a queen or higher, she will have to fold, and this will result in a 1:1 payout.
After initial betting rounds are complete, the big wins can begin to payout. Players that land a Royal Flush or Straight Flush will be awarded a 100:1 odd payout. These odds also apply to the six-card bonus bet. Those lucky enough to land three-of-a-kind hand will receive a payout varying between 7:1 and 1000:1. However, due to the nature of the single deck, three-of-a-kind hands are rare.
Live Three Card Poker in the USA
Over the last five years, three card poker has been gaining momentum in the U.S. Poker is already a game cemented into American culture, evident by its popularity in Vegas and through the broadcasting of WPT events. Unfortunately, there are only five states in the USA that have legalised and regulated online betting, however, those residing in other U.S. states can register with online casinos that accept players from the United States but it is recommended that if doing so, that care is taken to ensure the legitimacy of the casino in question.
Live Three Card Poker Tips
There are simple tips and tricks that players can implore to benefit themselves when playing Live Three Card Poker. Below, we've compiled a list of tips that players can follow. These include:
Join the game first as a spectator and examine the inner-workings of the game before first wagering.
Bet at the minimum to ensure prolonged bankrolls, which will allow for novice players to receive longer playing sessions and master the game promptly.
Speak with the dealer through the live chat category regularly to distract them. This trick can define possible payouts dramatically.
Live Three Card Poker Strategy
The strategy many use with Live Three Card Poker is simple for veteran and novice players to learn. Since this version of poker involves betting against a live dealer, the best strategy is to make a wager when the hand provided consists of a queen or higher. Considering that the King and Ace are all top cards like the queen, this gives flexibility for players when the river is turned. Of course, with this strategy, it is common to fold regularly. However, when a winning hand is dealt, the payout rewarded through the odds will be significant. Additionally, this strategy allows for the house edge to remain at a low 3.3%, which isn't an easy task to accomplish for those without any strategy.
Most players will lean towards placing Pair Plus bets, but this wager doesn't lower the house edge. The Ante Bet, when wagered at its highest valuation, will award more consistently. This is because the ante bet reduces the house edge percentage. While many are tempted to bet with the Pairs Plus due to the higher odds, it is best to avoid this temptation as it manages bankroll balances and costs substantially more than the ante bet. However, in the ante bet/low house edge strategy, eventually your bankroll will grow, and in those moments, betting the Pairs Plus can result in a far larger payout.
The most significant aspect of this strategy is for players to manage their bankroll. Those who bet exotically often must redeposit regularly to sustain their high-rolling betting sessions. Ultimately, they fail to generate a profit; however, playing with this traditional strategy and maintaining wagers will guarantee that wins are accumulated over a prolonged period.
Conclusion
If you are one who loves poker and the raw experience gained through live gaming, then it is safe to suggest that Live Three Card Poker is one worth looking into. The simplistic nature of the game, with the combination of bonus betting, provides players with multiple opportunities to win substantial payouts, and being this rendition is powered by Evolution Gaming only exemplifies the opportunities as they are considered the preeminent supplier of live dealer games. The added touch of having friendly dealers' intent on communicating and celebrating in your wins ensures the experience is equal to that of playing in a traditional casino, and when combining all features associated with Live Three Card Poker, you can't help but want to hit the tables.
About the Author