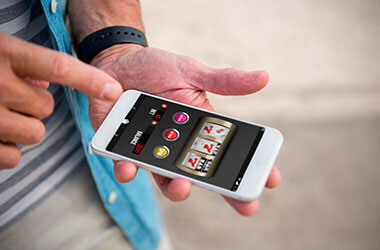 Mobile casinos are not a new thing anymore. In recent years, people around the world have become more attached to their smartphones than ever, while PCs and laptops got replaced by tablets – with 18.9% of the world popular to use a tablet by 2021 – mostly due to their physical characteristics.
Thanks to this trend, online gambling has quickly transitioned from a home pastime to mobile gaming.
While mobile casinos represent the major breakthrough in the online gambling industry, they are not all rainbows and butterflies. They come equipped with pros and cons, so if you are trying to weigh them up, this is the page for you.
Advantages of Mobile Casinos
Thanks to the era of smartphones, we can easily access a variety of online casino games using our mobile devices.
Here are some of the most popular reasons why online casino lovers choose to play games on their smartphones or tablets.
Play Games Wherever You Are

Convenience is, perhaps, the most obvious advantage of mobile casinos. As you know, mobile devices, both smartphones and tablets, are usually easy to carry around in your pocket or a small pouch – that is one of the reasons why over 3.8 billion people are using them.

In other words, you can take your device with you no matter where you go, which is what most of us typically do.

The fact that mobile devices are easily portable happened to be the main reason for the development of mobile casinos in the first place. With a fully charged battery and a stable internet connection, players can access online casino games no matter their location.

Whether you want to make your daily commute less boring or spin the reels a few times on your lunch break, mobile casinos have your back.

Ease of Use

Another great thing about mobile casinos is the hassle-free user interface. Forget about the often unresponsive mouse or even less convenient touchpad — now you can scroll around the online casino using only your fingertips.

Furthermore, mobile casinos often go for a straightforward layout due to the limited screen space. This means that all the vital features will be easy to spot and access so that you don't have to waste time looking for your favorite games or the cashier tab.

Speed

Players not willing to spend ages waiting for their game to load appreciate mobile casinos. Namely, modern mobile devices have better characteristics than our good old desktop computers or older laptops.

Due to all technical improvements, these small devices work much faster no matter what you use them for.

Consequently, you can expect your casino page to load much faster on your smartphone than it would on any other device.

Variety of Free Games

One of the great things about mobile casinos is the variety of free games. Namely, game developers know that everyone likes a free trial before they decide to spend real money on something. Therefore, they have created demo versions for the majority of regular casino games that can be found via your mobile device.

With a few swipes and touches, you will be in a virtual online poker room where you can get a chance to practice your poker skills. If you prefer online slot machines, even better!

There are hundreds of free slot games available in mobile casinos, and you can also download various Android and iOS apps for this purpose.

All in all, if you are up for some free casino games, your best chances are with your mobile device.

Special Promotions

Apart from the regular welcome bonus and other promotions, there are various treats specifically designed for mobile casino fans. Now, this does not mean that you will only get the right to claim a mobile casino bonus.

On the contrary — in most cases, you are equally eligible for every promotion the casino offers just like a player who visits the site on their PC or laptop. In other words, you will get more benefits if you play casino games on your mobile, as you can grab both regular and mobile-friendly promotions.
Disadvantages of Mobile Casinos
Since their inception, mobile casinos have made millions of players happy. Unfortunately, mobile casinos also have downsides.
Take a look at these potential cons you might find annoying if you start playing games in mobile casinos.
Battery Life

While you can take your mobile device with you wherever you are, you have to be aware that it has limited battery life. If your device is new, it can work for hours without charging. However, with continuous use, even the brand new battery drains faster.

What this implies is that you will have to be aware of how long your battery lasts in general, and also monitor its life percentage while you are playing casino games.

It is always a good idea to carry your charger at all times or have a power bank handy as well.

Smaller Screen

For anything to be easily portable, it has to be smaller in size. This goes for mobile devices too — the smaller they are, the easier it will be for you to carry them around. Nevertheless, the small screen will do no good for playing casino games.

Small screens require everything else to be small as well, and you will not appreciate this once you enter your blackjack game and find it difficult to see the cards. What is more, if you are used to playing casino games on the big screen, you might take some time adapting to this new gaming environment.

Network Stability

Even though you will be able to bring your device anywhere, you will still need a good internet connection to play mobile casino games. Your best option is to invest in mobile data, but bear in mind that casino games consume a lot of it.

Another option is to catch the nearest Wi-Fi, but this takes you back to the beginning — you will have to stay in the network range so that the game does not get interrupted.

On top of that, whether you use your data or someone's Wi-Fi, your battery life will be affected too.

Game Selection

The moment they realized mobile casinos are the future of online gambling, software developers started optimizing games for mobile devices. Whatever new game appears on the market, you can rest assured it is available in mobile casinos as well.

However, if you like playing older casino games, you might have a hard time finding them in mobile casinos. While game providers have done their best to optimize as many old games for mobile gaming, they also need to focus on creating new titles.

So, if a game you like is not available on mobile, you will have to stick to your PC or laptop to play it.

Increased Risk of Addiction

Being able to play casino games whenever you feel like is indeed a great thing. Still, experts claim that it is equally bad because it increases the risk of gambling addiction. They point out that the increase in exposure and availability of casino games can make people play them more often than they normally would.

Before mobile phones took the world by storm, we could only play online casino games at the end of the day or on weekends. Yet, most of the time, even the most avid casino players would come back home exhausted and forget about online casinos.

Today, mobile casinos allow us to play games the moment we finish our work, which can have a negative effect on people who find it hard to set personal gambling limits.
Conclusion
Hopefully, you have read carefully both pros and cons of mobile casinos and have a better understanding of their both sides.
In short, mobile casino gambling has many benefits, but it also has a few less pleasant aspects. If you manage to take advantage of the pros and successfully avoid all the disadvantages, there is no doubt you will have a great mobile casino experience.
About the Author