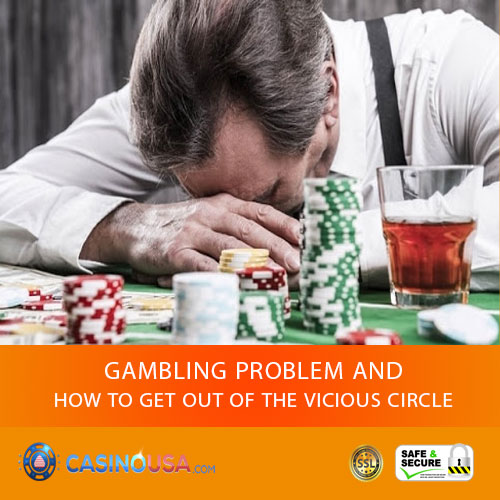 Most often, people don't think of gambling as a serious problem compared to other addictive behaviours. This belief is pretty much wrong, as gambling stands side by side with all the other addictions.
Certainly, a game or two of online poker won't do much harm to someone who is aware that games of chance should only be played for fun or real money. However, there is a chance that a person prone to addiction will eventually suffer from the consequences of it.
In this text, we will give you more details on the following topics:
Whether or not you, or anyone from your environment, have a gambling problem, it will do you no harm to go through this text, as it will offer information that proved to be quite valuable.
How to Tell If You Have a Gambling Problem
Gambling addiction is also referred to as compulsive gambling, and it is an impulse-control disorder. A person facing a gambling problem has difficulties controlling their impulse to gamble or, in a worst-case scenario, cannot control it at all. Although a gambling problem cannot be evident at the beginning, it can lead to harmful consequences for both the gambler and people in his immediate surroundings.
Gambling is defined as investing something of value in a game of chance, with the hope that you will get something more in return. Therefore, in order to be able to participate in such an activity, you need to invest money or any other valuable item.
We are not saying that a round of two or poker will instantly make you addicted to gambling. If you can set aside a small sum of money so you could have some fun in a casino from time to time and it does not affect your everyday expenses, then there is nothing wrong with you.
However, the moment you notice that you are investing more than you can afford, it's time for a serious conversation with yourself. Gambling addiction can go up to a point when you no longer have anything to invest, so you start borrowing money, or even stealing it.
There are specific signs that can help you assess your behaviour and see if you should look for professional help:
Gambling is your main preoccupation; you cannot focus on anything else because you continuously think of gambling
You spend more and more time gambling and increase the amounts invested
You turn to gambling whenever you face a problem at work or your private life
You start estranging from your family and friends or even begin skipping work and other responsibilities
You are trying to cover your losses by gambling more
You start selling your belongings to get money for gambling or ask family and friends to lend you money
You turn to stealing money for gambling
You lie your loved ones regarding your gambling activities and your expenses
You try to stop, but keep coming back to gambling.
An important thing to understand is that compulsive gambling is a progressive illness and cannot be easily spotted at an early stage. Instead, it becomes obvious eventually and should be addressed as soon as it gets noticed.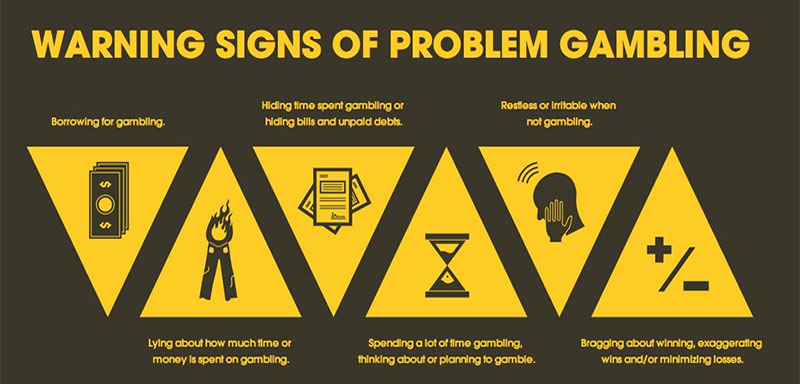 I Need Help With My Gambling Problem
Whether you are male or female gamblers, If you can recognise any of the signs listed above, we regret to inform you that you have a gambling problem. Yet, if you are here reading this text, you have made the most critical move, and that is the acceptance of the problem.
The reason why this is a vital part of the recovery lies in the fact that many people never accept they are doing something harmful to themselves and others, and that they should find help. They still see themselves as people who just want to have some fun in their free time and keep gambling.
Sometimes people are aware that they gamble more than they should but don't want to admit it because they think their loved ones will judge them and be disappointed. So, instead of looking for help, they keep gambling and stay in that wheel until they lose everything they have.
We strongly encourage responsible gambling but also the need to step forward in case you are aware that something in your behaviour is not right. You will be neither the first nor the last person who's dealing with gambling addiction, and people won't judge you for it. Instead, they will be glad you decided to fight and will try to give their best to help you do it.
What should I do If I have a gambling problem?
Once you accept the fact that you have a gambling problem and decide it's time to act on it, the curing can begin. Your first step is to get honest with yourself on all fronts and check if there is something else you need to address. A gambling problem often goes together with some other disorders like unmanaged stress, anxiety, depression, a drinking problem or substance abuse, all of which are equally important as gambling itself.
When you set all your affairs straight, it is time to seek a solution to your problem. We live in a time when you have numerous options to choose from that can help you with a gambling problem.
The first option is to find the nearest Gamblers Anonymous group and find out the timings for their meetings. This is an excellent way to start, as you will not feel alone with your problem when you see all those people who are going through the same thing. They will talk about their experience and the tactics they used to sort out the issue.
You can be positive that no one will judge you there, so you will be able to tell your story as well. Usually, after talking about the problem we have, there is a feeling of relief that helps us move forward in the recovery process.
Another way is to look for an institution specialised for dealing with gambling addiction. You can either visit the nearest medical institution in your city to ask for information or google it and find a place that suits you best. At the end of this text, we have listed some websites to give you a headstart.
Self-Help for a Gambling Problem
One of the typical phases of diving into the process of curing gambling addiction is the unwillingness to ask for help from professionals. The reasons for this can be many, but doing nothing will eventually take us back to gambling.
If you are currently going through this phase, there is some good news for you. You can still start working on your gambling problem one step at a time until you feel ready to see a specialist. After all, if you have a gambling problem that is not that severe, these steps might even help you get rid of gambling addiction without going to rehab.
Reconnect With Family and Friends
Family and friends are an essential part of your recovery, as they will be there to support you and help you go through tough times during the process. Even when we find ourselves in a less problematic situation like a break-up, we try to get surrounded by our loved ones, as we just need some compassion. Therefore, imagine how much support you would need to deal with a gambling problem.
Discover the Triggers
A gambling problem does not mean that you simply love throwing your money around just for fun. It has a connection with your feelings, and it is often done to compensate for something else. Maybe you are an adrenaline junkie? Perhaps you are bored or lonely.
Gambling is often used as a distraction from other problems that are bothering us. Your job is to take some time and think about the reasons you are focused on gambling that much. After you discover that, everything will go much smoother, as you will know what is the cause of gambling you need to address.
Replace Harmful Behaviour
Now when you know what causes you to indulge yourself in hours and hours of gambling, you can easily find alternatives. For adrenaline junkies, there are plenty of sports that can keep you away from gambling. In case you are lonely or bored, look for a hobby and join a group of people who share your interest in it. In that way, you will keep yourself occupied in your free time and maybe even make some new friends.
Use the Block Option
Almost every online casino has an option for self-exclusion from its activities. You can select the length of the block period, and once it is activated, you won't be able to visit that casino anymore until the self-exclusion ends. We are aware that it is practically impossible to block every existing online casino, but you can block the ones you have been visiting the most, and try your best not to look for new ones anymore.
Set Financial Limits
Another great way to prevent yourself from compulsive gambling is setting limits for your bank cards, or completely block at least one of them so that one part of your income can stay safe. To stop spending a lot at land-based casinos, don't take a lot of cash with you on a daily basis.
How to Help Someone With a Gambling Problem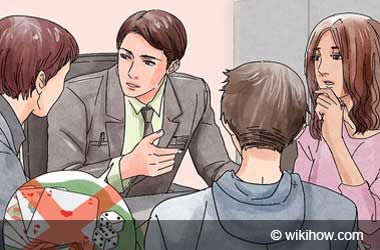 Let's say that you are not the one with a gambling problem, but there is a person that needs help with it. The first rule in this situation includes the understanding of the problem itself. Since you are here, you are already on the right path. Try to read and understand how a gambling problem is formed and how people facing it think.
Please be aware that this is a sensitive topic and that the person that has a gambling problem needs to be approached carefully. You can do so by mentioning some examples or asking questions regarding this topic and showing empathy and understanding while doing so. This should make the person relax and see you as someone they can open up to.
During the conversation, make sure that you are displaying concern and support. Under no circumstances should you act as an angry parent and be judgemental. Stay calm and let the person tell you their story if they are willing to do so. Also, it would be good to be equipped with contacts of institutions or individuals that are specialised in helping people with a gambling problem.
If you notice that the person you want to help is lying or avoiding the conversation, do not insist on it. Instead, change the topic for the time being and try some other day. You can also talk about it with some other friend or family member and ask them to speak with a gambler, as they might have a better connection with them.
What you as an individual willing to help should always have in mind is that you cannot make a person dealing with a problem against their will. They need to make a decision on their own since this is the only way they will truly work on overcoming the addiction.
Celebrities Who Had a Gambling Problem
There are many cases when people are aware that they have a gambling problem but are ashamed of it and refuse to search for help. To show you that it can happen to anyone, we have listed a few celebrities who had to deal with this issue. If these world-famous people could admit they are stuck and look for help, there's no reason you wouldn't be able to do the same.
Michael Jordan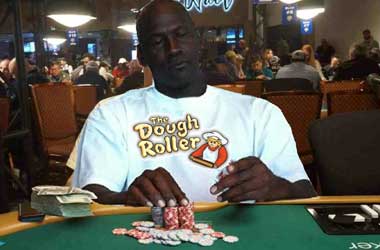 If you thought that famous athletes could not get affected by addictive behaviour like gambling, you thought wrong. Michael Jordan found time for gambling in his tight schedule consisting of basketball and gym practices. Unfortunately, he wasn't that successful in this side career.
If you are a male or female gambler, Some people claim that his gambling problem caused the end of his basketball career. Jordan is famous in the gambling world for losing a lot of money in different games of chance. It started in 1993 when he lost around $150,000 in Atlantic City. He continued with gambling in the following years, hoping it would get better until he eventually started losing millions, precisely $1.25 million to Richard Esquinas in golf.
Ben Affleck
Yes, Hollywood actors can also be addicted to gambling. In fact, they are the ones who, besides athletes, spend the most in casinos. Ben Affleck is one of those actors who has a long history of incidents, which consequently led him to check into rehab.
Cards are the main point of interest of the actor, followed by a lot of drinking during games of poker or blackjack. Sometimes, the two combined actions have brought him a lot of money, as he once invested $60,000 and ended up with $800,000. That night, even the employees prospered, as he tipped them with $150,000.
Anyhow, the severity of his gambling problem reached its peak when he was banned from a casino in Las Vegas as he was caught counting cards, which he admitted later on.
Michael Phelps
Michael Phelps is the highest-ranked Olympic swimmer who is also well-known in gambling circles. His friends say that he used his competitive attitude and moved it from the swimming pool into the poker room.
His humble beginnings in gambling started online when he used to place a $1 bet. The bets increased progressively, and lead Michael into spending thousands of dollars. His friends worry that he is so into the game and might gamble away his fortune now when he retired from professional swimming and has more time for this hobby.
Charlie Sheen
We all remember Charlie Sheen for his legendary role in "Two and a Half Men." Apart from that, he is also known for many other things, including a gambling problem. He regularly enjoyed sports betting and poker and allegedly spent millions of dollars on gambling.
His ex-wife mentioned that he used to spend $200,000 weekly on games of chance, while forgetting about his other responsibilities, one of which was child support. Also, a legend says that Charlie Sheen took the time to place a bet over the phone on his way to the hospital while his wife was giving birth.
After a few years of a life like this, Charlie Sheen supposedly managed to leave gambling behind.
Tiger Woods
When it comes to golf, Tiger Woods is the name everyone has heard of. Not only is he the most popular golf player of all time, but he also likes to spend his money on gambling. He is known as a high-roller player who used to bet $25,000 per hand in his blackjack hands.
The MGM Grand, a casino in Las Vegas, put a $1 million betting limit for the golf king. The moment he was seen with Michael Jordan, everybody could tell that a gambling problem is about to get out of hand.
Gambling Problem Centres Across the US
Although it is great to get acquainted with gambling addiction and its signs and symptoms, nothing can be achieved only by reading this text. To get better, an addictive gambler needs to find an institution specialized for this problem and willingly expose themselves to the appropriate treatment.
We have listed some websites you can visit if you are searching for help, whether for you or someone you know.
About the Author