Active filters:
Clear all filters

Wild Casino
Bonus Offer:
$5,000 Welcome Bonus
More Info
Available Games
Slots
Blackjack
Roulette
Live Dealer
Baccarat
Features
Great selection of slots
High-quality live dealer games
Excellent welcome bonus
Crypto-friendly

Ignition Casino
Bonus Offer:
$3,000 Welcome Bonus
More Info
Available Games
Slots
Blackjack
Roulette
Live Dealer
Baccarat
Features
300+ games
Crypto-friendly casino
Live dealer jackpot
Bonus galore for different verticals

Cafe Casino
Bonus Offer:
350% up to $2500
More Info
Available Games
Slots
Blackjack
Roulette
Live Dealer
Baccarat
Features
Accepts cryptocurrencies
Generous welcome bonus
Loyalty program
Kahnawake Licence
37

casinos found based on your search.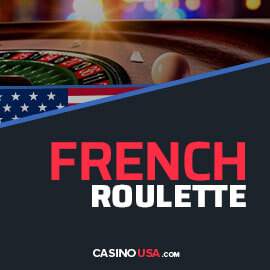 Let's take a closer look at what makes this roulette version special by looking at its main and additional rules and the bets you can place.
But first, let's check out the best online casinos for playing this game.
Top French Roulette Online Casinos
Our team has done thorough research and found the best online US casinos for playing French roulette.
We have compared their main features, such as betting limits, and we've checked which game providers are behind the French roulette variations they offer. On top of that, we have looked into their:
Bonuses
Banking systems
Customer support
You can find French roulette in the above online casinos.
How to Play French Roulette — Basic Rules
French roulette has similar rules to its American and European counterparts — nevertheless, it also offers special bets that players won't find anywhere else. The wheel contains 37 pockets — numbers from 1 to 36 and a green single zero.
The table layout differs slightly, with French roulette tables having the outside bets spread across both sides. In contrast, American and European roulette tables have the outside bets on one side of the table only. There are even differences in how the numbers are positioned on the wheel — the numbers in the American variant are sometimes turned facing out, whereas the ones in the European or French versions are usually facing in.
This is how a typical round of French roulette plays out:
The first step is to drag your chip where you think the ball will land.

You can put money down on a single number, a series of numbers, black or red, odd or even, or other available bets.

Then, the dealer spins the wheel in one direction and sets the ball in motion in the other. The ball will spin until it lands on a numbered slot on the wheel.

You will receive a payout if the ball hits the number you have placed your wager on.
Types of Bets in French Roulette
French roulette features three types of bets — inside, outside, and announced. The first two are basic bets that you can also find in European roulette.
Inside Bets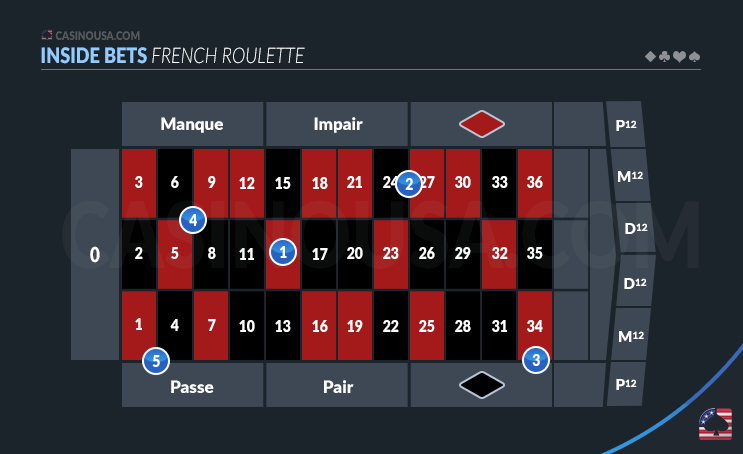 Bets placed on the inner section of the betting table are known as inside bets. You can put them on a specific number or numbers. They come with lower winning chances but higher payouts. Inside bets include:
A straight bet is placed on a single number.
A split bet is made on two adjacent numbers on the grid.
A street bet is laid on three numbers in a row (the chip is placed at the end of the row).
A corner bet is placed on a group of four numbers (the chip is placed in the middle of the four numbers).
A six-line bet is placed on two adjacent rows of numbers (the chip is placed at the end of the rows).
Outside bets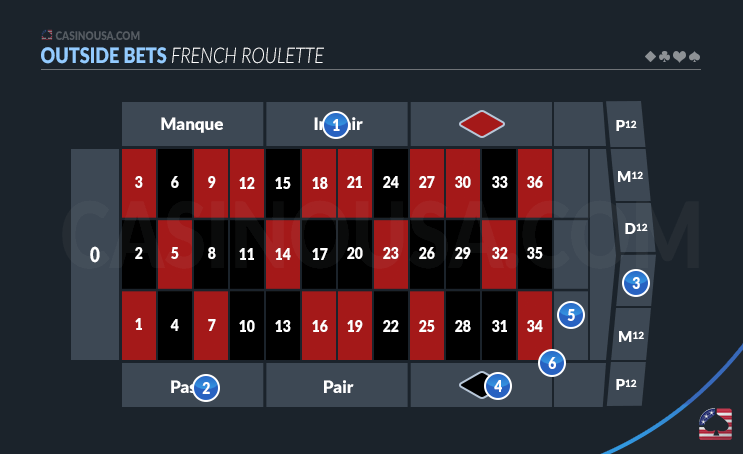 Outside bets are placed on the outer section of the table. They have French names and offer lower payouts but higher winning chances. They are:
Impair et pair (odd and even) is placed on any of the odd or even numbers
Manque et passe (high and low) is placed on any of the low (1–18) or high numbers (19–36)
Douzaine (Dozen) is placed on one of the three dozens (première douzaine/P12 1–12, moyenne douzaine/M12, 13–24, dernier douzaine/D12, 25–36)
Rouge et noir (red and black) is placed on any red or black number
A column bet is placed on one of the three columns of numbers
A snake bet has a snakelike pattern, as it covers the numbers 1, 5, 9, 12, 14, 16, 19, 23, 27, 30, 32, and 34 (the chip is placed in the lower corner of the 34 square)
Announced or call bets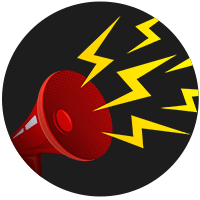 Announced or call bets are the third group of bets. They are often considered advanced, and even though their names are used interchangeably, there is a slight difference between them.
When you want to place a call bet, it is enough to announce it. However, with announced bets, you must place your chips on the table in addition to announcing it.
Here are some of the common types of call bets in French roulette:
Voisins du Zero
In English, this bet is known as "the neighbors of zero." It covers 17 numbers on the wheel, from 22 to 25. You must place nine chips on a combination of five splits — a corner bet on 2, 26, 28, and 29, and a 3-number bet on 0, 2, 3.
Le Tiers du Cylindre
This bet translates to "the thirds of the wheel." It covers 12 numbers, from 27 to 33, with numbers being opposite from zero on the wheel. Players must place six chips on splits between these 12 numbers (5–8, 10–11, 13–16, 23–24, 27–30, 33–36).
Orphelins
The English translation of this bet's name is "orphans," and it refers to the eight numbers not included in the two bets mentioned above (1, 20, 14, 31, 9, 17, 34, 6). Players are given five chips — four of them must be wagered across four splits, and one of them needs to be placed on the number one (straight up). When played like this, the bet is called Orphelins en Cheval. However, there is also Orphelins en Plein — in it, eight chips are placed as straight bets on each number.
Jeu Zero
The name of this bet means "the zero game." It involves four numbers on one side of the zero (12, 35, 3, 26), two on its other side (3, 15), and the zero itself. You need four chips to place this bet — one on number 26 as a straight up bet and three on the splits of 0–3, 12–15, and 32–35.
Finales en Plein
This bet involves placing a wager on individual numbers ending in the same digit (for instance, 5, 15, 25, and 35). Betting on 1, 11, 21, and 31 is called Finale 1 en Plein; betting on 2, 12, 22, and 32 is known as Finale 2 en Plein — and the list goes on. It's worth noting that all the wagers like this are considered straight up bets. As a result, the payout for a winning number will be 35:1.
Finales a Cheval
With this bet, players are required to make a series of split and straight up bets that cover the two numbers they choose. For instance, placing a Finales a Cheval on 1 and 2 will include all the numbers ending in 1 and 2 — 1, 2, 11, 12, 21, 22, 31, and 32. Your choice of bets (splits or straight-up ones) will depend on how the numbers are positioned on the table.
Neighbors
This bet includes five numbers (one number of your choosing + two numbers on each side of it). For example, if you say you want to bet the amount five by 10, this means you will wager $10 on the numbers next to five and five itself.
The table below will illustrate how favorable the French roulette odds are for players:
| Bet type | Odds | Potential payout |
| --- | --- | --- |
| Straight up | 2.70% | 35:1 |
| Split | 5.40% | 17:1 |
| Street | 8.10% | 11:1 |
| Corner/square | 10.80% | 8:1 |
| Line/ double street | 16.20% | 5:1 |
| Dozen (P12, M12, D12) | 32.40% | 2:1 |
| Red/black, pair/impair, manque/passe | 48.60% | 1:1 |
| Voisins du Zéro | 45.90% | 8:1, 11:1, 17:1 |
| Le Tiers du Cylindre | 32.40% | 17:1 |
| Orphelins | 24.30% | 17:1, 35:1 |
| Jeu zero | 18.90% | 17:1, 35:1 |
| Neighbors | 13.50% | 35:1 |
| Finals | 8.1%–10.8% | 35:1 |
La Partage and En Prison Rules
French roulette is also distinguished by two additional rules — La Partage and En Prison.
When applied, they lower the house edge from 2.70% to 1.35%. It's worth noting that both rules are applicable only on even money bets — odd/even, red/black, and high/low.
La Partage is the French word translated as "sharing" or "dividing." According to this rule, if the ball hits the green zero pocket, all even money wagers are split in half. One half goes back to the player, while the house keeps the other one.
En Prison also comes from French, and it means "imprisoned." It is a variation of the La Partage rule. With it, the wager becomes imprisoned during one spin. If a zero lands, the croupier places a mark on all even money bets. Said bets stay in prison until the ball lands somewhere other than the zero pocket. Players can recover their original bet if their imprisoned bets win on the next spin. If they do not, the house wins.
Conclusion
The rules of French roulette are roughly the same as those of European and American variants. However, you will find two additional rules in this version, which reduce the house edge by half — they lower it to 1.35%.
Therefore, it comes as no surprise that this roulette variation is not widely available on online casino sites. Still, casinos typically offer several variations of these games, with their unique features and betting options.
So, if you want to give French roulette a try, you can opt for one of its variations, including French Roulette Gold and Premium French Roulette.
FAQ
What is the difference between European and French roulette?
French and European roulette are very similar. Although they use the same wheel with a green single zero pocket, what sets them apart is the table layout and additional rules, En Prison and La Partage. These rules are responsible for the lower house edge.
Is there any way that guarantees your win at French roulette?
No, there isn't. French roulette uses an RNG to ensure the randomness of each spin. This means that the outcome depends solely on luck. There is no strategy you can apply to improve your winning odds.
Where can I play French roulette online?
Although most casinos don't offer this variation, you can still find it on some sites, both for real money and for free. We have presented a few options on this page.
How many numbers are there on a French roulette wheel?
The wheel contains 37 pockets. The green-colored one is for a single zero, while the red and black ones are for numbers 1–36.
About the Author