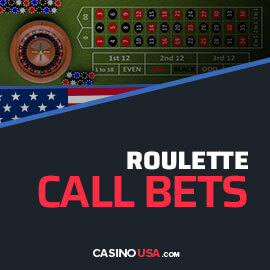 Despite the simple gameplay, the wide range of bets available add a level of complexity. The basic wagers are outlined in our roulette betting guide.
Our focus today will be on a type of roulette bet that's unique to certain variations of the game — call bets.
We'll go over call bets in depth so you can make an informed choice next time you hit the tables.
What Are Roulette Call Bets?
Roulette call bets cover sections of the wheel. They are variation-specific and offered only in European and French versions of the game. This explains their mostly French labeling.
Rather than putting chips on the table, players place their bets by "calling" them — saying out loud to the dealer what they wish to bet on. Hence the name.
A distinction should be made between call and announced bets. It's common for players to use these names interchangeably, but there are some key differences between the two.
Announced bets require players to place money on the table to cover the cost of the wager.
Called bets can be accepted even if you don't have any chips on the layout.
In other words, all announced bets are call bets, but not all call bets qualify as announced bets.
Since you can place call bets without paying upfront, they are illegal in some jurisdictions, such as the UK, where credit or "post-paid" betting is prohibited. This is also why they're usually only accepted at high-roller tables in brick-and-mortar casinos.
Call bets can be classified in several ways based on their composition or position on the racetrack. Fixed-called bets always feature the same numbers:
Voisins du Zéro
Tiers du Cylindre
Orphelins
And there are two variable-call bets that cover different numbers based on where you place your wager:
Let's discuss each sub-type of call bets separately.
Les Voisins du Zéro or Neighbors of Zero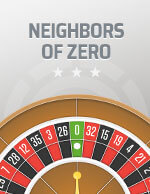 Translated from French, "Les Voisins du Zero" means "Neighbors of Zero." The bet's name pretty much sums it all up. It includes the 17 numbers closest to zero on the wheel.
Specifically, Les Voisins du Zero covers sections 22 through 25 of the racetrack, including the following numbers:
22, 18, 29, 7, 28, 12, 35, 3, 26, 0, 32, 15, 19, 4, 21, 2 and 25
The theoretical probability of winning this bet is 45.9% since it covers roughly 46% of the layout.
Les Voisins du Zero can be called in online roulette by clicking or tapping the corresponding button. The stake will be distributed among the included numbers according to the denomination selected.
Since American roulette has a different layout configuration, Les Voisins du Zero is not available.
Jeu Zero or Zero Game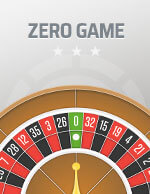 Jeu Zero is a shortened version of Les Voisins du Zéro. It is the section on the racetrack that spans from 12 to 15, covering seven numbers closest to zero:
12, 35, 3, 26, 0, 32, and 15.
The probability of winning Jeu Zero is 18.9%.
Les Finales or Final Bets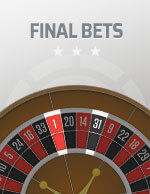 Les Finales or Final bets are wagers on numbers ending in the same digit as your choice. For instance, a Final bet on 3 would include numbers 3, 13, 23, and 33. The same bet on 7 would cover three numbers — 7, 17, and 27. You can also place a Final bet on 0, which would include 0, 10, 20, and 30.
Les Finales bets have odds of 10.8% or 8.1%, depending on whether four or three numbers are involved.
Tiers du Cylindre or Third of the Wheel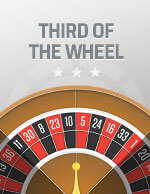 Tiers du Cylindre covers one-third of the numbers on the roulette wheel, as the name suggests. The bet is also known as the 5/8 series.
Tiers du Cylindre is located opposite Les Voisins du Zero on the wheel. Here's the full list of numbers included in the bet:
5, 8, 10, 11, 13, 16, 23, 24, 27, 30, 33, and 36.
The probability of winning Tiers du Cylindre is 32.4%.
Les Orphelins or the Orphans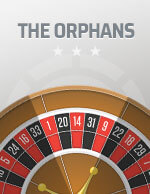 Les Orphelins is composed of numbers not covered by Tiers du Cylindre or Les Voisins du Zero. It fills in the gaps and rounds out the wheel.
Here's the full list of numbers included in the Les Orphelins bet:
1, 20, 14, 31, 9, 17, 34, and 6.
Les Orphelins (literally "The Orphans") is named after its composition. Specifically, the numbers covered are divided into two groups, and the bet does not form a continuous sequence on the wheel.
Neighbors Bet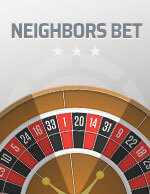 The neighbors bet consists of five numbers, including your chosen number and two adjacent numbers on either side of the wheel. If you were to select 20, its four "neighbors" would be automatically added — 14, 31, 33, and 1.
Full Complete or Maximum Bets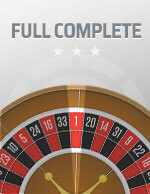 It may be a little challenging to get your head around full complete bets at first. After a few rounds, you'll get the hang of it.
Here's the rundown. Whenever you place a full complete bet on one number, all inside bets will be included, namely straight bet, split bets, street bets, corner bets, and six-line bets. It's a costly wager, but the payoff can be substantial if you hit. Hence, it's more suitable for high rollers.
Fixed vs. Variable Roulette Call Bets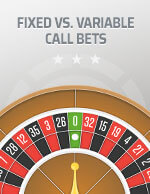 The difference between fixed and variable roulette call bets was discussed earlier, but let's revisit it now.
Fixed call bets are wagers that always cover the same sections and numbers. These include Les Orphelins, Tiers du Cylindre and Les Voisins du Zéro.
In variable bets, the number of bets is customizable based on the players' preferences. Final bets fall into this category. If you opt for Final 1, you will get 1, 11, 21, and 31; choosing Final 2 will give you 2, 12, 22, and 32.
Active filters:
Clear all filters

Wild Casino
Bonus Offer:
$5,000 Welcome Bonus
More Info
Available Games
Slots
Blackjack
Roulette
Live Dealer
Baccarat
Features
Great selection of slots
High-quality live dealer games
Excellent welcome bonus
Crypto-friendly

Ignition Casino
Bonus Offer:
$3,000 Welcome Bonus
More Info
Available Games
Slots
Blackjack
Roulette
Live Dealer
Baccarat
Features
300+ games
Crypto-friendly casino
Live dealer jackpot
Bonus galore for different verticals

Cafe Casino
Bonus Offer:
350% up to $2500
More Info
Available Games
Slots
Blackjack
Roulette
Live Dealer
Baccarat
Features
Accepts cryptocurrencies
Generous welcome bonus
Loyalty program
Kahnawake Licence
37

casinos found based on your search.
Conclusion
Roulette's call bets add an exciting twist to its already entertaining gameplay. Since they come with decent odds of hitting and smaller payouts than straight or split bets, they're most suited to casual players on a budget.
If you want to put your newly-founded knowledge to the test, we happen to know a few US real money roulette casinos. Our tips page might help you improve your long-term win rate a bit.
FAQ
What are fixed call bets in roulette?
This is a call bet whose composition remains constant over time. The three fixed call bets in the game are Orphelins, Tiers du Cylindre, and Voisins du Zero.
Are call bets offered in online roulette?
Yes, most online roulette variations offer call bets. You won't have to "call" them verbally; just select them on the layout.
What are the best call bets to make?
That depends on your risk tolerance, budget, and preferences. Bets in roulette are never one-size-fits-all.
Can I make multiple call bets simultaneously?
Yes, provided you have a large enough bankroll to cover all the numbers.
About the Author