Active filters:
Clear all filters

Wild Casino
Bonus Offer:
$5,000 Welcome Bonus
More Info
Available Games
Slots
Blackjack
Roulette
Live Dealer
Baccarat
Features
Great selection of slots
High-quality live dealer games
Excellent welcome bonus
Crypto-friendly

Ignition Casino
Bonus Offer:
$3,000 Welcome Bonus
More Info
Available Games
Slots
Blackjack
Roulette
Live Dealer
Baccarat
Features
300+ games
Crypto-friendly casino
Live dealer jackpot
Bonus galore for different verticals

Cafe Casino
Bonus Offer:
350% up to $2500
More Info
Available Games
Slots
Blackjack
Roulette
Live Dealer
Baccarat
Features
Accepts cryptocurrencies
Generous welcome bonus
Loyalty program
Kahnawake Licence
37

casinos found based on your search.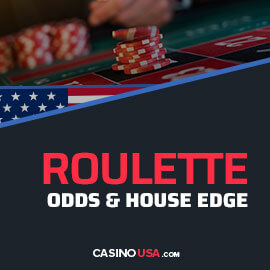 Scratching the surface and understanding the importance of roulette odds will significantly improve your gameplay and decision-making.
If you're ready to take your roulette skills to the next level and improve your chances of winning, read the following guide on roulette odds, payouts and house edge.
European vs. American Roulette Odds
You know by now that each roulette version has different odds and rules. Since the European and American variants are the most popular, we'll focus on them and explain the difference.
European roulette is the most famous roulette version played in land-based and online casinos. The European version has favorable odds and easy-to-follow rules compared to other versions. The European Roulette wheel has 37 pockets — numbers from 1 to 36 and a single zero. Since there are 37 pockets, the true odds are 36:1, while the game pays 35:1 on straight-up wagers.
The house edge is far lower than in American roulette. Take the one, divide it by 37 (number of pockets), and multiply by 100, and you get the European roulette house edge — 2.7% (2.7027027, to be precise).
Unlike European roulette, the American wheel has 38 pockets (numbers from 1 to 36, a single and a double zero). As a result, you have one chance to win and 37 ways to lose a wager. Essentially, the true odds are 37:1. However, your chances to win are lower than in the European version because you're two units short, while the payout in American Roulette is also 35:1.
Take the two units and divide them by the number of fields (38), multiply by 100, and get the American Roulette house edge — 5.26% (5.26315789 more precisely).
Therefore, most players don't see any reason to choose American Roulette over the more favorable European version. Of course, sometimes you won't have any choice if a casino only features the American option.
Payout Structure and House Edge for Roulette Bets — Charts
European and American roulette offer nearly the same inside and outside bets. Inside wagers (straight up, split, street, etc.) are the ones you place on the inner section of the table. They have slightly lower odds but offer better payouts.
On the other hand, outside wagers (high/low, red/black, odd/even, etc.) are placed on the outer line of the roulette table. Contrary to inside bets, these offer higher odds but lower payouts.
The table below displays inside and outside wagers and their payouts in European and American roulette.
Bet Type
European Roulette
American Roulette
House Edge
Potential Payout
House Edge
Potential Payout
Straight Up
35:1
2.7%
35:1
5.26%
Split
17:1
2.7%
17:1
5.26%
Street
11:1
2.7%
11:1
5.26%
Corner
8:1
2.7%
8:1
5.26%
Trio
11:1
2.7%
11:1
5.26%
Six Line
5:1
2.7%
5:1
5.26%
Five Number
N/A
N/A
6:1
7.89%
Even/Odd
1:1
2.7%
1:1
5.26%
Red/Black
1:1
2.7%
1:1
5.26%
High/Low
1:1
2.7%
1:1
5.26%
Columns
2:1
2.7%
2:1
5.26%
Dozens
2:1
2.7%
2:1
5.26%
How to Determine Roulette Payouts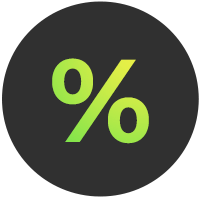 As you can see from the table above, theoretical payouts depend on the bet. Calculating the payout before placing a wager will help you predict the possible win and help you decide which wager to place.
The math behind roulette payouts is simple. Take the number of fields (zeroes excluded), divide it by the number of pockets your wager covers, and subtract one from the amount. For instance, a three-number bet will have the following payout — 36 divided by three is 12. Subtract one, and you get the payout — 11:1.
Calculating how much you'd win is even simpler. You need to multiply the bet amount by the payout. For example, a person has placed two chips on a single number and won. The single-number wager pays 35:1. Therefore, determining the payout would go like this — two chips multiplied by 35 = 70 chips.
Apply this to any wager type and theoretical payout, and you can easily calculate how much you'd win.
Can You Beat the House Edge in Roulette?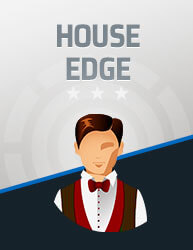 We previously explained how to calculate the house edge in American and European roulette. It's a simple equation showing the casino's advantage.
The American version has a higher house edge (5.26%) due to the additional double-zero pocket on the wheel. The European variant cuts the percentage in half and offers a more favorable house edge (2.7%).
As you can see, the house edges in roulette, especially the American variant, are pretty high compared to other casino games. That means it is more difficult to beat the house.
However, several tricks can help you reduce the house edge and minimize your losses. Check them out:
Surrender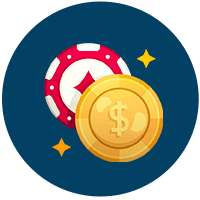 Some online casinos offer the Surrender side wager on even-money bets.
If the ball lands on single or double zero, and you lose, the dealer will only take half of your stake. That way, instead of facing a 5.26% house edge in American roulette, you'll go against 2.63%.
If the European variant supports this bet, the house edge will go from 2.7% to 1.35%.
En Prison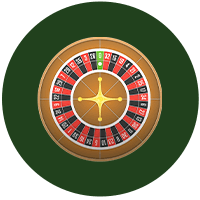 This wager lets you recover your even-odds bet if a spin hits the single zero.
You can then choose whether to put the bet en prison (in prison) and keep it for the next round.
If the bet wins on the next spin, you get back half of your stake. This side bet cuts the European roulette house edge in half (1.35%).
Multiple Wagers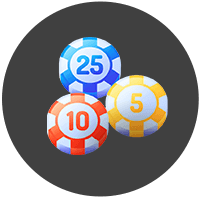 If you cover more fields and place different bet types, your chances of hitting the correct number will increase. However, you should be wary of the roulette version and the house edge.
Remember, this game is based on luck, so your plans might not always pan out.
Conclusion
Whether you're a seasoned player or a beginner, you should cover all the bases and learn everything about roulette odds and payouts. Hopefully, this guide helped you understand roulette technicalities to make better decisions for your budget.
If you're not ready to play online roulette for real money, find online casinos with the free play option and hone your skills before investing any hard-earned cash.
FAQ
Which online roulette version has the best odds?
European roulette has better odds than other game variants, including the American one, because it only has a single zero pocket. The odds of winning in European roulette are 36:1.
What's the best strategy in online roulette?
Before playing online roulette, beginners should always learn the rules and understand the odds. More experienced players can use several strategies to improve their winning chances. The most popular one is Martingale, a method in which the bettor doubles their stake after every loss.
Can you win real money in online roulette?
Of course. As long as you place real-money wagers and use proven strategies, you should be able to win real-money prizes. However, remember that roulette is a luck-based game, and nothing can guarantee a win.
Which online roulette bet has the best odds?
Outside bets always offer better odds. Whether you wager on odd/even or the color, the payout will be 1:1.
What's the online roulette house edge?
The house edge depends on the game variant. For instance, European roulette has a single zero pocket and boasts a lower house edge (2.6%). On the other hand, American roulette features another pocket that doubles the house edge (5.26%).
About the Author