Active filters:
Clear all filters

Wild Casino
Bonus Offer:
$5,000 Welcome Bonus
More Info
Available Games
Slots
Blackjack
Roulette
Live Dealer
Baccarat
Features
Great selection of slots
High-quality live dealer games
Excellent welcome bonus
Crypto-friendly

Ignition Casino
Bonus Offer:
$3,000 Welcome Bonus
More Info
Available Games
Slots
Blackjack
Roulette
Live Dealer
Baccarat
Features
300+ games
Crypto-friendly casino
Live dealer jackpot
Bonus galore for different verticals

Cafe Casino
Bonus Offer:
350% up to $2500
More Info
Available Games
Slots
Blackjack
Roulette
Live Dealer
Baccarat
Features
Accepts cryptocurrencies
Generous welcome bonus
Loyalty program
Kahnawake Licence
37

casinos found based on your search.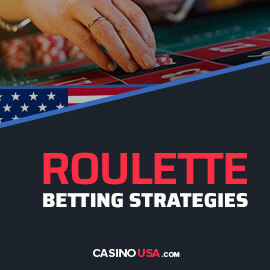 Still, this didn't stop people from coming up with all sorts of systems that promise to beat the game. While neither of these methods helps bring down the house edge, we must admit a number of them are pretty interesting mathematically speaking, and we're here to explain them to you.
What Is a Roulette Betting Strategy?
A roulette betting strategy tells a player which types of bets to pursue and how much to wager. Of course, the ultimate goal is to gain as much profit as possible, but only through a comprehensive system that also covers potential losses.
Since the players cannot control where the ball lands, it's chance alone that will ultimately decide every round's outcome. However, what players can influence are the odds at which to play and the amount of money they're staking, which is basically what every roulette strategy comes down to.
Types of Roulette Betting Strategy
In roulette, all strategies can be divided into two categories — non-progressive and progressive.
Progressive strategies tell you to place wagers in a sequence of betting units, increasing or lowering them depending on the outcome of the previous round.
Non-progressive strategies are much simpler, as they just involve covering specific numbers with a fixed betting amount every round.
Progressive Betting Strategy
Martingale System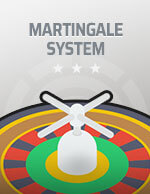 There are several popular progressive betting strategies, the most prominent of which is the Martingale system. Martingale is pretty simple, as it just tells you to double your stake after every losing round. The least risky approach is to place only even-money bets. For instance, if you bet $1 and lose, place $2 the next time. If that loses, place $4, and so on. Once you finally win, you'll have a $1 profit, after which you should return to your starting stake.
Reverse Martingale System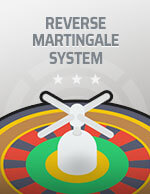 This is not the most exciting strategy, and it has a couple of drawbacks, like requiring a large starting bankroll, which we discuss in more detail in our article on Martingale strategies. You can also try the reverse Martingale system (also called Paroli), which suggests doubling your wager every time you win. This approach is a bit safer, as it protects the player from prolonged losing streaks.
Fibonacci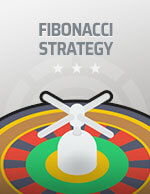 Fibonacci is another staple progressive roulette strategy. It's a little more complicated to learn but not too different from Martingale. The only major difference is the sequence of numbers (betting units) you need to follow.
D'Alambert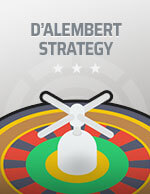 With D'Alambert, you won't double the stake after losing but instead increase it by one unit. For instance, if you bet $1 and lose, your next bet will be $2. If you lose again, bet $3 and then $4. If you win on your $4 wager, bring the stake down to $3 again. This strategy allows you to progress slowly and never hit a table limit.
Labouchere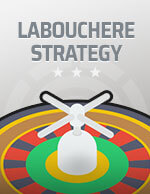 Finally, there's Labouchere, which lets you be flexible and split your bankroll or a part of your bankroll into multiple individual units, after which you follow a certain system.
You can feel free to explore our guides dedicated to each of these progressive strategies, where we go more in-depth, explaining how they work, showing examples, and examining their advantages and disadvantages.
Non-progressive Betting Strategy
Non-progressive roulette strategies are also sometimes referred to as flat systems since they don't involve increasing or decreasing the stake. They focus more on what you're betting on rather than how much you're betting.
James Bond strategy (007)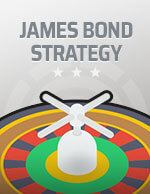 The most famous of these systems is the 007 or James Bond strategy. The strategy suggests you make multiple bets, dividing them, so there's a $1 bet on the 0, $5 on the line bet covering the numbers 13, 14, 15, 16, 17, and 18, and a $14 bet on 19–36. You'll cover around two-thirds of the table, only losing when the ball lands on numbers 1 through 12.
However, history confirms this strategy is not very effective and that you'll end up losing in the long run.
How Do Betting Strategies Work?
Over the years, numerous mathematicians and roulette enthusiasts have come together to solve one mystery — winning at roulette. They've developed an array of roulette betting systems. Some have become popular, while others faded into oblivion.
So, what made the first kind stick?
A betting strategy includes a set of rules you follow when playing a particular casino game. They're designed with regard to all the factors that come into play during the game and influence its outcome. Depending on the game they've been created for, they include various card-counting approaches, calculations, wagering methods, and so on.
The strategies that become well-known tend to be more flexible. They take into account a large number of game characteristics. So, they can be adapted to versions with rule modifications casinos include.
However, no system — no matter whether it's a poker, blackjack, or roulette betting strategy — can guarantee a win. You'll encounter various websites and blogs claiming they'll teach you the be-all-end-all betting strategy. Do not trust them!
First of all, casino games are games of chance. The luck factor plays a vital role in their outcome. That's particularly true for games like roulette that feature simple gameplays and require little skill and knowledge to master. No betting strategy can predict luck.
Secondly, various other elements impact the game's progress and result. No betting strategy can take all of them into account and make you win consistently. Even the best players rely on a mix of systems and adapt their play according to the circumstances.
Can Strategies Affect Odds and Payouts?
We've mentioned above that more than one variable decides the outcome of a casino game. The most important ones for roulette games, regardless of the variant you're playing, are odds and payouts. So, many people believe that roulette betting systems are designed to influence these elements directly. However, it's not that simple. To help you understand, we'll explain roulette odds and payouts in more detail below.
Odds are a term closely related to probability — a more-commonly used concept in everyday life. As you may know, probability refers to a specific event's likelihood. Let's put that into the context of a roulette game. Every time a roulette wheel spins and you place a bet, there's a certain likelihood or probability you'll win. You can calculate that probability by dividing the number of ways you can win by the number of possible outcomes.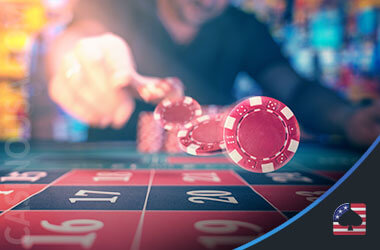 The number of outcomes differs between different roulette variants. For instance, American Roulette has 38 pockets, with 38 possible outcomes per spin. On the other hand,  European Roulette has 37 pockets, so there are 37 potential outcomes on a single spin.
If you make a straight-up, that is,  a single-number bet, in American Roulette, your odds will be 38/1. You'll have around a 2.63% chance of winning. The same bet will have slightly better odds in European Roulette because of fewer pockets — 37/1. Here, your chances of winning are approximately 2.70%.
Naturally, the more wheel pockets you cover with a single bet, the better winning odds you'll have. So, some of the most popular roulette bets include outside bets like even/odd numbers, low/high numbers, or red/black pockets. Each of these bets covers half of the roulette wheel slots and provides 1:1 odds. However, to balance these high odds out by roulette lowers payouts on the same bets.
Having read all of this, you'd think that there must be roulette betting strategies out there that will help you improve the winning odds. However, the roulette odds we've described are unchangeable. They're a given regardless of how you decide to play the game. So, no betting strategy can turn them in your favor.
Reducing the House Edge With Betting Strategies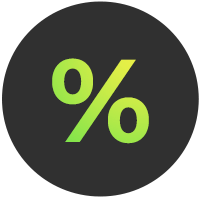 If you can't change the odds, can you at least reduce the house edge?
Unfortunately, the short answer to this question is also no. Popular roulette betting strategies can help you bag more wins over a longer gaming session. However, the house edge will remain the same.
A betting strategy may advise you to make multiple bets and cover most betting fields on the table. This move will definitely increase the frequency of your wins. Nevertheless, the amount of money the casino will hold back will remain the same. Your bets will help lower the game's volatility but won't affect the house edge.
Roulette betting strategies you're familiar with, like Martingale, Fibonacci, or Labouchere systems, are primarily devised to help you manage your bankroll. They won't affect the winning odds — these come with the game. They won't reduce the house edge — the casino imposes it. They're only a way for you to turn a profit or, at least, break even in the long run.
Do Strategies Help to Win Roulette More Often?
We've established that roulette betting strategies cannot change the winning odds or house edge. However, it's not all gloom and doom. You can resort to other methods to improve your chances of winning in roulette.
Here are some valuable tips:
Choose the right roulette variant — American Roulette has one of the highest house edges among casino games. Stay away from this version if you want to beat the casino playing roulette. Instead, choose European and French Roulette with a 2.7% advantage.

Pick games with favorable rules — Roulette rules can differ even within one variant, depending on the casino. For instance, some French Roulette games include the La Partage rule, while others don't. La Partage can help you reduce the house edge to 1.3% on even bets. So, make sure you focus on finding games that feature it.

Wager on outside bets — Roulette inside bets can land huge prizes, but they are more challenging to win. Outside bets cover more wheel pockets at once and offer better winning chances overall.
Conclusion
We hope you liked our introduction to some of the most popular roulette strategies. Again, while these tactics might make sense and sometimes even work to bring you a profit, they are far from being foolproof, so be careful and responsible when utilizing them.
Harnessing roulette betting strategies can be a new fun way to approach this popular casino classic. However, it won't change its odds or house edge. At best, it'll help you budget more effectively.
Choose the most rewarding game variant and bet type if you're interested in beating the casino in a roulette game. These choices don't guarantee a win, but they might help you score a prize with some luck.
FAQ
What is the best roulette strategy?
There's no single best roulette strategy that will help you win. However, many agree that the Martingale system is the most effective one, as it's easy to learn and implement. Still, we suggest you try several different approaches until you find one that suits you the most.
Does any roulette strategy actually work?
While some strategies make sense and can work, they're also full of flaws and don't actually lower the house edge. In other words, you'll still need a lot of luck to win in roulette, even when using a specific system.
What is the best way to lower the house edge in roulette?
You can't actually lower the house edge, but you can play roulette variants that have a low house edge to begin with. Stay away from American roulette or any table that has a double zero, as they have a very high house edge of 5.26%. Instead, stick to single zero European roulette (2.7%) or French roulette (1.35%).
Can roulette betting strategies affect the winning odds or the house edge?
No. Roulette winning odds and house edge cannot be changed. Betting strategies can only help you improve your winning frequency.
How can I improve my chances of winning in roulette?
You can increase your chances of winning by choosing roulette variants with lower house edges and making the most profitable bets.
About the Author