Active filters:
Clear all filters

Wild Casino
Bonus Offer:
$5,000 Welcome Bonus
More Info
Available Games
Slots
Blackjack
Roulette
Live Dealer
Baccarat
Features
Great selection of slots
High-quality live dealer games
Excellent welcome bonus
Crypto-friendly

Ignition Casino
Bonus Offer:
$3,000 Welcome Bonus
More Info
Available Games
Slots
Blackjack
Roulette
Live Dealer
Baccarat
Features
300+ games
Crypto-friendly casino
Live dealer jackpot
Bonus galore for different verticals

Cafe Casino
Bonus Offer:
350% up to $2500
More Info
Available Games
Slots
Blackjack
Roulette
Live Dealer
Baccarat
Features
Accepts cryptocurrencies
Generous welcome bonus
Loyalty program
Kahnawake Licence
37

casinos found based on your search.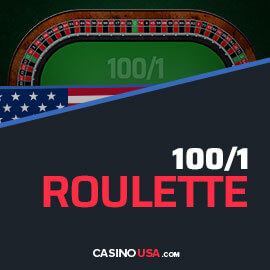 This RNG-powered game is famous for its high-risk bets, and you can play it for real money or for free. 100/1 Roulette is suitable for casual players, high-rollers, and those in between since its betting limits range from $1 to $10,000.
This article talks about 100/1 Roulette's:
Rules
Gameplay
Bets
Overall game layout
So make sure to stay until the end.
100/1 Roulette Rules and Gameplay
Everything about this roulette game is different compared to other versions. The game offers two views instead of the standard one (due to the wheel size):
One shows a spinning wheel
The other is for placing bets
This means when you place the bets, you won't be able to see the wheel.
The wheel is much bigger and somewhat oval. The betting area is big, and bets are placed on numbers from 1 to 100, displayed on a 10×10 grid. It displays each number alternately in red and black. You can start betting by clicking the chips button and choosing your wager. The minimum chip value is $0.10, while the maximum is $100.
It is also possible to bet on red/black and odd/even, just like in a regular roulette game. Other standard bets include a split bet, which involves putting the chip between two numbers, a street bet, and betting on whether the winning number is odd or even. Naturally, these bets all have different payouts.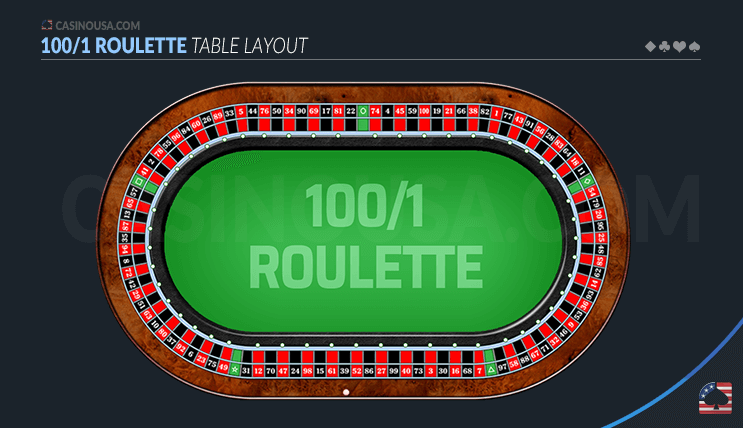 The wheel appears on the entire screen after placing your bets to see the ball landing up close. Impatient players can activate the Turbo Mode feature to spin the wheel faster and get instant results. You win when the roulette ball lands on a number (or color) that matches your bet. Roulette wins are paid as listed on the paytable once the ball lands on a number.
100/1 Roulette Payouts and RTP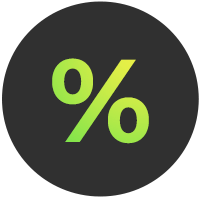 Since it has 100 winning and five green losing pockets, 100/1 Roulette offers different winning chances than standard variations. Players can expect different RTP rates, from 92.86% to 96.19%, depending on their strategy.
When you place a straight-up number bet on 100/1 Roulette, you could win 100x your total stake. The maximum amount you could win is $100,000, which is the game's biggest value and why many players like it. However, there is a slim chance of landing a single number bet in this game due to the volume of betting positions.
You can place several bet types, but the straight-up is by far the best option, especially when placed on several numbers at once. For instance, if you bet 10 numbers per spin, you can immediately recover your losses if you win.
Some bets are easier to win, but they bring a lower payout. On the other hand, some bets are much more challenging to win, but if you were lucky, you could win substantially more.
Below are the 100/1 Roulette bets and their payouts, depending on the risk you are ready to take.
| Type of Bet | Payout |
| --- | --- |
| Straight bet (single number) | 100:1 |
| Pair of numbers | 49:1 |
| Split (three numbers) | 32:1 |
| Corner (four numbers) | 24:1 |
| Street (five numbers) | 19:1 |
| 10 number column or street | 9:1 |
| 15 number avenue | 11/2 |
| 20 number avenue | 4/1 |
| Even/odd numbers | Evens |
| Black/red | Evens |
The odds indicate that the single number bet is the most difficult to win. This bet is challenging because 100/1 Roulette requires you to choose the correct number from 100 instead of the standard 35.
100/ Roulette vs. Other Roulette Versions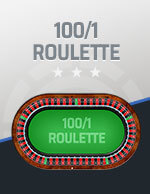 We already said this game is a supersized version of regular roulette because you play on a much larger scale, with bigger prizes to win. Consequently, with a larger wheel and different prizes, 100/1 Roulette is not comparable to European, French, or American roulette.
100/1 Roulette has no fixed jackpot payouts, like other roulette types. Your winnings are directly proportional to your bets. Your winnings are expressed as a multiple of your original bet, but the amount depends on the wager you place.
100/1 Roulette has a lower probability of landing on a single number than European Roulette — 0.95% rather than 2.70 %. Playing on a solo number is extremely unlikely to result in a winning bet, hence high payouts. Increasing your straight-up bets to include 10 numbers is safer since you can still win this way.
Evens bets usually make a good choice for risk-averse players, but they are less desirable in 100/1 Roulette. The probability of winning on reds/blacks in 100/1 Roulette is 47.61%, compared to 48.60% in European Roulette. Considering that 100/1 Roulette pays even money, it's a worse deal.
Conclusion
If you are looking for a roulette game with a twist, 100/1 is an ideal choice. Provided the odds are in your favor, and you are lucky enough to hit a straight number bet, you can expect high payout rates. Moreover, the 2D game comes with an intuitive interface and a simple yet a little dated design. It works seamlessly on mobile devices but has occasional glitches on desktops.
However, 100/1 Roulette has not-so-favorable odds on two main types of bets. Experienced players suggest giving this roulette game a go if you want to try something different, but if RTP and higher payouts are important to you, there are better options.
FAQ
Can you play 100/1 Roulette for free?
Yes, you can. Some casinos offer a demo version of this roulette variation. This is a great way to test the game and learn its rules without risking money.
What is the 100/1 Roulette RTP?
100/1 Roulette has an RTP that ranges from 92.86% to 96.10%. The strategy you use when playing this game will determine the RTP percentage. Safer ones are those that result in higher RTP.
What are the 100/1 Roulette betting limits?
Because this game is equally suitable for high stakes and low-limit players, it has minimum and maximum betting limits that are suitable for both. However, players should always examine all the game's features.
How much can I win on 100/1 Roulette?
In 100/1 Roulette, you can win the most money by betting on a single number. Additionally, you will win 100x your stake if you wager on a unique number.
About the Author