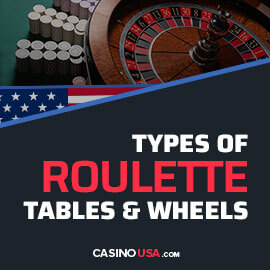 In this article, we'll look through the different wheel and table layouts of four roulette variations and touch upon the well-known announced bets.
Use the links below to jump to the sections your interested in:
All Roulette Wheel Layouts
There are two different roulette wheel layouts — European and American. From European roulette emerged two spinoffs, namely French and triple zero roulette, with the two variants having additional double and triple zeros. The differences between them affect the odds and your gambling experience significantly.
Although all types of roulette include the same number of red-black pockets, single zero roulette has a different average return than double or triple zero.
Below, we will explore the specific features of four roulette wheels.
European Roulette Wheel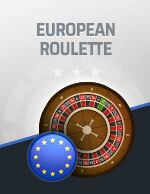 The European roulette wheel has 37 pockets (numbers from 1 to 36 and a single green zero pocket). As there is no particular pattern to the sequence of numbers, predicting where the ball will land is more challenging.
When you look at the wheel, it appears as an odd-even pattern without any relation between the numbers.
In addition, the adjacent figures come in a red-black format, with no clear sequence. There is only one significant exception with 5 and 10, but the rest alternate between low (1–18) and high numbers (19–36).
Plus, the even and odd numbers are equally distributed, so two of either will never appear in a sequence.
American Roulette Wheel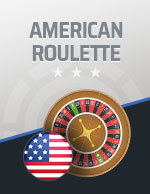 In contrast to the European roulette wheel, the American variant has an extra green pocket marked double zero.
The numbers also show random number sequences, so players can't notice any discernible pattern.
French Roulette Wheel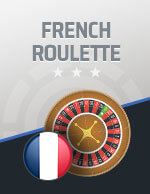 French roulette is considered advantageous for real money players. This wheel resembles the European roulette wheel but has a lower house edge of 1.35%, thanks to its En Prison and La Partage rules, which are exclusive to this roulette variant.
The wheel has 37 divisions — from 1 to 36 and a green single zero pocket).
Triple Zero Roulette Wheel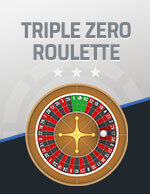 This roulette variation is the rarest one, because the triple zero segment dramatically affects the game's odds.
The third zero raises the house edge from 5.26% to 7.69%.
Announced or Call Bets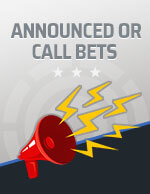 Aside from the standard inside and outside roulette bets, there is another category — announced bets, also known as call bets. Players place them on a racetrack, an oval-shaped area away from the main betting board.
Call and announced bets are similar in how they are both made on the racetrack and have to be announced. However, the difference is that the latter requires you to lay your chips down on the racetrack while announcing your bet, and the former doesn't.
They are also known as French bets because of their names:
Jeu Zero
Le Tiers du Cylindre
Orphelins
Voisins du Zero
They require players to put chips down on different points on the racetrack to cover a series of numbers or even entire sections of them.
You must know where to lower your chips when making an announced bet. Some wagers are easier to perform and understand, like Tiers du Cylindre, which requires you to lay down the chips on six different splits. Orphelins is also a relatively simple bet. You must put one chip on number one (straight up), plus one chip each on four different splits. Jeu Zero covers seven numbers on the racetrack closest to zero. Players have a total of four chips where one is put on number 26 (straight up), and the other three on three splits each.
Other call wagers, such as Voisins du Zero, are more complex. It involves betting on 17 different pockets (numbers from 22 to 25), and its difficulty lies in the multi-chip trio and corner wagers.
Roulette Table Layout
All roulette table layouts have 36 numbers in 36 pockets, split into three columns of 12 numbers, with the addition of single, double, or triple zero squares sitting on top. The French version has a slightly different layout because it features bet names in French. Nevertheless, these minor differences don't impact the return-to-player ratio.
You can place wagers on any of these squares and make different combinations. The squares are linked by the grid lines between them, so players bet on multiple consecutive numbers, two neighboring squares, and more.
Additionally, the table consists of 18 red and 18 black numbers. You can place 50:50 wagers that the winning number will be black or red, odd or even. Plus, you can bet on low (1–18) or high numbers (19–36) or whether the winning number appears in a particular section.
European Roulette Table Layout
In European roulette, the odds aren't 35:1 but 36:1 once you add the green zero segment and get 37 pockets in total. This is where the casino's advantage comes from. It is also possible to bet on the zero and return your chances to 35:1. However, if the zero wins, all bets on other numbers, red or black, odd or even, lose.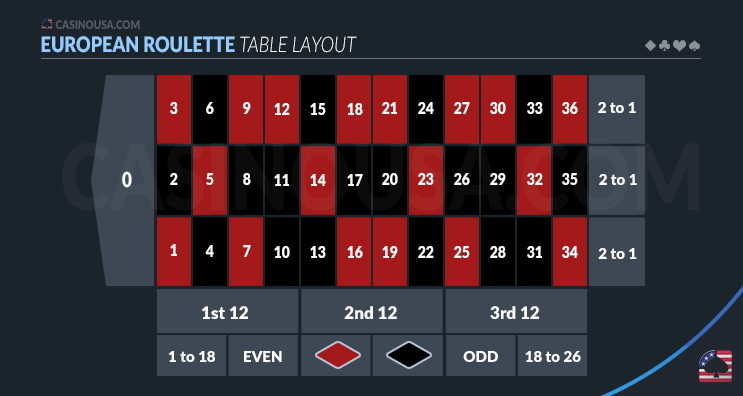 American Roulette Table Layout
American roulette has worse odds because the two-zero segment complicates things. As a result, your chances of hitting a number are 37:1 instead of 35:1, which is a significant disadvantage.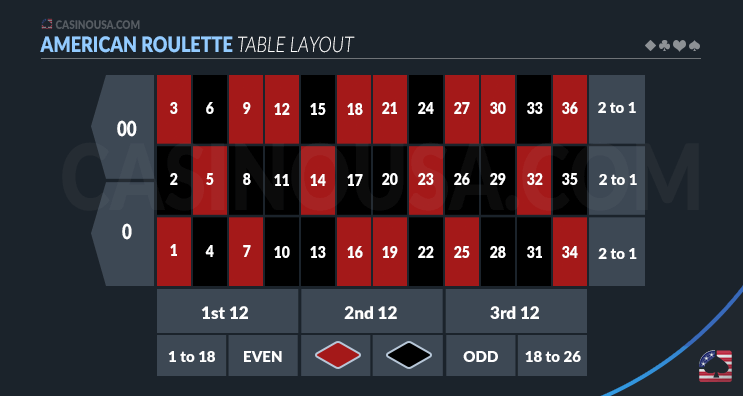 French Roulette Table Layout
On the other hand, French roulette favors players. There is one green zero pocket like in European roulette. However, the players have an advantage in French roulette because if the green zero wins, they do not necessarily lose their 50:50 wagers. As long as the La Partage rule is in place, players will receive half of their losing chips back.
Alternatively, if the En Prison rule is applied, all chips are locked in place for another spin. If you win, you get your chips back.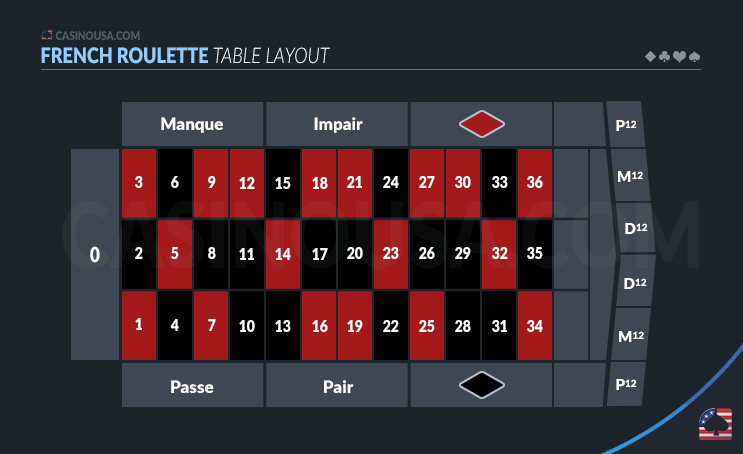 Number Sequences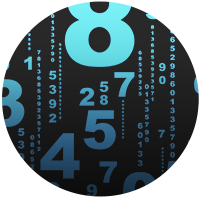 Players often find it confusing that the numbers on the wheel don't follow a certain sequence. The scattered design makes it harder for players to keep track of the numbers they want to bet on.
Similar roulette wheel types have identical spreads of table numbers. Additionally, manufacturers and game developers do not determine the order.
In the case of American and European roulette wheels, numbers alternate evenly between red and black. However, the distribution goes beyond the colors since the wheel ensures a balance between high, low, odd, and even pockets.
In addition, there must be an alternation between high and low numbers. This distribution is better on the European wheel but still equally challenging to learn for new players.
Active filters:
Clear all filters

Wild Casino
Bonus Offer:
$5,000 Welcome Bonus
More Info
Available Games
Slots
Blackjack
Roulette
Live Dealer
Baccarat
Features
Great selection of slots
High-quality live dealer games
Excellent welcome bonus
Crypto-friendly

Ignition Casino
Bonus Offer:
$3,000 Welcome Bonus
More Info
Available Games
Slots
Blackjack
Roulette
Live Dealer
Baccarat
Features
300+ games
Crypto-friendly casino
Live dealer jackpot
Bonus galore for different verticals

Cafe Casino
Bonus Offer:
350% up to $2500
More Info
Available Games
Slots
Blackjack
Roulette
Live Dealer
Baccarat
Features
Accepts cryptocurrencies
Generous welcome bonus
Loyalty program
Kahnawake Licence
37

casinos found based on your search.
Conclusion
Familiarizing yourself with the wheel and table layout will help you understand the game better. Additionally, this will help make sense of the different house edges each roulette variant has, which becomes relevant after playing multiple sessions. Once you learn the odds and probabilities of each variant, you will be able to choose the one that suits you best and start playing roulette with real money.
FAQ
What is the difference between the American and European wheels?
There is a slight difference between the European and American roulette wheels. With the additional 00 on the American roulette table, the wheel has 38 pockets. As a result, American roulette's winning odds are slightly reduced, and the house edge is increased.
Which is the most advantageous roulette table layout?
The French version offers the greatest advantage. Besides having the lowest house edge of 1%–35% for outside bets, it also features call bets.
What is the most popular type of online roulette wheel?
The most popular is the French roulette wheel. There are two reasons for this — advantageous outside bets and the single-zero wheel, which has the fewest roulette numbers. Alternatively, gamblers will opt for European roulette with the same wheel type.
How should beginners approach roulette wheels?
You should first understand the basic rules of the variant you want to play. In addition, you should place your bets during the available time period. Lastly, you should wait until the dealer spins the ball and distributes the winning chips if the ball lands on one of the winning slots.
About the Author