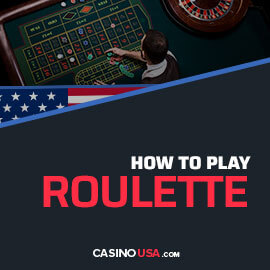 Our guide to online roulette discusses its rules, playing styles, bet types, and why it's so fascinating to thousands of players. Read on.
Basic Gameplay Rules
Online roulette offers all the thrills, excitement, and unique action that a game of roulette can provide without having to leave your home. Players can experience real money roulette in a single-player or a multi-player mode or give the game a shot with the free demo mode.
Playing roulette online and at a land-based casino has some differences. Players watch the roulette wheel spin, and a Random Number Generator (RNG) determines the outcome. This way, the house doesn't have an unfair advantage, and players cannot cheat as the patterns vary.
Players choose the bet they want to place and usually have unlimited time to do that. There are various bets you can place on roulette, but more on that later. Once all players place their bets, the wheel spins. You will receive a cash prize if the ball stops on your number. It's as simple as that, but we will explain it in more detail nevertheless.
Note that the two most widely spread variants are American or European roulette. The former has 36 randomized numbers (18 red and 18 black) and two zero pockets — 0 and 00. In comparison, the latter also has 36 numbers but only one green zero pocket. However, you'll also find other roulette variants in renowned online casinos.
How to Play Online Roulette: Step-By-Step
Before you place your first bet, we suggest you learn how to do that. Follow our step-by-step guide to help you confidently approach the roulette wheel.
Pick an online casino — Select your preferred online casino and open it. Create an account by submitting the necessary personal information or log in.

Make a deposit — Visit the Cashier section on the website, choose the payment method you typically use, and top up your account. The money should appear shortly.

Choose a roulette game — Go to the Table Games section and decide on a roulette variation that appeals to you the most.

Place your bet — Select the amount you want to wager by clicking on your bet amount and chip value. Once you do that, you must click once more to confirm your stake. You can also click on the x2 Double if you wish to double your bet.

Spin the wheel — Once you place your bets, the roulette wheel will start spinning, releasing the ball. Follow the screen closely to see where the ball lands. The online casino interface usually zooms in on the roulette pocket or highlights the winning number on the virtual table.

Collect your winnings — Once the wheel has stopped spinning, the ball will land in one of the pockets. Winnings will be paid out depending on the pocket where the ball lands.
Active filters:
Clear all filters

Wild Casino
Bonus Offer:
$5,000 Welcome Bonus
More Info
Available Games
Slots
Blackjack
Roulette
Live Dealer
Baccarat
Features
Great selection of slots
High-quality live dealer games
Excellent welcome bonus
Crypto-friendly

Ignition Casino
Bonus Offer:
$3,000 Welcome Bonus
More Info
Available Games
Slots
Blackjack
Roulette
Live Dealer
Baccarat
Features
300+ games
Crypto-friendly casino
Live dealer jackpot
Bonus galore for different verticals

Cafe Casino
Bonus Offer:
350% up to $2500
More Info
Available Games
Slots
Blackjack
Roulette
Live Dealer
Baccarat
Features
Accepts cryptocurrencies
Generous welcome bonus
Loyalty program
Kahnawake Licence
37

casinos found based on your search.
Types of Roulette Bets
Like other casino games, online roulette has minimum and maximum table limits.
The minimum bet can be as low as $1, while the maximum goes up to $1,000 or $10,000 for high-rollers.
You can choose to bet on one number or different combinations of numbers. However, most bets fall into two categories — inside and outside bets. Both have their table limits, but the limits for the former are usually lower.
Note — you must place your wager before the wheel starts spinning.
Inside Bets
Inside bets are placed on the inner field of the table, on a specific number or numbers (0–36). If you win, these bets have higher payouts, and you can place all the chips on one number or spread them across several numbers to boost your winning odds.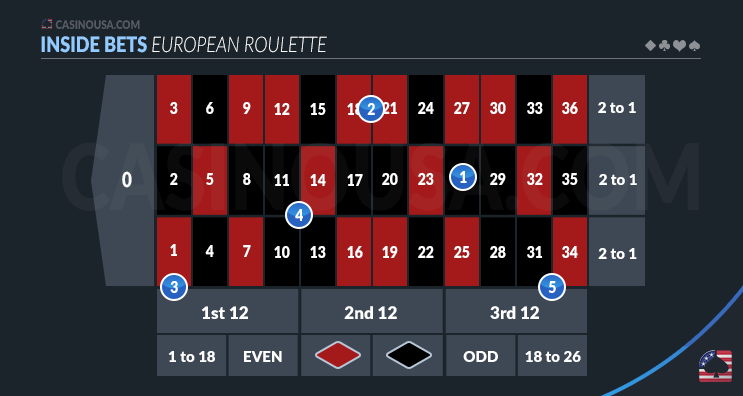 Straight Up/Single Number — You can bet on a single number by placing a chip on that number. This is a risky bet since you're picking only one number, but the winning payout is 35:1. You can place multiple straight up bets in one round if you want to increase your odds.
Split Bet — This bet allows you to place your chips on two adjacent numbers, horizontally or vertically. The chip has to be on the line between the numbers. If you hit one of the two numbers, the payout will be 17:1.
Street Bet/Trio — You can wager on a row of three consecutive numbers on a horizontal line. The chips must be placed on the outside border of the row you wish to wager on. If you are lucky, the payout for this bet will be 11:1.
Cornet Bet/Square — This bet, also known as the square bet, covers four numbers on the table. Players must place their chip(s) on the intersection where the four numbers meet. It has an 8:1 payout.
Six Line Bet — This bet resembles the street bet, except there are two rows of numbers — you bet on six adjacent numbers at once. It pays out 5:1, and you must put the chip(s) on the outer part of the t-junction joining both rows.
Outside Bets
Outside bets are placed outside the number area of the roulette table. These simple bets are the best place to start if you're a beginner. Outside bets are not placed on specific numbers but on a particular category that a number falls into. Players can put their chips on an entire grouping of numbers called propositions.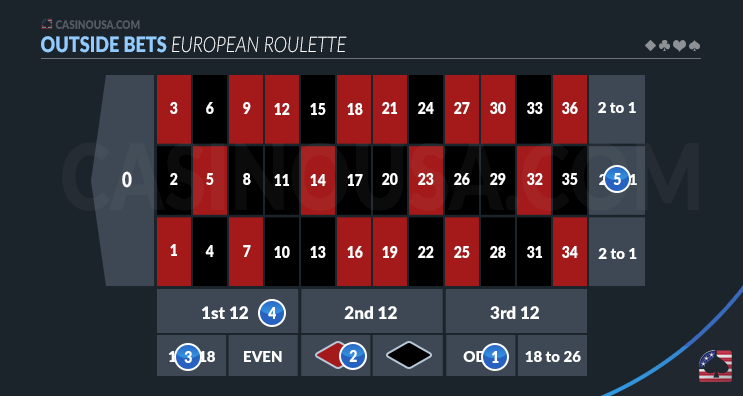 Odd or Even Bet — You wager on one of the odd or one of the even numbers. However, the house wins if you get 0 or 00 since they don't count as odd or even numbers.
Red or Black Bet — This bet is ideal for newcomers since they only bet that the winning number will be either black or red. This is an even money bet with a 1:1 payout.
High or Low Bet — This bet is known as 1–18 (low) and 19–36 (high) and covers half of the board. Players bet on one of the high or low numbers, and if they win, the payout is 1:1.
Column Bet — With this wager, you bet the winning number will appear in one of the columns — the first 12 numbers (1–12), the second 12 (13–24), or the third 12 (25–36). Players can bet on two dozen at once, but not three. The payout is 2:1.
Dozens Bet — You bet on one of the three dozen on the table layout (1–12, 13–24, 25–36). The payout for this wager is 2:1.
Racetrack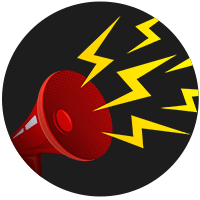 It's worth noting that roulette has a third category of bets called the racetrack that's more popular with advanced players. A dedicated part of the roulette table that looks like a racing circuit is used for call bets.
The call bets, also known as announced bets, are placed on groups or specific sections of roulette wheel numbers. They are more common in European and French roulette games, so it's no surprise they carry French names:
Tiers Du Cylindre
Orphelins
Voisins
Jeu Zero
These are four fixed bets, and players can place wagers on one or more.
Additionally, online casino tables also feature neighbors bets. Players opt for this bet when they wish to wager on a specific wheel section or a particular group of numbers. They are allowed to make multiple neighbors bets using the roulette racetrack.
Understanding the RTP and Payouts
Two main factors affect your odds at roulette — whether you play American or European variation and the type of bet you choose. Consequently, the odds directly affect roulette payouts since the wagers with the lowest winning chances are also the ones with the highest payouts.
Below is a table that shows some of the payouts when you play roulette online or in a casino:
| Bet type | European roulette odds | American roulette odds | Payout |
| --- | --- | --- | --- |
| Single number | 36:1 | 37:1 | 35:1 |
| Split | 17 ½:1 | 18:1 | 17:1 |
| Street | 11 ⅓:1 | 11 ⅔:1 | 11:1 |
| Corner | 8 ¼:1 | 8 ½:1 | 8:1 |
| Dozen/Column | 2 ¹⁄₁₂:1 | 2 ⅙:1 | 2:1 |
| High or low/Black or red/Odd or even | 1 ¹⁄₁₈:1 | 1 ⅑:1 | 1:1 |
Observing this table, you can see that the roulette payout for each bet is slightly lower than the winning odds since the zero pocket(s) direct the odds in the casino's favor, hence the house edge.
European and American roulette wheels have different numbers, so the house edges are also different. The house edge in American roulette is 5.26% and 2.63% on European wheel roulette on all bets.
Below you can see the odds for both roulette variations with inside and outside bets:
| Inside bets | Payout | European roulette odds | American roulette odds |
| --- | --- | --- | --- |
| Single (1 number) | 35:1 | 2.7% | 2.6% |
| Split (2 numbers) | 17:1 | 5.4% | 5.3% |
| Street (3 numbers) | 11:1 | 8.1% | 7.9% |
| Corner (4 numbers) | 8:1 | 10.8% | 10.5% |
| Six line (6 numbers) | 5:1 | 16.2% | 15.8% |
| Column | 2:1 | 32.4% | 31.58% |
| Outside bets | Payout | European roulette odds | American roulette odds |
| --- | --- | --- | --- |
| Even/odd | 1:1 | 48.6% | 47.37% |
| Black/red | 1:1 | 48.6% | 47.37% |
| 1–18 (low) | 1:1 | 48.6% | 47.37% |
| 19–36 (high) | 1:1 | 48.6% | 47.37% |
| 1–12 (dozen) | 2:1 | 32.4% | 31.6% |
| 13–24 (dozen) | 2:1 | 32.4% | 31.6% |
| 25–36 (dozen) | 2:1 | 32.4% | 31.6% |
Conclusion
As you have seen, getting started with online roulette is a breeze. Simply create an account, pick a roulette variation, place a wager, and hit the ball.
Despite being a relatively easy game to learn, make sure you read the rules and instructions of the particular roulette version before placing bets and playing.
FAQ
Is online roulette rigged?
No, it isn't. All major online casinos are regulated by reputable licensing organizations and rely on RNGs to ensure the randomness of outcomes.
What is the safest bet in roulette?
The safest roulette bet is an even money bet. These include high/low, red/black, and odd/even. Despite offering the lowest rewards, they have the greatest chance of winning. Additionally, they have the lowest house edge.
Can you bet on black and red simultaneously?
Yes, you can. In practice, this is not recommended, as the bets effectively cancel each other out. Additionally, the green pocket is also in the mix, so there is a chance you will lose on both bets.
Can you make money playing online roulette?
Of course. Once you create an account at an online casino, you can make a deposit and start making money playing online roulette.
About the Author