Active filters:
Clear all filters

Wild Casino
Bonus Offer:
$5,000 Welcome Bonus
More Info
Available Games
Slots
Blackjack
Roulette
Live Dealer
Baccarat
Features
Great selection of slots
High-quality live dealer games
Excellent welcome bonus
Crypto-friendly

Ignition Casino
Bonus Offer:
$3,000 Welcome Bonus
More Info
Available Games
Slots
Blackjack
Roulette
Live Dealer
Baccarat
Features
300+ games
Crypto-friendly casino
Live dealer jackpot
Bonus galore for different verticals

Cafe Casino
Bonus Offer:
350% up to $2500
More Info
Available Games
Slots
Blackjack
Roulette
Live Dealer
Baccarat
Features
Accepts cryptocurrencies
Generous welcome bonus
Loyalty program
Kahnawake Licence
25

casinos found based on your search.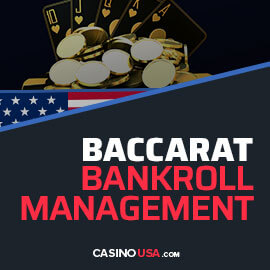 Naturally, a player's bankroll depends on their gaming habits and the amount they are willing to spend in a casino. You can set per-session, per-game, or monthly quantities — it's entirely up to you.
The goal is to include only the funds you're willing to lose.
Rules of Bankroll Management in Baccarat
Bankroll management may sound complicated, but it's straightforward and based on a clear premise — don't gamble more than you can lose.
For example, let's say you want to deposit some funds to a casino every month after you get your paycheck. You should first determine the amount you can afford to lose to gambling. It shouldn't impede your monthly living needs like rent, bills, and food.
Those funds are now your monthly bankroll. You can play with them as much as you want to, but you have to stick to them until the next month, no matter how much you win or lose.
To make this easier, you must properly manage your funds for each gaming session. These can last for 40 hands or more, so you must have enough money for each hand and each session.
For instance, if your bankroll is $500, you shouldn't use more than $50 per session. If you do that, each hand will be $1.25.
Naturally, this is just an example, and you should specify the bankroll amount based on your own paycheck and how much of it can go towards gambling.
In summary, you only need to:
Determine how much you can lose
Decide how much you can spend for each playing session
Estimate how many hands per session you'll play
Stick to each amount and never go over the bankroll
Why Should You Manage Your Bankroll in Baccarat?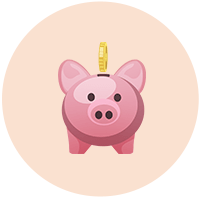 Baccarat is an easy game with low volatility. However, it's fast-paced, with as many as 75 hands per hour for some players.
This means it's easy to get sucked in and lose sight of how much you've wagered. That's why one of the main rules in any playing strategy is to manage your bankroll.
Proper bankroll management ensures you're always playing baccarat responsibly while still enjoying the game. Good techniques will consequently maximize your winnings as you'll lose a lot less in the long run than you would without a bankroll.
Tips for Better Baccarat Bankroll Management
If baccarat bankroll management seems complicated, you'll be glad to know that a few tips can make it easier. Here's what you can do:
Set win and loss limits — Baccarat has a very low house edge (1.06%), meaning it's easy to get sucked in by the frequent wins. However, you can still lose a lot of money quickly, so it's best to play until you've either lost or won a certain amount.

Use progressive betting — Utilizing strategies like the Martingale system, where you start with a fixed amount and increase or decrease it based on what's happening, is always beneficial. It will help you minimize losses, but nothing is guaranteed.

Have a fixed stake — Using the same amount for each bet is wise, as you know how many hands you'll get to play and how much you can spend.

Stick to specific bets — It's best to stick to the Banker bet as it features the lowest house edge of only 1.06%. The Player bet is close, while the Tie carries an advantage of over 14% for the casino. Moreover, it would be best to avoid side bets as they also have high house edges.

Don't chase your losses — With baccarat, it's easy to continue playing after a couple of losses. Players think they'll eventually win big, recuperating what they've lost. This is a mistake as the wins are low, and there is no guarantee you'll get the funds back.
Conclusion
Bankroll management is crucial in baccarat as it ensures you keep having fun while never spending more than you can afford to lose. With the rules and tips provided here, you'll quickly set your budget and stay within its confines while playing baccarat for a lot longer than you usually would.
FAQ
What is bankroll management in baccarat?
Bankroll management in baccarat, or any other casino game, is the process of managing your funds while playing the game. It includes setting a budget and sticking to it. Lastly, it means knowing when to leave a session.
What is the best way to manage your baccarat bankroll?
There's no specific method here — you only need to set a budget and adhere to it. It's best to have a particular amount for the entire month and then for each gaming session.
Do all players keep a bankroll for baccarat?
Unfortunately, no. However, everyone should. Baccarat is a luck-based game where it's easy to lose more than you want to in a short amount of time, which is why proper bankroll management is crucial.
About the Author