Active filters:
Clear all filters

Wild Casino
Bonus Offer:
$5,000 Welcome Bonus
More Info
Available Games
Slots
Blackjack
Roulette
Live Dealer
Baccarat
Features
Great selection of slots
High-quality live dealer games
Excellent welcome bonus
Crypto-friendly

Ignition Casino
Bonus Offer:
$3,000 Welcome Bonus
More Info
Available Games
Slots
Blackjack
Roulette
Live Dealer
Baccarat
Features
300+ games
Crypto-friendly casino
Live dealer jackpot
Bonus galore for different verticals

Cafe Casino
Bonus Offer:
350% up to $2500
More Info
Available Games
Slots
Blackjack
Roulette
Live Dealer
Baccarat
Features
Accepts cryptocurrencies
Generous welcome bonus
Loyalty program
Kahnawake Licence
25

casinos found based on your search.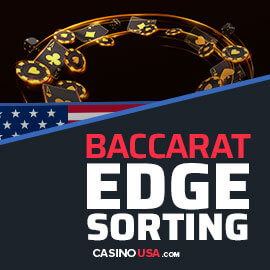 One of these approaches is edge sorting. It used to be relatively unknown until Phil Ivey, one of the world's most prolific poker players, used it to amass multi-million-dollar baccarat winnings. Today, many casinos consider edge sorting cheating and put it in the same basket as card counting, card marking, and false shuffle.
But is it cheating, though?
What mistakes did Phil Ivey make to end up fighting two lawsuits? Read on to find out.
What Is Edge Sorting in Baccarat?
Edge sorting is an advantage play technique primarily used in baccarat (however, players have used it in other card games like poker or blackjack as well). A player must notice imperfections or irregularities on the back of the cards to identify their value based on the pattern.
For the strategy to work, players need Hawkeye vision and a card deck in which the cutting pattern is inconsistent. To an untrained eye, all cards may seem identical. However, look more closely, and you'll notice that the design is cut differently along the edges.
For instance, the cards in a diamond-patterned deck are slightly asymmetrical. You'll see a complete diamond on one edge, while the other might only display a half or a small part of the diamond.
Still, noticing these irregularities is the easy part — sorting is where you need the skill. Each card must be positioned in a specific way so that you can distinguish it. The best way to ensure edge sorting works is through requests to the dealer. However, you can't ask them flat out to rotate the cards 180 degrees — you must be smart about it.
How Edge Sorting Works
Before working on your requests, you must find a casino that uses cards with noticeable pattern inconsistencies. While the manufacturers try to make them identical, many decks have unintentional edge irregularities.
After finding such a casino, you can start executing your plan. Once the game begins, you can ask the dealer to rotate face cards 180 degrees. Players commonly use superstition to explain the request, and the dealers often oblige, especially if a high roller asks.
At this point, low-value cards will be oriented one way and high-value cards the other. When the dealer starts dealing the cards, you'll know each value and use it to decide which wager to place.
However, the dealer must use an automatic shuffle, as the machine won't disturb the card orientation. If the dealer shuffles the deck manually, they might rotate the cards and ruin the entire setup. The only way you could recover is to ask the dealer to use an automatic shuffler, but you might raise suspicion like Phil Ivey did. More on that later.
Is Edge Sorting Cheating?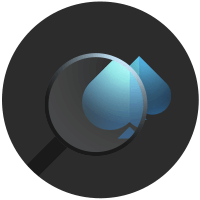 Players using edge sorting find themselves in a gray area. While this strategy isn't illegal, many casinos have policies against it.
For clarification, cheating is an action where a player interferes with the game, uses special tools, or has physical contact with the cards. Advantage play techniques like edge sorting and card counting aren't considered cheating.
However, while you may not face legal consequences for edge sorting, you might lose the winnings if a casino catches wind of your actions.
The Story of Phil Ivey
Phil Ivey is considered one of the best poker players of all time, but only a few know he excels in other games as well. In fact, he is the man that put edge sorting on the map, resulting in casinos banning this practice.
In 2012, Phil Ivey became the main topic of discussion among gamblers but not because of his mad poker skills. He amassed considerable wins in baccarat by using the edge sorting technique in two casinos.
Ivey and his accomplice, Cheung Yin "Kelly" Sun, beat the Borgata Casino in Atlantic City and Craksfords in London this way and collected over $20 million. In four visits to Borgata, they collected over $9.6 million, while the Crockfords baccarat marathon was even more fruitful, yielding over $10 million.
Borgata paid out the winnings to the player before inspecting his suspicious winning streak. On the other hand, Crockfords withheld the money and immediately opened an investigation. Once the two casinos realized he used edge sorting, they sued him for cheating. However, while Ivey admitted to using the technique, he argued it was legal.
The two players had peculiar requests, which the dealers indulged, likely because of Ivey and his fame. They required a Cantonese-speaking dealer, which is Kelly's native language. They insisted that one particular deck should be in play and that the cards should go through a shuffling machine. Lastly, they only played mini baccarat. These requests made it evident that the pair used edge sorting to gain an advantage.
The federal court in New Jersey sided with Borgata, despite saying the two weren't actually cheating. Crockfords also won in litigation, with the UK Supreme Court ruling that Ivey was, in fact, cheating.
However, the legal battles are far from over. Although the courts are still siding with the casinos, Ivey has immense support from gambling experts and fellow players.
Conclusion
Casinos don't like to lose, and they'll do anything to prevent it — it's that simple. After Ivey was caught edge sorting, many casinos worldwide banned this advantage play technique. Therefore, unless you can nail this strategy, you shouldn't try to edge sort, just to be safe.
Even if you do master it, the casino might realize what you're doing, take away your winnings, and ruin the entire experience.
FAQ
What is edge sorting?
Edge sorting is a technique used to gain an advantage in card games. It involves studying the back of the cards for inconsistencies and using them to identify their value. Although edge-sorting isn't illegal, it's not a welcome trick in most casinos. If you get caught, you might have to leave the table.
Is edge sorting cheating?
After the Phil Ivey fiasco, many casinos started looking at edge sorting as cheating. However, several laws state that cheating implies some interference, which isn't the case here. Players only use their observational skills to gain an advantage, so technically, it shouldn't be classified as cheating.
What happened to Phil Ivey's baccarat winnings?
Two casinos (Borgata in Atlantic City and Crockfords in London) sued Phil Ivey for edge sorting. While he's still fighting the lawsuits, the courts are on the casinos' side. If he loses, he might have to pay back the $9.6 million he owes to Borgata.
Can you still edge-sort in casinos?
You can, but some casinos might ask you to leave if you get caught. However, if used right, edge sorting can be quite advantageous.
About the Author