Active filters:
Clear all filters

Wild Casino
Bonus Offer:
$5,000 Welcome Bonus
More Info
Available Games
Slots
Blackjack
Roulette
Live Dealer
Baccarat
Features
Great selection of slots
High-quality live dealer games
Excellent welcome bonus
Crypto-friendly

Ignition Casino
Bonus Offer:
$3,000 Welcome Bonus
More Info
Available Games
Slots
Blackjack
Roulette
Live Dealer
Baccarat
Features
300+ games
Crypto-friendly casino
Live dealer jackpot
Bonus galore for different verticals

Cafe Casino
Bonus Offer:
350% up to $2500
More Info
Available Games
Slots
Blackjack
Roulette
Live Dealer
Baccarat
Features
Accepts cryptocurrencies
Generous welcome bonus
Loyalty program
Kahnawake Licence
25

casinos found based on your search.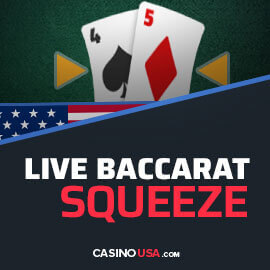 There have been several releases of Live Baccarat Squeeze, most notably by Evolution Gaming and Playtech. We'll use Evolution's variant to describe game rules, odds, and payouts since it has a higher RTP.
In this guide, you'll also learn how Live Baccarat Squeeze compares to other baccarat variants. 
What Is Live Baccarat Squeeze?
Live Baccarat Squeeze is a live dealer variation of baccarat developed by the Latvian giant Evolution Gaming in 2016. In this game, live dealers use a technique known as a card squeeze to build anticipation.
Traditionally, Chinese gamblers reveal cards in this offbeat manner. Macau casinos practice the superstitious ritual of squeezing cards between the fingers before turning them face down.
As far as other aspects of the game are concerned, Live Baccarat Squeeze is no different than the standard version. With an RTP of 98.94%, it's in line with low-house edge games like live French roulette and live blackjack.
Players are greeted with a wide-angle view of the entire interface, along with close-ups of the action. During the showdown, the camera will zoom in to capture the squeezing momentum. The games are filmed in Evolution Gaming's studios and streamed in high definition.
Baccarat Squeeze Gameplay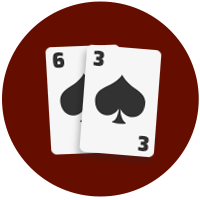 The Squeeze variant plays the same way as other iterations of baccarat, apart from the squeeze feature. Once you load the game, pick one of the denominations from the screen and place them on the field you want to bet on — player, banker, or tie.
Depending on the size of the wagers, the card is squeezed and revealed at different speeds. If there are larger active bets, they'll do it more slowly. Every showdown will involve the squeezing sequence, ending the round in a dramatic fashion.
There are several options available on the interface, including previous results, background light, chat, and toggling between 3D and classic view.
Apart from the three standard bets, players can put a few bucks down on side wagers like:
Either pair
Banker and player pair
Perfect pair
These exotic bets are more difficult to hit but offer larger payouts.
Live Baccarat Squeeze vs. Other Versions
Besides the distinctive squeeze feature, every other facet of this suspenseful variant mirrors the traditional game. It follows the same gameplay rules and has identical payouts — 1:1, 0.95:1, and 8:1 for the player, banker, and tie bets, respectively.
Conclusion
In all honesty, the squeezing feature can be bothersome at times. However, it adds a level of suspense that is needed in a game like baccarat, given its rudimentary gameplay. The theatrical motion has no effect on payout odds, but it influences player perception.
FAQ
What's the RTP in Live Baccarat Squeeze?
Live Baccarat Squeeze from Evolution Gaming has an RTP of 98.94%, which makes it one of the best-paying live dealer games out there.
Where can I find Live Baccarat Squeeze?
Pretty much every Evolution Gaming-powered casino has Live Baccarat Squeeze. A number of other providers, including Playtech, also offer versions of the game.
Is Live Baccarat Squeeze better than standard baccarat?
It all depends on your preferences. We recommend the game if you don't mind the prolonged anticipation. If you prefer faster gameplay, then stick to the standard version.
Does Live Baccarat Squeeze have side bets?
Yes, you can place six side bets in Live Baccarat Squeeze. These include player/banker bonus, player/banker pair, either pair and perfect pair.
About the Author