Active filters:
Clear all filters

Wild Casino
Bonus Offer:
$5,000 Welcome Bonus
More Info
Available Games
Slots
Blackjack
Roulette
Live Dealer
Baccarat
Features
Great selection of slots
High-quality live dealer games
Excellent welcome bonus
Crypto-friendly

Ignition Casino
Bonus Offer:
$3,000 Welcome Bonus
More Info
Available Games
Slots
Blackjack
Roulette
Live Dealer
Baccarat
Features
300+ games
Crypto-friendly casino
Live dealer jackpot
Bonus galore for different verticals

Cafe Casino
Bonus Offer:
350% up to $2500
More Info
Available Games
Slots
Blackjack
Roulette
Live Dealer
Baccarat
Features
Accepts cryptocurrencies
Generous welcome bonus
Loyalty program
Kahnawake Licence
25

casinos found based on your search.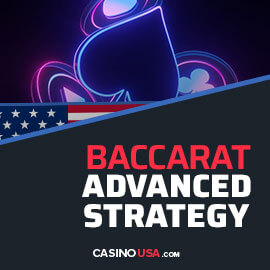 Baccarat is a simple, luck-based game, so straightforward strategies like those make sense. However, you can still take advantage of some advanced strategies. If you want to give one a whirl, it's worth reading up on them.
Let's take a look and compare them to the basic stick-to-the-banker technique. 
Golden Eagle Strategy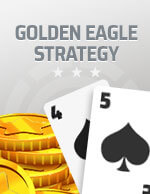 The Golden Eagle strategy is one of the more famous in baccarat. Ri Chang, a Chinese mathematician, created it to revolve around two modes, giving you a chance to play both offense and defense.
When you're on the offensive, you are trying to get the big wins, while the defense mode allows you to minimize the losses.
In the offense mode, you are following a winning streak. You must keep track of your bets and stop playing when your luck runs out. You also need to gradually increase your wagers while the streak lasts. This way, once you start losing, you'll have enough money to survive the dry season.
Once you start losing, you need to move to the defensive mode. This part requires you to make only minimum bets and lay low. You shouldn't stop betting altogether, and the minimums will keep you in the game long enough until the next winning streak arrives.
Martingale System
The Martingale system is a famous betting strategy used primarily in roulette and blackjack, but also applicable to baccarat. It's a progressive mode of playing where you gradually increase your wagers.
The technique assumes that the game's outcomes will eventually level out with the RTP, meaning you have to win eventually.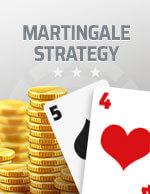 That's why it rests on the notion that you should double down on every wager following a loss. Once you win, you revert to the original stake. For example, if you start with $1 and lose, you increase it to $2. If you lose again, you increase the stake to $4. If you win, you'll have gained $8, so your total winnings are now $1.
With this system, you can't lose as long as you are prepared to keep doubling your wagers until you win. This is the only flaw of the strategy, as it might eventually require you to stake more than you can afford.
You can also use the Paroli system, that's effectively the opposite of Martingale, which is why it's sometimes called the Reverse Martingale. In other words, you need to double down when you win and revert to the initial stake when you lose.
1-2-3-4 Strategy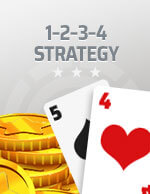 The 1-2-3-4 system is all about the amounts you use. The name might already explain how the strategy works — you increase your bets after a win and decrease them after a loss, like in the Reverse Martingale method.
However, here you increase the stakes by 1, followed by 2, then 3, and so on. In other words, if you start with $1, you increase it to $2, then $3, then $4, and so on. Once you lose, you go back to the beginning while keeping your previous win.
This allows you to choose whether to walk away or continue betting after a loss.
The entire system keeps players' profits up from consecutive wins while keeping the losses minimum.
Basic vs. Advanced Baccarat Strategy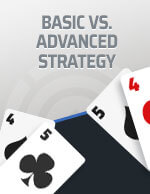 The systems we've covered are some of the more widely used ones, and even though there are more, the main question remains — should you use them instead of the basic baccarat strategies?
Unfortunately, there's no correct answer here. The fact remains that baccarat is a game of chance, so no matter which strategy you use, you'll still rely on lady luck's charms.
You can use any of the strategies for a change of pace. The basic one might get repetitive, as it focuses on placing the banker bet repeatedly, given that its odds are the highest, so mixing things up is good.
However, you still have to know when to stop playing, no matter which system you use. A strategy will only work with proper bankroll management, which is crucial in baccarat more so than in many other casino games. Pay attention to how much you have in your bankroll, and walk away whenever you reach your stop-loss amount.
Conclusion
Even though it is a simple game of fate, baccarat offers some strategies players can try. The ones we've covered are a great way to spice things up, but it's important to remember that no approach will bring certain success.
You must focus on knowing the game, playing according to your bankroll, and leaving whenever you drop below your stop-loss amount.
FAQ
Is there a sure-win formula in baccarat?
No, of course not. Baccarat is an entirely luck-based game, meaning there's nothing you can do to ensure a win. What's more, every playing technique or strategy will have its flaws, so the goal is to stop playing eventually and return with a new bankroll in the future.
How to consistently win at baccarat?
You can do nothing to consistently win at baccarat as it's a gambling game. The best thing to do is to stick to the banker bet, as it comes with the most favorable odds.
Should I count cards in baccarat?
If you ask the casinos, no, you shouldn't. However, it could slightly lower the house edge if you're playing in a land-based casino. Online and live dealer baccarat games use several decks, so there's no point in counting the cards.
Does baccarat require skills?
Baccarat may be a chance-based game, but it still requires skills in specific areas. You need to understand the rules, which bets to use, and how bankroll management affects your success.
About the Author