Active filters:
Clear all filters

Wild Casino
Bonus Offer:
$5,000 Welcome Bonus
More Info
Available Games
Slots
Blackjack
Roulette
Live Dealer
Baccarat
Features
Great selection of slots
High-quality live dealer games
Excellent welcome bonus
Crypto-friendly

Ignition Casino
Bonus Offer:
$3,000 Welcome Bonus
More Info
Available Games
Slots
Blackjack
Roulette
Live Dealer
Baccarat
Features
300+ games
Crypto-friendly casino
Live dealer jackpot
Bonus galore for different verticals

Cafe Casino
Bonus Offer:
350% up to $2500
More Info
Available Games
Slots
Blackjack
Roulette
Live Dealer
Baccarat
Features
Accepts cryptocurrencies
Generous welcome bonus
Loyalty program
Kahnawake Licence
25

casinos found based on your search.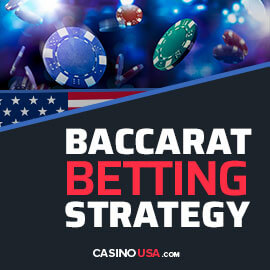 This article takes you back to the beginning and discusses the basic baccarat strategy and its dos and don'ts. You'll also learn more about advanced betting systems and decide which one fits your play style.
Does a Basic Baccarat Strategy Exist?
Before going into the details, let's clear something up — none of the baccarat strategies can guarantee a win. They can help you improve your winning odds, but that's as far as they go. After all, it's a game of luck where your moves cannot predict the outcome.
Beginners often opt for baccarat due to its simple gameplay — you bet on the hand you think will be the closest to 9. As we've discussed in one of our previous articles, the three main bets (banker, player, tie) carry different odds.
Of the three, the banker bet has the highest winning odds (45.86%), making it the most obvious choice and the most common basic strategy tip. Beginners are often advised to stick to this wager. You can switch it up and go for the player bet once in a while. However, you should steer clear of the tie bet, as it has the worst odds.
If you're a beginner, following this advice can improve your gameplay and give you a chance to understand how the game works.
Lastly, we'd like to discuss baccarat bankroll management. Knowing how to handle cash while playing any casino game, especially baccarat, is crucial for successful and responsible gambling. Baccarat is fun, and you can easily get carried away. So, before starting the game, decide on your budget and stick to it. The best thing you can do is quit while you're ahead — even if you're on a winning streak. You never know when your luck will run out.
Baccarat Betting Strategies Explained
All players always look for ways to boost their gameplay and winning odds, even in luck-based games. Check out the advanced strategies in the following paragraphs.
Martingale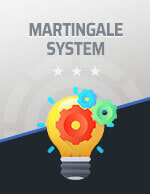 Martingale is one of the most famous negative betting systems that require you to increase your wager after losing. If you win the first wager, repeat it; if you lose, double it — it's simple. For instance, if you wager $5 and win, you'll bet $5 again.
However, if you lose, your next bet will go up to $10. Losing another round will increase the wager to $20, but winning will drive it down to the initial $5.
D'Alembert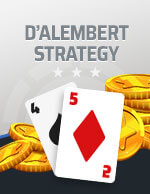 The D'Alembert betting system is similar to Martingale, but it doesn't require you to double your wager after losing. Instead, you'll increase it by one unit. First, determine the betting unit ($1, for example). Winning doesn't change the bet amount, but losing requires adding one unit.
For instance, you start the game with a $2 bet. After a win, the wager remains the same. However, if you lose, you'll increase the stake by one unit and come up to $3. Losing again will up your stake to $4, and so on. Once you win, you'll reduce the stake by one unit.
Golden Eagle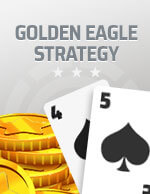 The Golden Eagle is one of the most popular strategies used in baccarat. It features two systems — offensive, which creates more winning opportunities, and defensive, which limits your losses.
The first mode is often used in winning streaks and involves increasing the wager until a loss occurs and then going back to the initial stake. The defensive mode helps extend your bankroll and implies placing small bets until winning. You go back to the defensive mode once your balance goes below your starting sum. Once you enter another winning streak, it's time to return to the offensive gameplay.
However, this strategy is risky for players with poor bankroll management skills.
1–3–2–6 Strategy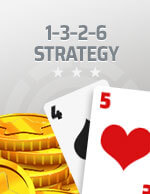 This is a simple strategy that's easy to understand and implement. You start the game with one betting unit and increase the bet according to the sequence after each win. If you lose, you go back to the beginning.
For example, your betting unit is $2, and you place your first $2 bet. If you win, you'll increase it to $6 (3 x $2). Win again, and you bet $4 (2 x $2), and so on. However, if you lose at any moment, you return to the initial wager.
Baccarat Winning Formula — A Myth Busted?
Googling "baccarat winning formula" will lead to another strategy — 1–3–2–4. It's similar to the one explained above but carries less risk due to the lower number at the end of the sequence. Best of all — it works regardless for both beginners and seasoned players.
However, as we've mentioned, no strategy or betting system will ever ensure a win. Any site that promotes a sure way to win or guarantees accuracy in predicting the outcome is pure clickbait — no one should fall for it.
Conclusion
Baccarat is a fun game, and that's how you should always approach it. Chasing wins might lead to losing more than you can afford, even with a solid strategy.
If you're a beginner, the best thing you can do is learn the ropes, rely on the basics, and let luck do the rest!
FAQ
What is the best basic baccarat strategy?
You should stick to the banker bet when playing baccarat because it has the best odds. Another helpful trick is to avoid the tie wager, as it rarely occurs. These essential tips can help you increase the winning odds.
Can a baccarat strategy guarantee a win?
Baccarat is a luck-based game, so even the most comprehensive strategies can't guarantee a win. However, if you want to up your game and increase your chances of winning, you should try different betting systems and see which ones work best.
What's the best bet in baccarat?
Betting on the banker is the best option in baccarat, with a 45.86% odds of winning. The player wager wins 44.63% of the time, making it the second-best choice. We don't advise putting money on the tie bet.
Is card counting legal in baccarat?
No laws prohibit card counting, but a casino might have an anti-card-counting policy. If you get caught in such a casino, the staff might ask you to leave the table. However, if allowed, card counting can help you track the card value and decide which bet to place.
About the Author