Active filters:
Clear all filters

Wild Casino
Bonus Offer:
$5,000 Welcome Bonus
More Info
Available Games
Slots
Blackjack
Roulette
Live Dealer
Baccarat
Features
Great selection of slots
High-quality live dealer games
Excellent welcome bonus
Crypto-friendly

Ignition Casino
Bonus Offer:
$3,000 Welcome Bonus
More Info
Available Games
Slots
Blackjack
Roulette
Live Dealer
Baccarat
Features
300+ games
Crypto-friendly casino
Live dealer jackpot
Bonus galore for different verticals

Cafe Casino
Bonus Offer:
350% up to $2500
More Info
Available Games
Slots
Blackjack
Roulette
Live Dealer
Baccarat
Features
Accepts cryptocurrencies
Generous welcome bonus
Loyalty program
Kahnawake Licence
25

casinos found based on your search.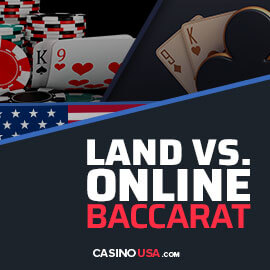 Let's see how land-based baccarat gameplay differs from online to see which suits you best.
Land-based vs. Live Online Baccarat
Baccarat rules are exactly the same in land-based casinos and their online counterparts. Still, what stands out is an entirely different experience and atmosphere when playing the game in a real casino and on a gambling website due to various unique characteristics.
Bet Size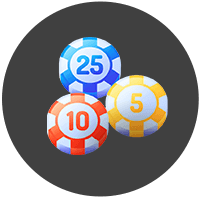 Although baccarat features the same bet types in both land-based and online casinos, the minimum stakes vary significantly.
To place a baccarat bet at brick-and-mortar casinos, players will typically have to spend between $10 and $25. This might imply that land-based gambling establishments favor high rollers.
On the other hand, maximum bets in online casinos rarely surpass $10. In fact, they are often around $5 and go as low as a single dollar. This betting range enables players of all budgets to try their luck on baccarat.
Game Types and Seat Availability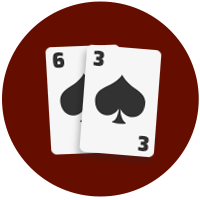 Another notable difference is the game selection and the number of available seats at the tables.
Land-based casinos offer a rather restricted space for installing game tables and other gambling equipment, regardless of their size.
Casinos must leave breathing room so they don't have the option of adding countless baccarat tables to their gambling floors. Consequently, this results in fewer seats overall.
On the other hand, it's highly unlikely you'll see this scenario in an online casino as their games are virtual, meaning there are no limits regarding the number of tables it can offer. This also allows the operators to add many different versions of baccarat and provide players with more options.
Bonuses and Comp Points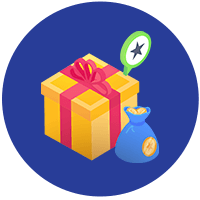 Online casinos have an advantage over land-based gambling venues, thanks to various bonuses they offer their patrons. Both new and registered users at online casinos can regularly find special promo deals for playing baccarat, which is not that often a case at brick-and-mortar gambling halls.
When it comes to your loyalty, it'll be rewarded in land-based and online casinos alike, but in different ways. While online casinos monitor your gambling habits and add comp points you can later exchange for bonuses or even real cash, land-based casino venues offer perks like:
Free drinks
Meals
Hotel accommodation
Other goodies
Extra Expenses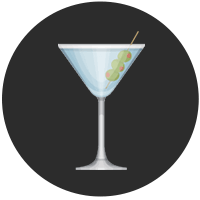 Playing baccarat in a land-based casino incurs more expenses.
First, you must physically visit the venue, which probably requires transportation fees. Then, you'll have to cover your food, drinks, and parking expenses if the casino doesn't provide some of it free of charge. Don't forget the accommodation if you're planning to stay the night.
Also, some casinos have a dress code that requires formal wear, so you might even need to purchase appropriate clothing. Finally, you should tip the dealer since that falls under standard baccarat etiquette.
But if you choose to play baccarat at an online gambling hub, none of these expenses should bother you. Even though live dealer baccarat gameplay takes place in a land-based studio or actual casino, you won't have to visit it since everything will get streamed to your phone or computer. You can enjoy playing your favorite game from your beloved sofa and keep all that extra money on your account.
Social Aspect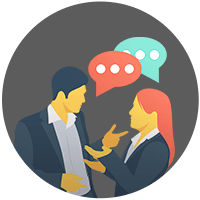 Live dealer online baccarat may be the closest thing possible to land-based gameplay, but it'll never live up to the standard in the social aspect.
Even with the presence of live dealers, the latest HD cameras, and other tools that make the gameplay realistic, live online baccarat cannot replace the atmosphere of a brick-and-mortar casino.
Streaming the gameplay from land-based venues is not enough to compensate for the lack of in-person baccarat experience play.
Conclusion
The financial aspect of playing baccarat in land-based casinos, available seats and game types, bonuses and comp points, and the overall experience distinguish brick-and-mortar and online baccarat gameplay.
So, before you decide whether you'll play baccarat online or in a real casino, consider the five differences we highlighted in this text. They'll help you make the right decision.
FAQ
Which baccarat form is a better fit for recreational players?
If you're a beginner or recreational baccarat player, it may be wiser to start with online baccarat, as it features lower minimum bets that can go down to $1.
Do land-based casinos offer any bonuses for baccarat players?
While land-based casinos aren't known for offering bonuses and promotions found on gambling websites, they do offer some perks like free drinks, food, hotel accommodation, and similar rewards.
Are baccarat games more diverse at land-based or online casinos?
If you're looking for diversity in terms of baccarat games, you'll find it online since land-based casinos work with limited physical space.
About the Author