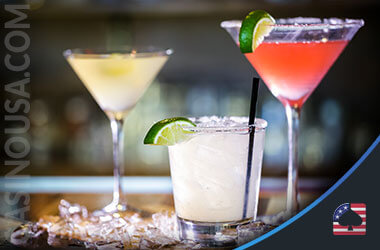 Providing a range of alcoholic beverages is an essential part of the casino experience, whether it is at an open or closed affair. The glamor of a casino may be found in cocktails, without the overbearing effects of too much alcohol.
Whether you are simply hanging out with pals or playing a game, being adventurous with your beverage selection can help you get the most out of what is available. That's a start.
Naturally, you won't settle for a mediocre drink if you are going to put in the effort to order a cocktail at a casino. Almost every modern casino will have a house cocktail menu, but sometimes the best bet is to go with the tried-and-true options. These days, gamblers may take heart in the fact that the best casinos have begun to realize the importance of providing top-notch beverages.
The ingredients of a cocktail may range from the very simple (coke and rum, gin and tonic) to the very exotic (White Russian, Blue Lagoon, Sex on the Beach, etc.). There is, however, no need for you to stress about any of that.
We have some excellent recommendations for you. It doesn't matter if you are new to casinos or just want to try something different in the alcoholic beverage department.
We list the best 7 cocktails to order at a casino below and give you a short summary of their ingrediants. So, let's get started.
Dry Martini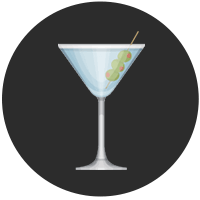 To kick off our list with this one is a no-brainer. If we are talking about the greatest drinks to order at a casino, it would be shameful not to start with a Dry Martini.
The classic cocktail has just two ingredients:
Still, it is among the best casino cocktails. Olives, lemon, and even stuffed olives are available as garnishes at many casinos.
The dry martini has been around for a long time, and it has become a classic drink that represents metropolitan opulence and style. To really appreciate the high-end of gambling, enjoy your martini while partaking in live or virtual real-money games.
Pina Colada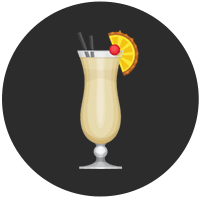 Consider ordering a refreshing Pina Colada as your next beverage if you feel like you could use a little extra pizzazz. As far as casino cocktail names go, it certainly lives up to its posh reputation as one of the most elegant options for a drink in a casino. Whether you're lounging by the pool or hitting the slots, this beverage will hit the spot.
It is traditionally made with the following in a ratio of 1:1:3:
White rum
Coconut cream
Pineapple juice
If coconut cream is not readily available, coconut milk is a suitable substitute. There may be a pineapple wedge or maraschino cherry in the glass for aesthetic purposes. You will keep going back thanks to the unparalleled tropical vibe that this gives.
Cosmopolitan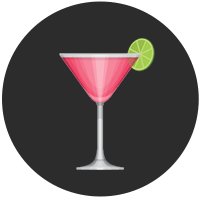 Since it was a similar beverage with a different name until the late 1980s, it is difficult to pinpoint the Cosmopolitan's precise origins. The Cosmopolitan's influence, however, was vast and all-encompassing, unlike that of any other beverage made throughout the 20th century. Because it wonderfully caps off a warm evening by soothing your thirst, it's a terrific option in casino settings.
Spirit, sugar, and citrus were essential ingredients in the traditional recipe.
Cheryl Cook allegedly blended lemon-infused vodka, triple sec, Rose's lime juice, and enough cranberry juice to turn it pink in an attempt to develop a sweeter cocktail with the elegance of a martini.
The Cosmopolitan is a simple, sweet, seductive, and sophisticated cocktail, yet it has been mocked for being "overly feminine." This is unjustified criticism of a drink that has had such a profound cultural influence. It is certainly bound to make your casino experience a delight.
Gin & Tonic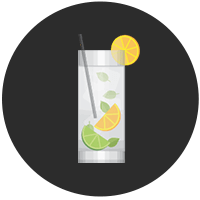 Gin and tonics, or G&Ts, have come a long way from their origins as a medical prescription to become one of the most popular beverages in contemporary mixology, inspiring many variations and inspiring whole bars.Casinos of the highest caliber will not be lacking in any respect when it comes to delivering this delicious beverage.
The traditional preparation of a G&T calls for juniper-infused gin and astringent tonic water, along with plenty of ice and a squeeze of fresh lime.
Different distilleries put their own spin on the spirit by adding or omitting ingredients like juniper berries. Gin cocktails, like the alcohol, come in a wide variety, but many have the citrusy, minty, and somewhat sweet taste profiles typical of gin drinks.
Light, refreshing, and somewhat sweet, gin & tonic cocktails are ideal for the summer or any time of year.
Margarita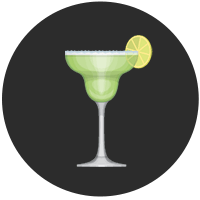 One of the most famous drinks in the world, the Margarita is a tequila classic that has stood the test of time because of the harmony of its simple ingredients and its invigorating citrus flavor. With this drink in hand, your time at the casino will be nothing short of an exercise in understated elegance.
The typical Margarita cocktail recipe calls for:
Tequila
Triple sec orange liqueur
Fresh lime juice
The rim of the glass is traditionally salted before serving. Most margaritas are shaken and served in coupes or old-fashioned glasses, either on the rocks or with ice. Frozen versions of these may also be made by blending them with ice.
Long Island Iced Tea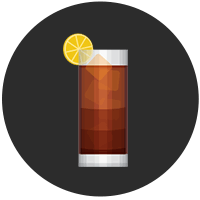 Like the history of most cocktails, the origins of this hard-hitting beverage are obscure.
Long Island iced tea's place of origin has lately been disputed, with claims being made both by Kingsport and by Tennessee. In any case, the next time you're in a casino, you shouldn't let that deter you from ordering one of these fantastic cocktails.
The name comes from the fact that it looks similar to a more sober beverage. There was no need to mix the:
Tequila
Vodka
Triple sec
Gin
Rum
That go into a Long Island Iced Tea; each of those liquors is quite strong on its own. But its ingenious creators added a splash of cola to the mix, and the result was a drink that has since gained widespread recognition.
Bloody Mary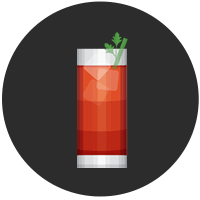 Common lore has it that Harry's New York Bar in 1920s Paris is where the Bloody Mary was first served. Its recognition and use have soared since then.
Given the drink's widespread renown, the United States has unofficially designated January 1 as Bloody Mary Day. Therefore, most people who like cocktails will be familiar with it. You can almost guarantee that your favorite casino will always have this invigorating beverage available.
The following are the standard starting components for a Bloody Mary:
Vodka
Tomato juice
Worcestershire sauce
Tabasco sauce
Horseradish sauce
Lemon juice
Black pepper
Celery salt
A dash of cayenne pepper
However, a visit to any given casino will reveal many variants. What you get also relies on the bartender's attitude toward experimentation.
Skewers of all sorts of tasty morsels, from the tried-and-true (bacon, cherry tomatoes, olives) to the outrageous (shrimp, tiny burgers, and doughnuts), are popular additions to this cocktail.
The Bottom Line
All of these cocktails are excellent staples, but expanding your horizons is always a good opportunity. There are dozens of others that are considered sought-after beverages such as:
Mojitos
Jägerbombs
Daiquiris
Champagne cocktails
It's fine to experiment with several cocktail recipes to find the one you like the most. You are free to adhere to your tried-and-true methods or branch out. That decision rests entirely in your hands and your taste buds.
While at it, be sure to take it easy on the drinks and hydrate regularly. By continuing to gamble while under the influence of alcohol, a patron is may get into trouble and is likely to lose a significant amount of money. So that potentially harmful actions remain within reasonable bounds, it is vital to keep tabs on things like how much money is being spent on drinks and bets.
About the Author