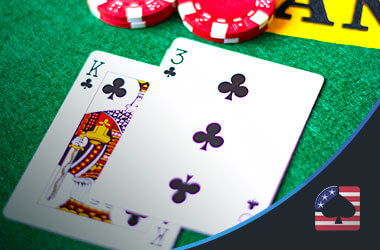 At the moment, the gambling world features more than 20 blackjack variants you can have fun with. Naturally, you can try them all if you are a big fan of the game, but it's better to start with the best ones.
In this piece, I wanted to give you a detailed overview of the leading blackjack variants played in online casinos throughout the world.
If you're going to start playing blackjack or are looking for new variants to test out, you should read this comprehensive guide, as it will help you decide which one is the best for you.
How Do Blackjack Variants Differ from Each Other?
Blackjack is a relatively straightforward game, which is why there are only so many ways in which variations can differ from one another.
These are some of the most common methods used to make the games different:
You cannot double down easily in every blackjack variant. In European Blackjack, for example, you can only double down if you have a total of 9, 10, or 11. This is just an example, but most variants have at least some limitations.
In some versions, the dealers have to hit on a soft 17, i.e., a 17 with an ace in it, while in others, they have to stand.
A major difference between variations is in how many times players can split. In some games, it's up to three, while others let you split once per hand only.
Important Things You Need to Understand About Blackjack Variants
Before I share the top versions of blackjack with you, there are a few things I need to explain:
You Won't Be Able To Find Every Blackjack Variation Online
Unfortunately, some blackjack games haven't found a place in the online world yet.
What's worse, some can't even be found in most brick-and-mortar casinos. I've done my best not to include such variants in this list.
Most Online Casinos Offer a Small Number of Blackjack Variations
Most gambling platforms choose to offer few blackjack versions. As a result, many games actually belong to the same variant. This is usually the case because the casinos have the same games from different providers.
Unfortunately, if you want to play all of these blackjack variants, you will have to make accounts on various sites. Here's a list of the leading casinos that offer the widest range of blackjack games.
Blackjack Tournaments and Sit-and-Goes Are Also Blackjack Variations
You won't find them on this list as they differ from site to site, but every one of these competitions is technically a blackjack variant.
What's more, they are often even more entertaining, as you get a chance to play live dealer blackjack games.
Best Blackjack Variants You Can Find at Online Casinos
Below I have listed the most popular blackjack variants that you can find at many online casinos:
American Blackjack (Classic Blackjack)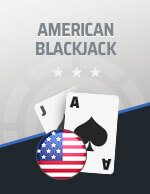 This is the favorite blackjack game of most players. It represents the standard variant you can play everywhere, even outside a casino.
The main objective is to get as close to 21 as possible without exceeding it — and that's about it.
However, there are still a few rules you should know if you've never played blackjack before, or if you want to know what separates the American version from all others:
Between two and four decks are used.
Dealer has to hit on a soft 17.
Dealer checks if they have blackjack.
Players have the right to split their cards and double down.
European Blackjack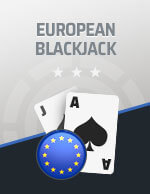 After the classic version, the European variant is likely the most popular one. It's probably because European Blackjack is quite similar to the American one, with the main difference being that the dealer always has to stand on a soft 17.
Furthermore, other notable differences a player's blackjack against the dealer's is a push and that you can double down when you have a total of 9, 10, or 11.
Blackjack Switch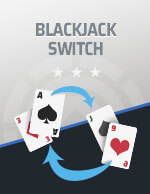 Blackjack Switch is a very popular blackjack variation that originated in 2009.
In this version, players get to play two hands and switch cards after the first deal, which is where the game's name comes from.
Even though this sounds easy, there are a few downsides that make the game harder to win. The dealer busts only when they have 23 or more. If the dealer gets 22, then all players are pushed. What's more, blackjacks always pay even money.
Double Attack Blackjack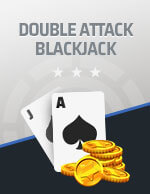 Double Attack Blackjack is very similar to Spanish 21, but it also resembles the European variant. It allows you to double the previous bet immediately after the dealer's cards are placed on the table.
But that's not all — the deck is different as well since all tens are removed from it. Besides that, players can surrender at any stage of the game without limitations.
Pontoon (British Blackjack)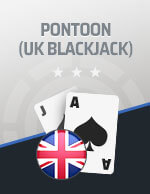 Pontoon is the British version of regular American blackjack, and it's largely similar to it. However, there are a few things that make the game more interesting and less strategic.
The most noticeable distinction is that you get to see one of your cards before making your bet. Another major difference is that you win double if you have five cards equaling 21 or less.
The game still functions in the same way, but the terms are also different, which is important to know if you want to play the game in a physical location.
Blackjack Perfect Pairs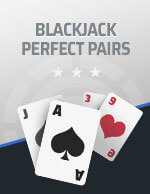 Perfect Pairs features extra side bets you can place at the start of each hand, and it's the main thing that makes this variant stand out.
Additionally, you can also play up to five different hands every round, and you can double down or split as well.
Double Exposure Blackjack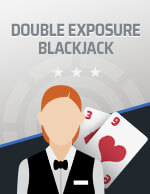 According to many, this is the most popular blackjack variation. It's mostly because the house is at a disadvantage since the dealer has to place their two cards face-up so everyone can see them.
You can certainly appreciate how helpful this is when making decisions throughout the game.
However, there are some disadvantages as well. Namely, the dealer wins all ties except blackjack, and you have no option to surrender in the late stage of the game.
Bonus Blackjack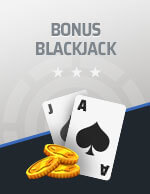 Bonus Blackjack can barely be considered a variant, as it's almost the same as the classic version of the game.
However, its popularity warrants it, and it only stems from the fact that it allows for an additional side bet to be placed before the player gets the cards.
Vegas Strip Blackjack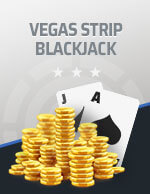 Despite being named after Sin City, this blackjack variation can now be found in many online casinos, not only in Vegas.
The rules you have to follow here are all part of the regular single-deck blackjack strategy, but there are a few important distinctions.
The most notable rules in Vegas Strip are that the dealer has to stand on a soft 17 and that the payouts for hitting blackjack are usually higher.
About the Author