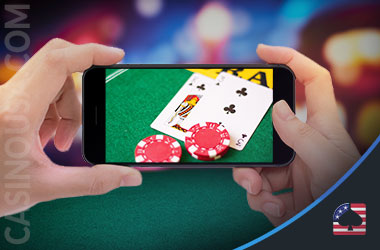 Gone are the days when players had to drive to land-based casinos searching for their favorite table game — blackjack. Thanks to advanced technology and numerous online casinos, true fans can access blackjack at the palm of their hands. But finding a good and respectable casino that offers top-notch blackjack games on a mobile device is not easy. That's where we come in.
We looked above and beyond for the crème de la crème blackjack casinos on mobile devices, and our team of experts managed to do just that. If you're interested in taking your blackjack gameplay on the go, we've got your back.
Read on to learn more about these casinos and how to access them on either Android or iOS devices.
Best Blackjack Mobile Casinos For US Players
What to Expect From Mobile Blackjack Technology
Whether you're preparing to access your favorite blackjack games from an Android or iOS smartphone or even an iOS tablet or laptop, you should know what to expect. Namely, with the ongoing technological advancements, blackjack fans have a broader choice of options.
Some blackjack casinos offer downloadable apps, while others rely on HTML5 technology for in-browser play. Either way, accessing blackjack games is not difficult. If you need to download an app, you have to visit either the Google Play store or the App Store for Apple devices. Some casinos even provide a direct link on their site that takes you to the app store of your choice.
If you pick a casino without a dedicated app, you have to open the site in your mobile browser. This option is equally straightforward and up-to-par.
Thanks to HTML5 technology, the game graphics have been tailored to smaller screens, meaning the experience remains unchanged.
Mobile Blackjack Variants
If you're new to the game of blackjack, you might feel a bit lost due to numerous blackjack variants out there. Aside from classic blackjack, there is a wide variety of other blackjack games to try out.
Here are some of the most popular ones you can play on any mobile device:
American blackjack — The dealer receives one face-down and one face-up card. If the face-up card is an ace, the dealer gets to look at the other card, but all players lose if the card is a ten or a picture.
European blackjack — The dealer receives a face-up and face-down card but does not look at the face-down card until all players have made their bets.
Pontoon — This variant is also called Spanish 21 and is characterized by higher payout odds. It's called a "pontoon" when you hit 21 with only two cards.
Perfect pairs blackjack — Like classic blackjack, this game allows players to make side bets before the game starts.
Multi-hand blackjack — This variant suits more experienced players as they can play more hands in the same amount of time.
Best Mobile Blackjack Casinos
Now that you have all the information on mobile blackjack let's get acquainted with the best mobile blackjack casinos.
Bottom Line
As you can tell, playing blackjack on the go is massively popular. Most top online casinos prioritize mobile play and focus on creating the best mobile gaming experience for blackjack players.
Whether you're using an Android or iOS device, you shouldn't have any trouble finding a casino that suits you as long as you stick to our list. With just a few mouse clicks, a ton of quality blackjack games and bonuses await you. Good luck!
Keep Reading: How to Win at Blackjack
About the Author