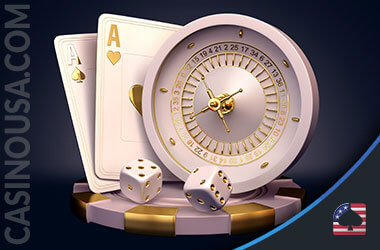 Exploring a gaming lobby and finding a suitable title can overwhelm any new cookies. Exploring the vast iGaming industry doesn't have to be daunting.
This simple guide will introduce you to the best gambling options for absolute beginners. 
These games come with exciting gameplay, unique features, and attractive prizes. Best of all — you don't need any experience to enjoy them. Ready to kick off a memorable casino adventure? Let's begin!
Slots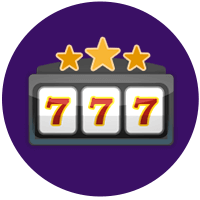 Finding a land-based or an online casino without a comprehensive slot collection is far-fetched. These fast-paced feature-rich games are the backbone of the gambling industry and favorites among beginners due to their simplicity and fun gameplay.
Slots are luck-based, meaning you don't need skill, strategy, or experience to play and win. You only need to decide which titles to pick and how much to wager — the rest relies on your luck.
Online slots come in all shapes and sizes, including:
Penny slots — These slot games are perfect for beginners who don't want to spend a lot at once. Usually, you can play them for one cent per line. Although they typically have a minimum number of active lines, they are more budget-friendly than other slot types.
3-reel classics — If you're looking for simple gameplay, go for classic fruit machine-inspired slots. They carry a straightforward design without overwhelming graphics and features.
Video slots — Gambling sites are teeming with mind-blowing video slots. These games carry high-quality visual and audio effects, multi-layered gameplay, and various features, making them a favorite at online casinos. Players can collect free spins, trigger multipliers, and score fantastic prizes.
Progressive jackpots — Video slots carry big win potential, but those with progressive jackpots can yield life-changing rewards. Progressive jackpots grow until one lucky player lines up the right symbol combination. So, on top of exciting gameplay, you'll have a shot at hitting the honeypot and collecting millions of dollars.
If your interested in trying out slots games for free click the link here.
Video Poker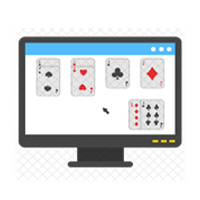 Video poker combines the excitement of slot games and the skill and strategy of table games, creating a hard-to-match hybrid gambling experience. The entire gameplay stems from the Five-Card Draw, but instead of playing against other players, you go against the house.
During the game, you receive five cards and pick which ones to keep or discard. The discards get replaced by other cards from the deck, creating your hand. Your payout will be based on the pay table. The best thing about video poker is that you can't lose more than your wager, so it's excellent for players not yet ready to play real money games.
Common video poker titles include:
Roulette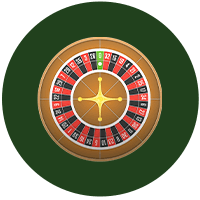 Roulette can look intimidating to an untrained eye, but, in reality, the basic game is one of the easiest to learn and play. The goal is simple — bet on the field where you think the ball will land.
Typically, the wheel has 18 red and 18 black fields and one zero. You can bet on a single number or a group of numbers to increase the winning odds.
Roulette offers a range of so-called inside and outside bets, creating exciting gameplay that can yield juicy rewards. Variations include:
Baccarat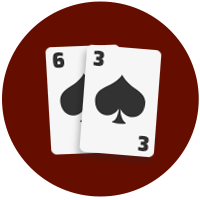 When we mention casinos, baccarat isn't the first game that comes to mind. Any James Bond fan knows it's a captivating game. While some are perplexed by the intricate rules of card drawing, the game premise is simple to understand.
You only need to bet on the winner — player (you), banker, or tie. The hand with the highest total value wins. Although different variants with more complex rules exist, the basic game is exciting. Besides classic baccarat, you'll also find:
Punto Banco
Mini Baccarat
Baccarat No Commission
Chemin de Fer
Baccarat Banque
Blackjack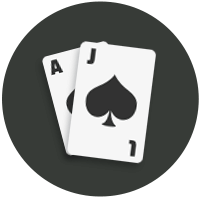 As we move away from luck-based games, we have to switch to games requiring skill and knowledge. Blackjack is a good choice for beginners, as it improves strategic thinking and prepares the player for further challenges. It also has the lowest house edge, making it suitable for seasoned and inexperienced players.
Fast-paced gameplay involves one or several decks of cards where the goal is to beat the dealer while not going over 21 (busting). The game offers two main options — hit or stand. You'll receive an additional card that counts toward your total hand value if you decide to hit. Choosing to stand means you don't need another card and are satisfied with your current hand.
If the dealer busts, you get the money — if you go bust, you lose the wager. Likewise, you'll lose if the dealer gets a blackjack before you.
Experienced players employ various strategies, including counting cards. However, beginners should always learn the ropes and practice before creating a strategy to avoid confusion and hone their skills.
Check out some popular options:
Keno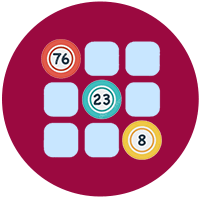 You don't have to be a casino connoisseur to play keno. This lottery-style game is perfect for players seeking casino action without fully understanding the rules or going up against more experienced opponents.
The game involves 80 balls, and you can bet on up to 20 at once. The balls are randomly pulled, revealing the winning numbers. The number of balls you correctly predicted dictates the prize you'll receive.
You can bet on all 20 balls, but no one has ever won all the wagers. However, we won't say it's impossible — who knows; it might be your lucky day!
How to Pick the Right Casino Game?
We've introduced the best games for beginners, but even this selection might confuse some players. The following tips will help you narrow the list and have less trouble choosing the game.
Choose the game type — Focus on one game category that appeals most to you. If you like card games, go for blackjack or baccarat. On the other hand, choose slots and video poker if you prefer a style similar to video games.
Learn the rules — Understand the game's workings before playing for real money. Some online casinos offer demo modes, meaning you can test the games for free and see whether you like them.
Check the difficulty level — This primarily refers to card games with different variants, like blackjack. Make sure to start with the basic game to master your skills without wasting too much money.
Pick low-volatility titles — You can always check the game's volatility to determine how much risk is involved. Of course, playing casino games is always risky, as nothing can guarantee a win, but knowing the volatility levels will help you avoid high-risk titles.
Final Thoughts
Picking a game shouldn't be rocket science, but having an idea of where to start can't hurt. We've laid out the options and explained what makes them perfect for inexperienced players. It's up to you to find an online casino and choose a title that meets your needs and abilities.
Remember, gambling should be fun. There's no need to put yourself at risk of losing money by playing games you're not familiar with. Take time to understand the basics, refine your skills, and enjoy the thrill of playing immersive and exciting casino games.
About the Author