Active filters:
Clear all filters

Wild Casino
Bonus Offer:
$5,000 Welcome Bonus
More Info
Available Games
Slots
Blackjack
Roulette
Live Dealer
Baccarat
Features
Great selection of slots
High-quality live dealer games
Excellent welcome bonus
Crypto-friendly

Ignition Casino
Bonus Offer:
$3,000 Welcome Bonus
More Info
Available Games
Slots
Blackjack
Roulette
Live Dealer
Baccarat
Features
300+ games
Crypto-friendly casino
Live dealer jackpot
Bonus galore for different verticals

BetUS Casino
Bonus Offer:
150% up to $3,000
More Info
Available Games
Slots
Blackjack
Roulette
Live Dealer
Baccarat
Features
Reputable online casino with 26+ years' experience
Wide range of deposit bonuses for sports bettors and casino players
Outstanding customer support
Several different cryptocurrencies accepted for deposits and withdrawals
14

casinos found based on your search.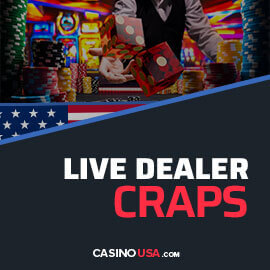 If you want to try it out, know that it's easy to get the hang of, especially if the version you're playing comes from Evolution Gaming or another leading provider.
In this article, we'll give you the best live dealer casinos in the US, explain how the game works, why you should play it, and how it compares to online craps. Keep reading to learn it all.
Top US Live Dealer Craps Casinos
We have the top online casinos at the top of this page if you want to get started immediately. We selected them through a rigorous review process that involves checking every nook and cranny of a site. You can pick any platform on offer, but if you want to learn more about live dealer craps, keep reading the text.
How Live Dealer Craps Works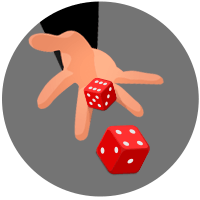 Live dealer craps works like any craps game. In other words, the goal is to place a bet and accurately predict the outcome of rolled dice.
You can follow the action through a live stream with everything happening over an actual table and with the help of a professional dealer. Naturally, the gameplay elements are still the same — you get to place bets on specific outcomes, and the buttons for them are displayed on the screen.
A specific timeframe exists for making a wager, as the game is open to many players.
You can use an embedded chat feature to talk to them or the dealer, who can also offer help when needed.
As for the game itself, there are two phases — the come-out roll and the point.
In the come-out roll, you can make two types of wagers:
Pass line — The more common bet with three possible outcomes. If the dice show 7 or 11, you win. If you get 2, 3, or 12, you lose. And if the bones show 4, 5, 6, 8, 9, or 10, you move to the point phase without winning or losing.
Don't pass — If the bones show 2 or 3, you win, but if they display 7 or 11, you lose. If the total is 12, you get your stake back. And once again, if the roll is 4, 5, 6, 8, 9, or 10, the box numbers, you move to the next phase.
In the point phase, the previous bet remains, but you'll have to roll the point. In other words, you need to obtain the box number you got in the come-out roll before rolling a 7 to win the round. The phase will last until one of the two results occurs.
In this stage, you can also place the Come or Don't Come bets, which work in the same way as Pass and Don't Pass.
Besides standard wagers, you can also play with a few additional ones, including proposition bets. The props include rolling a 6 or 8, any 7, any craps, and a few others.
Can You Play Live Dealer Craps Online?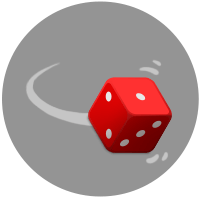 After the massive success of the RNG-based craps variant, it was only a matter of time before live dealer craps would appear in online casino lobbies. In short, yes, you can play live dealer craps on many web-based casino sites.
So far, the live dealer game of craps that dominates the market is the live craps title developed by Evolution. The gameplay is relatively straightforward — you should guess the outcome of a two-dice roll and place your wagers accordingly. Then, the live dealer stationed in a land-based studio rolls the dice, and if your guess is correct, you win.
Although the actual gameplay will take place in real-time, you'll follow it on your big or small screen from your home or any other place you like. This way, you'll enjoy land-based gambling online without too much effort.
Why Play Live Dealer Craps
If you're wondering why you should play live dealer craps, there are a few good reasons:
Great odds — The house edge of the primary wagers, including Pass Line, Don't Pass, Come, and Don't Come, are only 1.35% or 1.41%, which is quite low for a casino game.

Interesting live stream mechanics — There are multiple camera angles, you can use the chat option to communicate with others, and you get help from the dealer when needed.

As close to the real thing as possible — Live dealer craps offer a similar experience to the one you get in land-based casinos including similar etiquette rules.

Available wherever there's an internet connection — The game is open 24/7. It's live-streamed, and the dealers work in shifts, so you can participate whenever you want.

No way to get cheated — Even though it's safe in reputable games, many players don't trust the RNG system. In live dealer craps, real dice are rolled, so you always have a sense of fairness.
Online RNG vs. Live Dealer Craps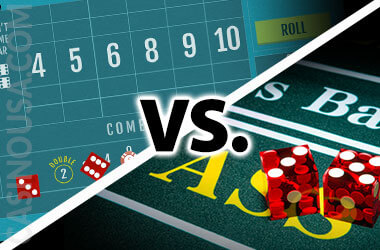 Both online RNG and live dealer craps offer the same basic rules and gameplay. The main difference is not in the game but in its presentation.
Online Craps
Online craps uses standard casino technology, so everything is displayed on a simulated table with computer graphics. This form is single-player, and the results are not governed by real dice but by virtual ones that roll based on random number generator algorithms.
Live Dealer Craps
Live dealer craps is similar to the live version, with the main difference being that you're not physically present at the table with the dealer. However, you still get to follow the action through a stream within a real casino setting. A dealer rolls the dice making the experience as random as an actual craps game.
Both of these formats have their pros and cons. Here's what you need to know:
Live Dealer Craps Has a More Human Element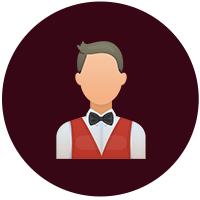 You get to play a real craps game via an HD live stream and interact with actual players and a professional dealer.
Online Craps Offers a More Private Experience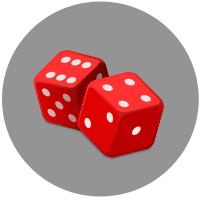 Some people prefer privacy, and they can only get that with a single-player RNG title.
Both Versions Are Safe and Secure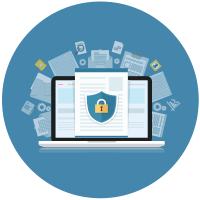 Even though live dealer craps seems more trustworthy, the online type is equally safe, thanks to RNG technology. The only requirement is that a reputable provider makes the game.
Only Live Dealer Craps Offers an Experience Similar to the Real One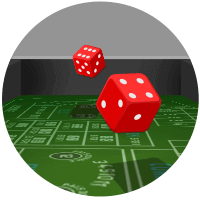 Some players prefer live dealer craps as it reminds them of being in a land-based casino with other players. You even get multiple camera angles for a fully immersive experience.
The Odds and the House Edge Are the Same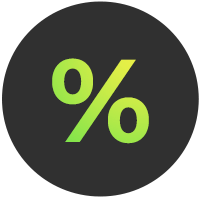 Both formats feature the same odds, and house edge — the only differences are between games from distinct providers.
Advantages of Playing Live Craps
Now that you know all the major differences between RNG online craps and its live dealer counterpart, let's mention a few reasons to choose the latter:
Realistic gambling experience — Unlike RNG craps, the live dealer version of this dice game offers a gambling experience similar to land-based casinos. The presence of the croupier will almost make you feel like you're physically seated at the craps table.

You can play the game from anywhere — Even though a live dealer hosts the game, you'll place your bets online via your desktop computer or mobile device. This means you can play live dealer craps from home, cafe, park, or any other place you go.

High RTP and low house edge — Evolution's live dealer craps features an RTP ranging between 88.10% and 99.17%.

No need to worry about rigged software — Many players believe that RNG games can be easily rigged to favor the casino and rob players. The probability of this happening with live dealer games is much smaller as you can see a dealer throwing the dice.

Chat option enables communication — Live dealer craps is a social game, so its creators came up with the live chat option through which players communicate with the dealer and among themselves.
Conclusion
Live dealer craps is an exciting casino game any player can enjoy thanks to its unique combo of gameplay simplicity and wager variety. If you're ready to play, feel free to pick any live dealer casino we recommend on this page.
FAQ
Can I play live dealer craps in the US?
Yes, of course. You only need to find a good US live dealer casino that features one or more of these games. The best sites are displayed right here on this page.
Where can I play live dealer craps?
You can play it in many online casinos. However, it's worth noting that live dealer craps is much rarer than its blackjack, roulette, and baccarat counterparts. That's simply because most providers focus more on the other games.
Can I play live dealer craps games for free?
Unfortunately, no. Unlike RNG casino games, which typically offer demo versions, most live dealer games can only be experienced with real money. This is primarily because the game is played live between many players, so it would be hard to separate real from simulated wagers.
What is the house edge in live dealer craps?
The house edge in live dealer craps depends on the type of bet you're using. For instance, the lowest is 1.35% for the Don't Pass bet, while the more popular Pass line bet has a house edge of 1.41%. The house has a more considerable advantage with other wagers, like in the case of One Roll bets, where the edge is above 11%.
How can I increase my chances of winning in live dealer craps?
Craps is primarily a game of luck, so there's not much you can do to increase your chances of winning. However, using the Don't Pass bet instead of the Pass Line wager can be beneficial. That's because the house edge on the former is 1.35%, while it's slightly higher on the latter, 1.41%.
About the Author