41

casinos found based on your search.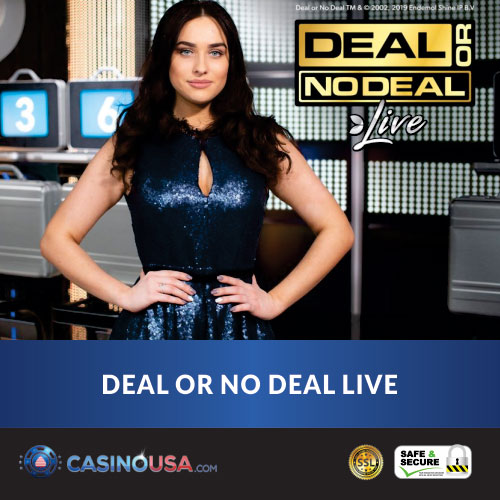 Evolution Gaming grew substantially in popularity with the release of Monopoly Live & Dream Catcher Live.
Its popularity saw the company expanding on its portfolio with the addition of Deal or No Deal Live, which is based around a television game show popular in the United States and United Kingdom.
This live dealer title was built in collaboration with Endemol Shine and was released on May 2019.
The game is streamed to players through microphone-enabled webcams, where a studio built to resemble the Deal or No Deal game show stage is viewable and includes both a host and a model to unveil the cases. It's available in both the instant play and mobile formats and offered by many who feature the Evolution Gaming live dealer software.
Best US Deal or No Deal Live Casinos
Since its launch, Deal or No Deal Live has become a popular game worldwide, and that includes in the United States. Jurisdictions like New Jersey, Nevada, Pennsylvania and Delaware offer legalised online betting, and for American players within those states, its addition is welcomed.
In the table below, you will find the best casinos available in legally regulated states in the USA.
How Deal or No Deal Live Works
Deal or No Deal Live features three different rounds with its first being a qualifying round, the 2nd a top-up round and the 3rd, the suitcase round. The minimum bet that must be wagered during each round varies depending on the selected casino, with bet minimums starting $2.00 and increasing to $200, players can substantially increase potential winnings due to its maximum payout prize being 500x.
In order to advance in each game, players must pass through the qualifying round before they can begin winning the larger prizes. With each advanced round, the potential for larger prizes increases, and with up to 30 games an hour and an average RTP of 95.42%, it can return rather generous returns.
How to play Deal or No Deal Live
Qualifying Round:
The first part to Deal or No Deal Live is the qualifying round. This round must be completed before moving to the top-up round. This allows players to qualify and cement their position by defeating other players. There are three choices within each qualifying round, which includes the Normal, Easy and Very Easy Bets. The easier the bet selected, the more it will cost players. The cost of the choices is determined by a 1x, a 3x and a 9x multiplier that is used in correlation with the player's wager.
After players have selected their qualifying bet, the bank vault becomes viewable. This vault has three lock mechanisms that are unlocked based around the chosen wager. If the word "Locked" turns to "Unlocked", then players will successfully enter the top-up Round. Those that don't make it through the qualifying round can watch the remaining two rounds until the next game begins.
Top-Up Round:
After the two-minute qualifying round, the top-up round will begin. During this part of the game, a Wheel of Fortune appears that will show additional prize values can be applied to the suitcase round. For this, players must click on the briefcase they want and then spin the wheel.
However, this round does not require an additional bet as this feature isn't mandatory to play due to it primarily being created to enhance the player's ability at initiating 500x payouts.
Deal or no Deal Live Suitcase Round:
Just as with the original version of Deal or No Deal, there are sixteen suitcases displayed to players. Each suitcase will have a different value within and will be read out one by one via the games live dealer. The cases, which are worth between 1x to 500x the staked bet are revealed through four rounds.
During every round, players receive an offer from the banker and given ten seconds to decide if they want to make the deal or reject it. If a decision is not made within the allotted time, it will be deemed "no deal", and the round will continue. The 1st round will reveal three cases, the 2nd four suitcases, the 3rd round another four cases, and the 4th round will see three cases shown.
After the fourth round is completed, two suitcases will remain on the Deal or No Deal board. You own one of the suitcases, and the banker holds the other. You will be given one final choice if you one to keep your suitcase or trade it for the other. If you chose the correct suitcase, then the last and most significant stake multiplier will be awarded.
Deal or No Deal Live Tips
Deal or No Deal Live is played at a 4.58% House Advantage. This is quite high for a live casino game as is its theoretical payout percentage of 95.42%.
Maintain a "Hit & Run" strategy for a short period. If the targeted profit isn't achieved, then stop playing immediately and wait for the game to start again.
If you receive a substantial offer from the bank, take it. Don't worry about what's in your suitcase.
Take advantage of the Top-Up round and significantly alter the valuations of some instances for the suitcase round. A maximum of several cases can have their values increase per Top-Up Round.
Don't use the Very Easy Bet in the qualifying round regularly. They are expensive and cost 9x the amount of the minimum bet and doesn't guarantee admission to the next round.
Deal or No Deal Live Strategy
Deal or No Deal Live is primarily a game of chance. Even though there are elements of the game that allow for a strategy to be built into it, it costs a substantial amount of money to do so. When players use the Very Easy Bet, it increases the chances at moving forward to the 2nd and 3rd rounds by a significant amount, and used in conjunction with the implementation of the top-up round, players increase their likelihood of triggering large payouts.
Combing these two features creates a strategy that can dramatically be a benefit during the suitcase round. However, be aware that this strategy doesn't ensure that prizes will be triggered or that all rounds will be played through, as ultimately, it is a game of chance.
Conclusion
Deal or No Deal Live is a fantastic rendition of the television game show. You wouldn't expect this show to work well in this style of environment, but somehow it works perfectly. The game boosts spirits with its unique gameplay elements and with dealers that are always willing to chat and interact with those playing.
The opportunities, however, are often what drives a games success, and in this case, with the excellent execution by Evolution Gaming, and the feeling of anticipation is provides has been instrumental in its overall acceptance and success. Sign up today with one of our listed casinos to experience Deal or No Deal Live for the first time.
About the Author