41

casinos found based on your search.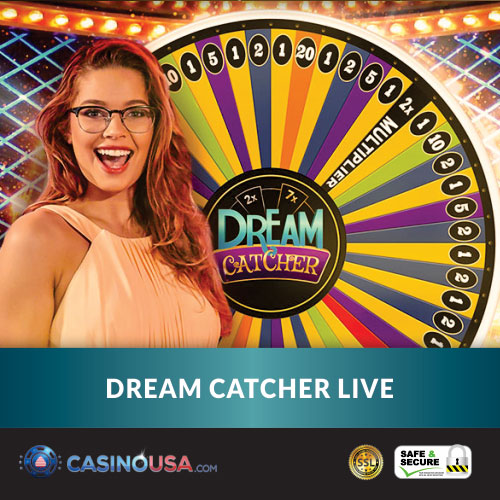 Evolution Gaming, one of the more recognizable live gaming software developers, released "Dream Catcher" in February 2017.
This game set a new standard for what live casino games could be and initiated a new form of live betting at the same time. Its design is a take on the carnival money wheel with a few twists added.
The centrepiece of Dream Catcher is a vertical wheel that is similar to the ones used at land-based casinos or the game show Wheel of Fortune.
Players have the chance to compete for super-sized wins while speaking with a live dealer, who hosts the game and spins the large money wheel, which is often referred to as the Big Wheel and the Big Six. Due to the unique capabilities of this live game, it received numerous awards in the gambling industry and was the standout game of 2019. The awards that Dream Catcher received in 2017 include the Global Gaming Award & the Digital Product of the Year Award.
Evolution Gaming has grown to become an industry leader for online gambling. The software is available with nearly every licensed and regulated online casino on the web. They've won numerous awards in the thirteen years since releasing their first series of games, however, it wasn't until 2010 that the company started seeing industry-leading casinos license their software in greater numbers. The significant advancements in technology for Evolution Gaming allowed for them to open new studios across Canada, Europe, Malta, Latvia and Georgia and that brought about substantial development in new games such as Dream Catcher.
Best U.S. Casinos with Dream Catcher
United States-established online casinos are the best place to play Dream Catcher. This is simply due to certain states having made online gambling legal and the flexibility that affords U.S players when making a deposit or withdrawing funds.
Players in New Jersey, Delaware, Nevada, New Jersey, Pennsylvania, West Virginia or Rhode Island will be able to access this live casino game from famous casinos like Mr Green.
How to play Dream Catcher
Dream Catcher Live is primarily integrated with Wheel of Fortune, but also mixes in various elements from an array of table games. This doesn't make things complicated; the gameplay is still easy to learn. The Big Wheel has 54 pockets, in which fifty-two of them are marked with numbers in that ranges from 1 to 40. The two other pockets maintain a 2x multiplier and a 7x multiplier. Betting sessions with Dream Catch won't begin until players initiate a wager on the desired pocket, which can be accomplished manually or through an AutoPlay feature. The time players have to indicate their wager and place it is short, which is why as soon as the wagers are opened, players immediately must make a bet. This is why we recommend choosing a series of wagers and writing them down before playing; this is the best way to ensure that your wager goes through.
The number listed in the multiplier pockets is payout multiplier value. This means that if a prize is awarded, players will have their corresponding wager multiplied by the indicated number. This is on top of the base payout that the game awards, which means significant payouts can be rewarded in one spin of the wheel. However, considering that there are fifty-four pockets on the wheel, it's rare that the when lands on those multipliers.
When playing, try to avoid getting distracted as the dealer will participate in the conversation and announce the results of each spin. This can, at times, pull players away from their thoughts. Therefore, we recommend keeping the volume down for this game.
Dream Catcher in the USA
Dream Catcher Live has dramatically grown in popularity within New Jersey, Nevada and Pennsylvania. The game is provided through famous poker halls and online casinos, including Full Tilt Poker & PokerStars. This gives a level of insurance and sensibility to players when first launching this game. All casinos listed with this article are available in the United States.
Dream Catcher Tips
There are a few tips and tricks that benefit players when playing Dream Catcher. They are simple tips and suggestions but will dramatically influence payout capabilities and gameplay sessions. The proposals include:
Wager within a fifteen-second betting window.
Undo wagers if you feel the bet isn't correct & wait for the next window of opportunity.
Use a High-Speed Internet Connection to ensure no lagging.
Dream Catcher Strategy
Ultimately, Dream Catcher is a game of chance, which means there isn't a full proof strategy that will guarantee wins. However, by researching the mathematical odds of the game and allowing for bankrolls to stay within a scheduled balance, players create an optimal strategy that allows for gameplay to exceed over prolonged periods. This enhances a player's chances at triggering massive wins through the multipliers on the Big Wheel.
The best chance at triggering wins is by betting on the 1st, 2nd and 5th Fields on the Big Wheel. The reasoning for this is because fifty pockets are listed in these three fields alone, which dramatically increases the probability to trigger significant wins.
Conclusion
Dream Catcher is a two-year-old game now, and in those two years, the game has carved out some of the most entertaining experiences available online. The simplistic nature and mindset of the rules make this live dealer game a perfect entry for beginner players or novice bettors. The dealers, gameplay and payout capabilities exceed past the expectations of veteran or novice players. Furthermore, there is a social element to this game that makes it more exciting and enjoyable. By being able to speak with the dealer and engage with them, not only does the experience become more realistic, but you learn about the game and internal workings.
The game will exceed past the expected visual components, with the game being streamed clearly through mobile devices and desktop monitors. It's almost as if you are watching a television show, with the difference being that you're betting on what's on the television. This is a compelling component of Dream Catcher that has driven the game to its incredible success. When you compile these elements with the additional benefits that each game is SSL-Encrypted with firewalls and that this title supports promotions, you get an unmatched experience.
About the Author