41

casinos found based on your search.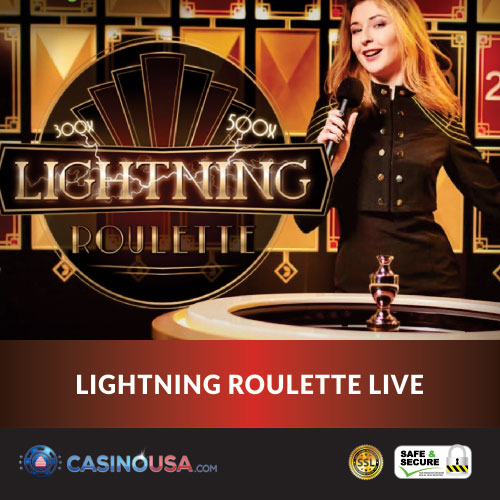 "Live Lightning Roulette", a live-dealer accessible casino game designed from Evolution Gaming, is one of the most unique and impressive renditions of roulette available online.
Originally released at the 2018 ICE London Gaming Event, this version of live roulette has seen significant popularity at casinos in the United States, including PokerStars and MrGreen.
European Roulette is the standard basis upon which Live Lightning Roulette has been created.
The game is built in a unique structure, allowing for wins valued up to 500x the betting figure. The Straight up Wins payout is an average of 29:1 when a multiplier isn't applied. The Standard Roulette payout is listed at a 35:1 odds ratio. Except for the Straight up Win, all other payouts in Live Lightning Roulette are listed as a regular prize. This enhances the gameplay, and opportunity players have to initiate multiple wins.
This game has received a formidable reputation, which is known for is high-status payouts and elegant gameplay. It's considered to be one of the more popular live dealer titles in the United States. When playing this game for the first time, anticipate winning opportunities will exceed expectations.
Best US Live Lightning Roulette Casino to Play this Game
The United States has been substantial for developers of live dealer casino games. Popular online casinos like MrGreen, PokerStars, partycasino, Bwin and Full Tilt have adopted Live Lightning Roulette. The game is available in instant-play and mobile configurations, making this Evolution Gaming title universally accessible.
How Lightning Roulette Works
Lightning Roulette is a unique interpretation of the standardized European roulette. The commonplace roulette wheel with red and black numbers that are listed from 1 to 36, with a zero pocket contained as well. Players have access to a full catalogue of realistic bets, which are derived from European live roulette. The expectation between the two games and their betting styles is that Evolution Gaming has added the additional feature of "Lucky Numbers & Payouts", a feature exclusive to this game and offered with each round.
Multipliers varying from a 50x to a 500x are randomly displayed during the bonus round. If the Roulette payout coincides with the multiplier, then bets will be enhanced dramatically in their valuation. Typically, five multipliers are dropped within each round and randomly generated through the RNG. The available bets that coincide with the lucky multiplier include Splits, Dozens, Red/Black and the Straight Up Bet.
How to play Lightning Roulette
Playing Lightning Roulette isn't difficult, even for novice players unaccustomed playing live featured casino games. All that's required is being informed on the odds, betting options and how to navigate through the game. Account balances are listed on the bottom left-hand corner, showing the different wagers that can be chosen. The game shows with four columns, which display the roulette numbers called out by the live dealer, with the hefty roulette wheel being located in the middle of the casino floor.
Betting options are listed at the bottom of the game screen, where ten betting options are displayed. These include Columns, Corner, and Dozen, Line, Straight Up, Split, Even/Odd, Street and Red/Black. The minimum amount that can be wagered is USD 20, with the maximum varying from USD 100 to USD 2,000.00, depending on the individual casino.
Lightning Roulette in the USA
The United States of America, it's a country that for the last two decades, has struggled in its decision towards online gambling. Still, to this day, online gambling isn't legal on a federal level and only a few states have legalized online betting.
Those states include New Jersey, Pennsylvania, West Virginia, Rhode Island and Delaware. PokerStars, Full Tilt & multiple other online betting establishments offer their services in these states, with both Full Tilt & PokerStars offering Live Lightning Roulette to those within licensed U.S states. Furthermore, these establishments provide mobile and instant-play support, giving US Players accessibility in how they play Lightning roulette.
Lightning Roulette Tips
There are multiple ways that Lightning Roulette can be played, with various strategies and tips listed online, which claim to improve player performance. We've compiled the best tips and strategies available online. The best tips include:
Place numerous bets on multiple numbers laid out on the roulette table.
Place a wager on a single column or place multiple wagers across a whole column. Each column maintains twelve numbers, meaning that if you covered a full column, you'd cover 2/3rds of the table.
Place wagers on numbers that support the same colour, involving that wagers would be listed on even numbers or odd numbers only. This helps to cover half of the roulette table & wheel.
Bet on a specific amount with a high valued wager.
Lightning Roulette Strategy
Live Lightning Roulette will be a year old on August 1st, 2019. In that time, numerous strategies have been built or attempted to guarantee the perfect way to play this game. Veteran players know that when it comes to the game of roulette, there is no real strategy that can ensure consistent payouts. However, there are still strategies that help players in a few to enhance payout capabilities.
One of the most straightforward strategies for Live Lightning Roulette is continually wagering the "Straight up Bet" on every number possible. This would require that a minimum of $37 be wagered each spin but would ensure that one number would pay out. However, the return will be on average on $38 to $40. This strategy system is for the player who doesn't mind accumulating wins over a prolonged period.
Playing multiple games in the sequence indicated that this strategy could dramatically enhance bankrolls over time. The winning number would be "Lucky" twice each round, allowing for a multiplier ranging from an x50 to an x500 to be implemented with the payout awarded. Repeating this strategy over and over again will ensure that account balances will exceed past expectations. Average payouts on a lucky number with a $37 Payout is $1,600.00 after fifty rounds. In Live Lightning Roulette, the best strategy is patience.
Conclusion
Lightning Roulette is a live dealer game that's ideal for players wanting to aim for significant wins. The Lucky Number feature is something that players won't find on any other roulette game on the internet. It's a feature exclusive to Live Lightning Roulette & the sole reason as to why the game is famous worldwide. When you account for the betting options, like the Straight Bet & the 500x Lucky Multiplier, the game feels like it can payout substantial figures.
The gameplay isn't the only reason why players should play Live Lightning Roulette. The game supports excellent dealers who as respectful, a beautiful studio that builds an immersive environment and promotions that enhance bankroll capabilities. We highly recommend this game, as it's entertaining and will make anybody feel lucky. All casinos listed are compatible with Live Lightning Roulette.
About the Author