Active filters:
Clear all filters

Wild Casino
Bonus Offer:
$5,000 Welcome Bonus
More Info
Available Games
Slots
Blackjack
Roulette
Live Dealer
Baccarat
Features
Great selection of slots
High-quality live dealer games
Excellent welcome bonus
Crypto-friendly

Ignition Casino
Bonus Offer:
$3,000 Welcome Bonus
More Info
Available Games
Slots
Blackjack
Roulette
Live Dealer
Baccarat
Features
300+ games
Crypto-friendly casino
Live dealer jackpot
Bonus galore for different verticals

BetUS Casino
Bonus Offer:
150% up to $3,000
More Info
Available Games
Slots
Blackjack
Roulette
Live Dealer
Baccarat
Features
Reputable online casino with 26+ years' experience
Wide range of deposit bonuses for sports bettors and casino players
Outstanding customer support
Several different cryptocurrencies accepted for deposits and withdrawals
14

casinos found based on your search.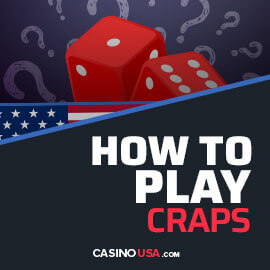 Our craps beginner's guide will help you understand the rules, familiarize yourself with the table layout, and learn how to pick the smartest bet.
What Is Online Craps?
Craps is a popular dice game that originated in land-based but now dominates online platforms. It is a 100% game of chance, easy to learn, and doesn't require strategy.
Craps is played with two dice and a board in rounds. It also relies on chips for making wagers. The game's goal is to predict the dice value that will land on the board after you make a bet.
Compared to land-based casinos, where players (shooters) roll the dice by themselves, online providers use a random number generator to ensure the randomness of outcomes.
Typically, craps is a fast-paced game when played in brick-and-mortar casinos. However, gamblers can take as much time as they need to assess their bets when playing online.
How to Play Craps — Basic Rules
Every craps game begins with the come out roll, the first roll of the dice or the roll of the new round after the previous one has ended. The player who throws the dice is called the shooter. Contrary to land-based casinos that accommodate up to 20 shooters at the table, the online variation only has one shooter.
So, you must press the ''roll'' button when you want to roll the dice. If you want to place a bet, you can only do it with the pass line or don't pass the line bets, the only ones available at this phase. The bets are placed when the disk flips to ''On.'' Once the number is rolled, there are three possible outcomes:
Natural — If you land 7 or 11 in the come out roll, you win and continue to roll the dice.

Craps — If you get 2, 3, or 12 in the come out roll, you will lose. However, you can roll the dice again.

Point — Whenever you roll 4, 5, 6, 8, 9, or 10, you've rolled the point roll, which marks the second phase during the round. At this point, you will see a small button ''On'' that appears when a point is established. Now you roll the dice again and hope to get the same sum as before. It doesn't have to be the same combination of numbers as long as the two numbers add up to the same sum. Rolling a 7 in this situation, also called ''sevening out,'' leads to a loss and marks the end of the betting round.
Great US Online Casinos to Play Craps
We have identified the best US online casinos for playing top-quality craps games based on our meticulous research.
We assessed their major characteristics, such as their betting limits, the game providers behind their craps variations, and the choice of craps games they offer. On top of that, we have evaluated their:
Customer support
Promotions
Take a look at our list of US-friendly online casinos to play craps at the top of this page.
Types of Bets in Craps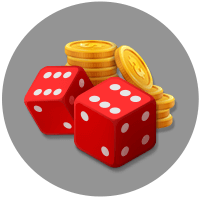 Some players feel a little intimidated by the table layout due to its complexity. However, the real fun begins once players learn how it works. The table layout can look slightly different from casino to casino, but each follows the same rules and bets.
Craps feature over 40 different bets that meet every player's level of experience and budget, placed in the designated area on the table. Some are simple and suitable for beginners, while others are complex and intended for experienced players. You are not obliged to learn all of them as a player, but the more you know, the higher your chances of winning.
Bets fall into two categories — single-roll and multi-roll bets.
Single-roll bets are wagers available for one dice throw, while multi-roll bets assume many dice rolls to be resolved. Field, any craps, any 7, 3 or 11, 2, or 12 are examples of single-roll bets.
Bets like pass line, don't pass line, come, don't come, hardway, big 6 and big 8, and place bets are multi-roll bets.
We will discuss the most common ones.
Pass Line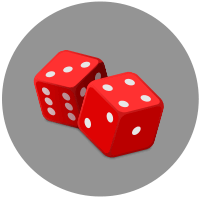 With this wager, your bet goes to rolling out a natural (7 or 11) in the come out roll or winning the point in the point roll.
If you roll craps during the come out roll or 7 during the point roll, you will lose.
Don't Pass Line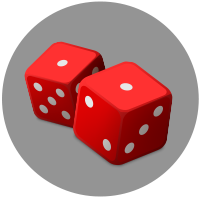 This is the opposite bet of the pass line, but with a slight difference. If your come out roll is 2 or 3, you will win, but if it rolls 7 or 11, you lose. The main difference lies in number 12 — if you throw it, it is a push, and you neither win nor lose.
When it comes to the point roll, it is also the opposite of the pass line — if you roll 7, you win, but if you roll a point, you lose. It's worth noting that both pass line and don't pass line bets are placed before the point number is established.
Come Bet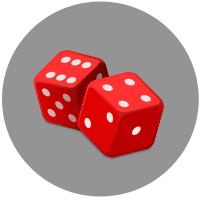 Although the rules for this bet are the same as for the pass line, you can place it after a come out roll and only if the point number (4, 5, 6, 8, 9, or 10) has been determined. That number becomes the come-point. The players then place a come bet, hoping that the same point number will be rolled again. If that happens, you win, but if you roll a 7, you lose.
The come bet also covers the first roll (come out roll). If you throw a natural 7 or 11 in the first roll, the come bet is a winner. However, the come bet loses if the opening roll is 2, 3, or 12.
Don't Come Bet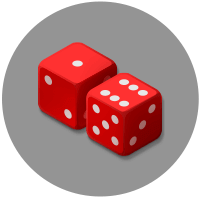 Besides being the opposite of the come bet, this bet is similar to the don't pass line bet, and you also make a wager after the come out roll, and once the point number is known. If your point is rolled after you place a bet, you lose, but rolling a 7 is a winner.
Since this bet also covers the opening roll, throwing a 2 or 3 results in a win, while throwing a 7 or 11 leads to a loss. Rolling out 12 is a push, and you get your wager back.
Big 6 and Big 8 Bets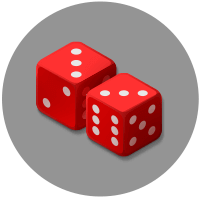 This is a straightforward bet you can place it at any time during the game.
You will do it if you believe you will roll a 6 or an 8 before a 7.
Field Bets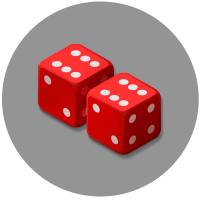 Field bets are types of bets only active for one specific roll, and you win if you throw 2, 3, 4, 9, 10, 11, and 12.
However, you lose if you throw 5, 6, 7, or 8.
Place Bets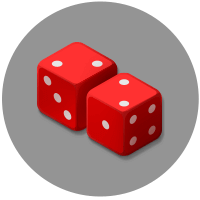 Once a point number has been rolled out, you can wager on a 4, 5, 6, 8, 9, and 10 at any moment during the game.
If that number is rolled before a 7, you will win. However, you will lose if you make a 7 before the chosen number.
Proposition Bets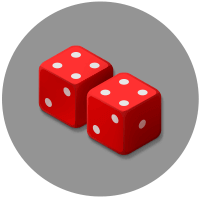 These are one-roll bets that you can wager on any roll. For instance, you can bet that you will roll any 7, any craps (2, 3, or 12), ace deuce (a total of three), aces/snake eyes (1+1), boxcars (6+6), or horn bet (you roll a 2, 3, 11, or 12).
Additionally, there is a bet called hardway, where you bet that you will throw any point made up of a pair of the same numbers — 4 (2+2), 6 (3+3), 8 (4+4), or 10 (5+5). When you place this bet, and the point is established, the only way to win is to throw the exact pair of doubles. The hardway loses with a 7, or the easy way of rolling different combinations, such as 3+1, 2+4, etc.
Craps House Edge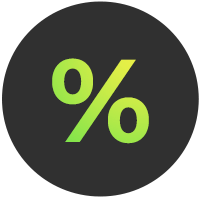 Since craps features many bets, each with its own return, defining the house advantage is challenging. In addition, the house edge differs from casino to casino, both online and offline. In some casinos, bets may have up to a 14% house advantage.
Hardway bets have the worst odds — 11.11% (4 or 10) and 9.09% (6 or 8), while the field bets have 5.56%. That said, you must be extra careful when placing them. Players are usually drawn to even money bets with the lowest house edge — don't pass and don't come bets with 1.36%, and pass line and come bets with 1.41% of house advantage. However, odds bets are considered the best since they have a 0% house edge.
Can You Play Online Craps for Free?
Of course. Aside from playing for real money, casinos allow you to play craps in demo mode. This way, you can play for fun as much as you want and practice to get the feel of different craps bets without worrying about your bankroll. Moreover, you can play it from the comfort of your home or on the go on various devices.
Conclusion
Craps is an easy-to-learn game but requires some time to master the bets. However, this should not put off players as they can start with simple wagers at low values and slowly advance to higher stakes to yield the best possible results. Once they learn the basics and feel more confident, they can try more complicated bets.
FAQ
How do you roll the dice in online craps?
Instead of rolling the dice using your hands like in land-based casinos, online craps require you to press the ''roll" button to roll the dice automatically.
Are there any skills involved in craps?
No. Craps is a game of chance, meaning one cannot accurately predict what numbers will roll every time. However, you can educate yourself on the craps bets and learn which of them has the best odds and the lowest house advantage. This way, you can make smarter decisions when placing your bets.
Can I play online craps for real money?
Yes, you can. You can play online craps for real money and choose between a live dealer or an RNG-powered game. There are differences, but you can earn money in both formats.
About the Author