Active filters:
Clear all filters

Wild Casino
Bonus Offer:
$5,000 Welcome Bonus
More Info
Available Games
Slots
Blackjack
Roulette
Live Dealer
Baccarat
Features
Great selection of slots
High-quality live dealer games
Excellent welcome bonus
Crypto-friendly

Ignition Casino
Bonus Offer:
$3,000 Welcome Bonus
More Info
Available Games
Slots
Blackjack
Roulette
Live Dealer
Baccarat
Features
300+ games
Crypto-friendly casino
Live dealer jackpot
Bonus galore for different verticals

BetUS Casino
Bonus Offer:
150% up to $3,000
More Info
Available Games
Slots
Blackjack
Roulette
Live Dealer
Baccarat
Features
Reputable online casino with 26+ years' experience
Wide range of deposit bonuses for sports bettors and casino players
Outstanding customer support
Several different cryptocurrencies accepted for deposits and withdrawals
14

casinos found based on your search.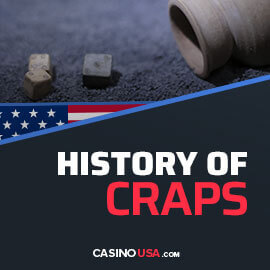 This quick historical overview will look into when and where the game was invented, how it developed, and everything you need to know about its long and rich story.
Early Origins of Craps and English Roots
We can trace the early roots of craps back to Ancient Rome. Some historians believe that Roman soldiers played a game where they threw cube shapes into an inverted shield. They created the cubes from shaved pig knuckles and shaped them into dice-looking objects.
However, for a game that genuinely resembles craps, we need to fast-forward to the middle ages.
Most agree that the dice game evolved from another similar one called Hazard. An Englishman, Sir William of Tyre, and his knights created it around 1125 during the Crusades. They claimed to have made it to pass the time during the siege of Hazarth, a castle in the Holy Land that might have even given Hazard its name.
None of this is conclusive, as others think craps developed from Al Dar, an old Arabic dice game. They say that European merchants picked it up in their travels and brought it to Europe in the 1100s.
The story of Sir William is more established as Hazard is very similar to craps. Players have to take turns being the caster, the person who throws two dice and makes wagers. They need to roll a specific number to win the bet.
Its popularity grew in the English world, and it even got a mention in the famous work of Geoffrey Chaucer, The Canterbury Tales, published around 1400.
Craps Reach North America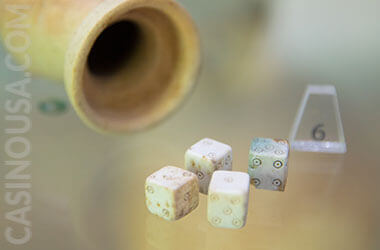 Over the next few hundred years, Hazard was played by English noblemen and in gambling houses.
At some point, it reached France, where it was named Crabs. In the early 18th century, the game moved to Acadia, a former French colony in North America.
Acadia eventually turned to Nova Scotia when the English conquered it in 1755. This caused many French people, called the Cajuns, to start traveling through North America, bringing the game to every location they visited. In Louisiana, the people named it creps or crebs.
In 1805, a French-Creole American nobleman and gambler, Bernard de Marigny, took it upon himself to simplify the game. The players now had to roll a seven to win, which is still true in the current version.
As the rich in America didn't favor this interpretation, Marigny spread it among the poor people. Workers traveling the Mississippi River then extended its popularity throughout the US. Eventually, people played it all over the country, both in the street and in casinos.
At some point, the term craps became the primary name for crabs. It's likely a corruption of the word spoken in Louisiana, which in itself is a mispronunciation of the French word crapaud, meaning toad in English, a reference to how people look while playing the game in the street.
Modern Craps Is Invented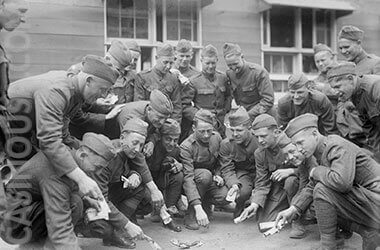 The father of modern craps is John H. Winn, an American dicemaker. He devised the rules used to this day to solve a significant problem the game had. Namely, casinos used different sets of rules and often used rigged dice to increase their edge.
Winn's rules quickly grew in popularity, and eventually, most casinos adopted them since they ensured a good house edge.
The controversy behind craps eventually disappeared, which further increased the popularity it already had.
American soldiers started playing it regularly, expanding its appeal throughout the world. As for the casinos, they followed suit, predominantly in the US and the Caribbean, but eventually, Central European, Asian, and Australian casinos did the same.
This global popularity eventually led to the creation of online craps.
Conclusion
The history of craps is long and exciting, and as you can see, many things about the game's origins are not 100% known. However, what is certain is that many players love it and will continue playing for years, if not hundreds of years.
Just as "baby needs a new pair of shoes," many people will always need to play craps, which is why we think this story will not end anytime soon.
FAQ
Who invented craps?
As with most games that date back to ancient times, no one knows for sure who created craps. The commonly accepted inventor is Sir William of Tyre, who is believed to have invented a dice game called Hazard, from which craps evolved naturally.
When was craps created?
No one is sure, but it's widely believed that Sir William of Tyre invented Hazard, the precursor to craps, around 1125 during the Crusades.
What is the origin of the craps name?
The name likely originated from the French word crapaud or toad in English. It's probably a reference to how people played street craps — crouching over a sidewalk, similarly to how a toad's legs look.
About the Author