Active filters:
Clear all filters

Wild Casino
Bonus Offer:
$5,000 Welcome Bonus
More Info
Available Games
Slots
Blackjack
Roulette
Live Dealer
Baccarat
Features
Great selection of slots
High-quality live dealer games
Excellent welcome bonus
Crypto-friendly

Ignition Casino
Bonus Offer:
$3,000 Welcome Bonus
More Info
Available Games
Slots
Blackjack
Roulette
Live Dealer
Baccarat
Features
300+ games
Crypto-friendly casino
Live dealer jackpot
Bonus galore for different verticals

BetUS Casino
Bonus Offer:
150% up to $3,000
More Info
Available Games
Slots
Blackjack
Roulette
Live Dealer
Baccarat
Features
Reputable online casino with 26+ years' experience
Wide range of deposit bonuses for sports bettors and casino players
Outstanding customer support
Several different cryptocurrencies accepted for deposits and withdrawals
14

casinos found based on your search.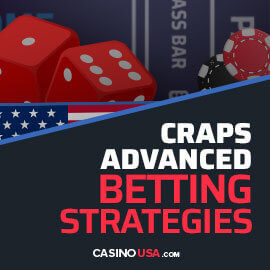 Still, like many luck-based casino games, craps features both sensible and foolish bets, and if you stick with the right ones, you can bring the house edge to a minimum.
That said, this guide will introduce you to some of the more advanced craps betting strategies that are mathematically proven to work.
Advanced Craps Betting Strategies You Should Try Out
Before we go into the specifics of advanced tactics, let's share a few basic craps strategies first:
Pass/don't pass and come/don't come are bets with the lowest house edge in craps.
When you play with the odds, you have a chance to lower the house edge even more.
Avoid betting on Big 6 or 8, hardways, or any single-roll bets, as they have the worst house edge.
Now that we've gotten that out of the way, we can move on to more progressive strategies.
Start Low, Place Across Numbers as You Win
One of the more interesting craps strategies is to start low on the pass line bet ($5), and when the point is rolled, place $6 each on the 6 and 8 and $5 on the field. If the 6 or 8 becomes the point, just bet the 5 instead.
For example, let's say that the 9 is rolled and becomes the point.
You place a bet on 6 and 8 and another one on the field.
The field bet wins, after which you move the chips away from the field and wager on the 5 and 4.
The 5 is rolled next, so you use the profit to place a bet on the 10.
Step one is complete, as you've now covered all the numbers.
Remember that the field bet is only temporary, and you should move your chips once it wins.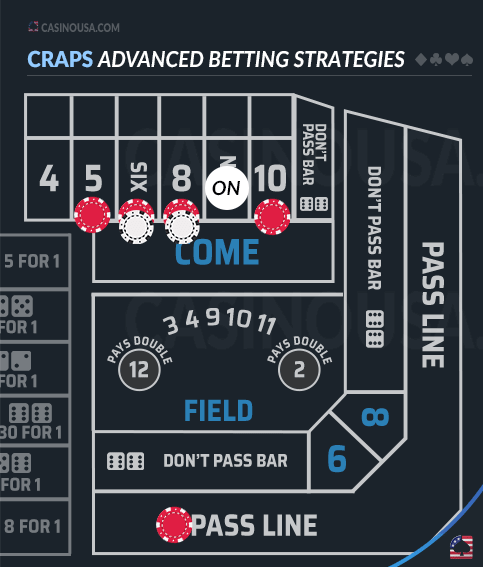 Now is the time to recoup your money. Whichever number hits, you're going to collect profit. From there, you'll treat each bet individually and do a full press on each number that hits. For instance, a $5 bet on the 10 will bring you $9. You'll then collect $4 and press it up to $10. On the second hit, you'll press it to $25 and buy it. If it hits again, collect the $25 (minus commission), place $50, and so forth.
If the pass line hits, you'll do the same thing — pull out your initial investment and rack up the rest. However, you'll need to cover it with any craps bet at a certain point.
In other words, the goal is to spread out your bets to all the numbers, after which you just need to collect and press. This strategy doesn't involve too much risk and can be very effective on long rolls.
All-Day Strategy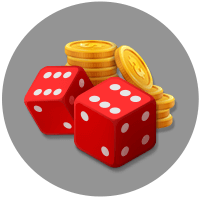 This time, you should divide your bankroll into four units.
Initially, place a don't pass bet with one unit.
If the point number is established, place one unit on the come.
If any other number is rolled, you move the come bet to that number and place another come bet.
Once another place number is rolled, you move the come bet to that number and place your final unit on the don't come.
This is another low-risk strategy with lots of action, so it's ideal if you wish to have fun and play all day (hence the name).
Can You Change the House Edge in Craps?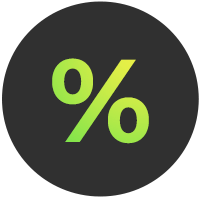 You can't change the house edge in craps, but you can choose the house edge you want to play at. Craps bets can have various payouts, which sometimes don't match their probability.
For instance, the true odds of a pass line bet are 251:244, while the payout is 1:1, which creates a house edge of only 1.41%. Meanwhile, the actual odds for a Big 6 or 8 bet is 6:5 with a 1:1 payout, resulting in a 9.09% house advantage.
Conclusion
Some would say that the best approach in craps is to avoid all strategies and place bets with the lowest house edge. And while this is not a very fun route to take, it is the most profitable one.
The couple of advanced strategies we shared in this guide can be very beneficial during long rolls but know that they're not foolproof and that you'll probably lose most of the time.
FAQ
What is the best craps strategy?
There are a few interesting craps strategies, but none guarantee a profit. The most advantageous way to play craps is to stick to the main bets and avoid all options with a high house edge, like single-roll bets and hardways.
What is the best bet in craps?
Pass/don't pass and come/don't come are considered the best craps bets, as they have the lowest house edge. You should always combine these bets with the odds bet to minimize the house edge.
Is craps a skill-based game?
Craps is not a skill-based game like poker or blackjack, but you can play smart by placing bets with a low house edge.
About the Author