Active filters:
Clear all filters

Wild Casino
Bonus Offer:
$5,000 Welcome Bonus
More Info
Available Games
Slots
Blackjack
Roulette
Live Dealer
Baccarat
Features
Great selection of slots
High-quality live dealer games
Excellent welcome bonus
Crypto-friendly

Ignition Casino
Bonus Offer:
$3,000 Welcome Bonus
More Info
Available Games
Slots
Blackjack
Roulette
Live Dealer
Baccarat
Features
300+ games
Crypto-friendly casino
Live dealer jackpot
Bonus galore for different verticals

BetUS Casino
Bonus Offer:
150% up to $3,000
More Info
Available Games
Slots
Blackjack
Roulette
Live Dealer
Baccarat
Features
Reputable online casino with 26+ years' experience
Wide range of deposit bonuses for sports bettors and casino players
Outstanding customer support
Several different cryptocurrencies accepted for deposits and withdrawals
14

casinos found based on your search.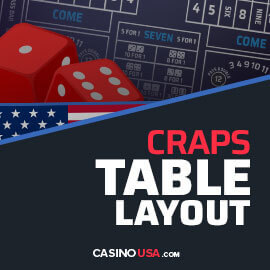 However, the first time you see a craps table, you'll probably be confused and overwhelmed by the various fields, sections, and numbers.
Once you get the hang of it and understand how the table works, you'll easily blend into the crowd. Let's start.
Craps Table Layout Explained
Take one look at the craps table, and you'll be ready to leave the game before it even starts. Everyone feels the same before learning the rules and understanding the craps table layout.
In the following sections, we'll break it down and show you how simple the game is.
Craps Table Sections
A standard craps table has two sides that mirror each other and a center section reserved for proposition bets.  Most players avoid the center because these wagers have terrible odds.
If you're a beginner, you should stick to one of the two sides and place standard bets.
Center Section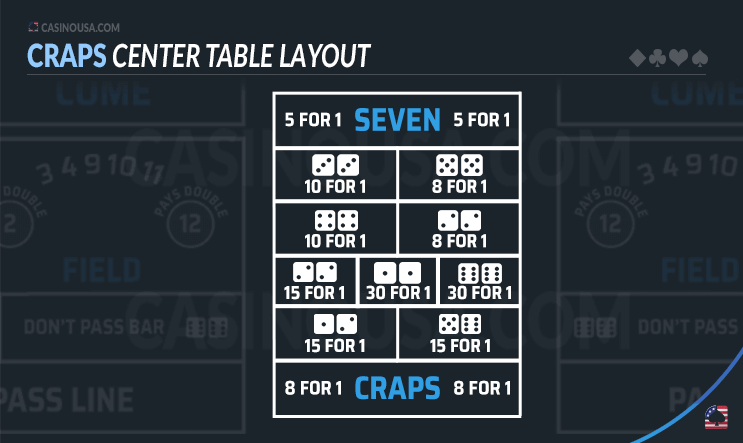 As mentioned, the center section of the craps table is reserved for the longshot prop bets, also known as "sucker bets." While these wagers don't have favorable odds, they are exciting and can generate neat payouts.
For starters, it's worth mentioning that all bets in the center have a house edge of over 9%, which is a good indicator you should stay away from them. However, unlike in other sections, these bets don't require you to meet the table minimum — you can place a wager for only $1.
Two main types of prop bets exist:
One-roll bets — these win or lose on the next dice roll
Hardways (multi-roll) — these stay active for several rolls, and you can remain in the game for quite a while
You can bet on various combinations, including any craps (2, 3, or 12), a boxcar (12), or the Big Red (7).
Side Section

The two side sections have the same fields:
Pass line — The most basic bet is one in which you win with a 7 and lose if a 7 appears before the point number.
Don't pass line — This is the exact opposite; you bet against the shooter. It has better odds than the "pass line" bet, but not many players use it.
Big 6 and Big 8 — You'll win at even money if the number you wagered on appears before 7.
Field bets — This is a one-roll wager where betting on any of the presented numbers (2, 3, 4, 9, 10, 11, and 12) will yield a win if rolled. The 2 and 12 wagers pay double.
Come bet — This is similar to a pass wager, but you can only place it once the point is set.
Don't come wager — The wager works like the Don't Pass bet, meaning it's the opposite of the Come bet.   
Place numbers —  Here, you bet that one of these numbers (4, 5, 6, 8, 9, and 10) will appear before a 7. The odds vary, so the payouts are 9:5 for a 4 or 10, 7:5 for a 5 or 9, and 7:6 for a 6 or 8.
Craps Table Layout Differences: Online vs. Live Craps
After learning how craps tables work in land-based casinos, playing the game online will be even easier. The main difference between a live and an online craps table is the size. The main purpose of two identical side sections is to let more players participate, so the online variant eliminates one side. 
That way, you'll get a less-cluttered layout and peace of mind, as you won't be surrounded by heaps of people screaming on top of one another. If you opt for a live dealer variant, you'll notice that only one dealer operates the entire table, unlike the four needed to run a craps game in a brick-and-mortar casino. 
Lastly, some online and land-based casinos eliminate the "Big 6/8" field. It's considered an unnecessary bet because you can pick the exact wager for each of the two numbers (Place bet) and collect better payouts. 
Conclusion
When you first approach a craps table, you might be overwhelmed by the number of betting options. Hopefully, this simple guide helped you understand how the game and betting options work.
If you need more practice, find an online casino and play craps for free. That way, you won't be intimidated when you walk up to a craps table in your favorite brick-and-mortar casino and place the first bet. 
FAQ
What is the basic layout of a craps table?
The basic layout of craps is a large, rectangular table with a dealer at one end and a "boxman" at the other. The table is divided into three main sections, with two identical ones on either side and the third one in the center. The dealer mans the two side sections while the stickman runs the middle one.
How many casino workers tend a craps table?
At least four people man the craps table — two dealers, a stickman, and a boxman. The dealers are on the base, accepting wagers and placing them on the table, while the stickman operates the center section and uses a stick to collect the dice. The boxman looks after the money and ensures players don't cheat.
How many bets can you make on the craps table?
Players can make over 40 bets categorized into two categories — single-roll and multi-roll. Players place single-roll wagers when they think a gaming session will end in one dice roll. The other category is for players who believe the session will take more than one roll.
About the Author