Active filters:
Clear all filters

Wild Casino
Bonus Offer:
$5,000 Welcome Bonus
More Info
Available Games
Slots
Blackjack
Roulette
Live Dealer
Baccarat
Features
Great selection of slots
High-quality live dealer games
Excellent welcome bonus
Crypto-friendly

Ignition Casino
Bonus Offer:
$3,000 Welcome Bonus
More Info
Available Games
Slots
Blackjack
Roulette
Live Dealer
Baccarat
Features
300+ games
Crypto-friendly casino
Live dealer jackpot
Bonus galore for different verticals

BetUS Casino
Bonus Offer:
150% up to $3,000
More Info
Available Games
Slots
Blackjack
Roulette
Live Dealer
Baccarat
Features
Reputable online casino with 26+ years' experience
Wide range of deposit bonuses for sports bettors and casino players
Outstanding customer support
Several different cryptocurrencies accepted for deposits and withdrawals
14

casinos found based on your search.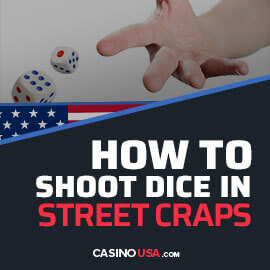 If playing casino craps is too posh for you and you wish to earn some street cred by shooting dice — then, by all means, go for it! In fact, we're even going to help you out by teaching you the basic rules and some street craps lingo.
Game Basics
Everything you need to play Street Craps is a pair of dice and some cash. The game typically takes place on a sidewalk, with concrete or dirt replacing table felt. Cash is king on the streets, so don't expect to see any chips. Also, keep an eye on your money, as there won't be any croupiers handling the winnings.
As mentioned, shooting dice is a simplified version of casino craps, so if you already know the rules of the casino game, this will be a breeze.
Prior to putting cash on the ground, each player shoots dice to decide who's going to be the shooter. Then, the shooter places a bet while the other players need to match it, so everyone has an equal stake in the pot.
The shooter then shoots the dice and hopes to roll 7 or 11, thereby winning the pot. The other player wins if they roll 2, 3, or 12. In case of any other total, it becomes the point, and the game continues. From there, the shooter needs a point number to win. However, should they roll a 7, the other player wins.
If the shooter loses the round, they also lose the dice, so the other player gets a turn.
Side Bets in Street Craps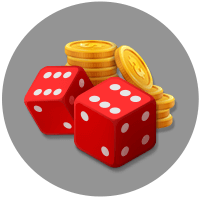 Apart from the main bet, players in street craps can make side bets on other numbers. 
For example, if the point is 9, the shooter aims for that total. But let's say that the other player bets on 10 against 7. So, if 10 rolls before 7, the other player will win the side bet, and the shooter will continue playing until the main bet is settled. By rolling 7 first, the shooter will win the side bet but lose the main bet.
A thing to keep in mind when making side bets is the stake amount, as not all numbers have an equal chance of being rolled. Following our example, a player betting that a total of 10 will roll before 7 should not have an equal stake in that pot. There's a 3:2 chance of 7 being rolled before 10, so the bets should reflect that. Therefore, the shooter needs to stake $15 if the other player bets $10.
Learn the Street Craps Lingo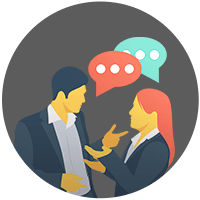 Come out — the first roll of the game
Crap out — rolling 2, 3, or 12
Fading — the player matches the shooter's bet
Pass — rolling 7 or 11 in the come out
Point — a total after the first roll that's neither 2, 3, 7, 11, or 12 becomes the point
Seven out — rolling 7 before the point number
Dice Control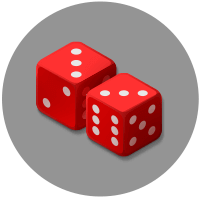 Dice control is a difficult skill to master in street craps, and it won't always work, as you'll be shooting against a wall, so multiple bounces are inevitable. 
The general strategy is to hold the dice in a way that they both show 3 at the top, with dots forming a V pattern. From there, clasp the dice between your fingers and swing your arm like a pendulum, throwing them in an arc and attempting to cause as few rotations as possible.
Don't take this as gospel, as dice control is a very controversial theory with little proof of it working unless you're using crooked ones.
Conclusion
If you feel classic craps is a little overwhelming and you wish to try something more straightforward, street craps is the game for you.
The best thing about shooting dice is that you don't need a fancy table or setting to show off your skills — just some cash, a pair of dice, and a street corner.
FAQ
How to win at street craps?
As a shooter, you must roll 7 or 11 to win. If the other player is shooting, you should hope they roll 2, 3, or 12, while any other number becomes the point. The shooter then wins if they roll the point number again, whereas the other player hopes for a 7.
Is shooting dice illegal?
Yes, it is. Shooting dice or street craps falls under unregulated gambling, making it illegal in every US state.
How many players can play street craps?
You can play street craps with as many participants as you like, but it's best to keep it to a maximum of four players.
About the Author