Active filters:
Clear all filters

Wild Casino
Bonus Offer:
$5,000 Welcome Bonus
More Info
Available Games
Slots
Blackjack
Roulette
Live Dealer
Baccarat
Features
Great selection of slots
High-quality live dealer games
Excellent welcome bonus
Crypto-friendly

Ignition Casino
Bonus Offer:
$3,000 Welcome Bonus
More Info
Available Games
Slots
Blackjack
Roulette
Live Dealer
Baccarat
Features
300+ games
Crypto-friendly casino
Live dealer jackpot
Bonus galore for different verticals

BetUS Casino
Bonus Offer:
150% up to $3,000
More Info
Available Games
Slots
Blackjack
Roulette
Live Dealer
Baccarat
Features
Reputable online casino with 26+ years' experience
Wide range of deposit bonuses for sports bettors and casino players
Outstanding customer support
Several different cryptocurrencies accepted for deposits and withdrawals
14

casinos found based on your search.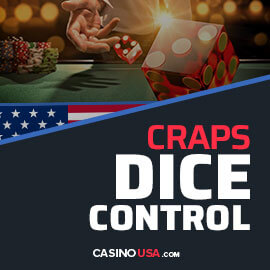 One of the most prominent theories in craps is dice control. This article will dissect the theory and explain what it entails. In the end, you'll be able to decide whether it would work.
Let's begin.
Dice Control Explained
Many believe that dice control is a myth. The idea that a single player can control the dice on a table lined with pyramidal rubber and speed bumps is highly improbable. However, not everyone would agree. If you dig a little deeper, you'll find numerous books, shows, and seminars explaining and teaching dice control.
Some compare dice throwing to golf. Just like a golf player can direct the ball into a hole, a craps shooter can perfect a throwing technique and influence the roll outcome. By proposing this theory, people question the nature of the game.
Is craps truly luck-based? Or is there some skill to it? 
According to the community of "dice shooters," two factors heavily impact the dice control theory — dice setting and throwing technique.
Let's examine each one.
Dice Setting
Dice setting refers to the way the dice are positioned before the shooter throws them. Two craps dice create hundreds of different combinations. However, according to the experts, you only need to use a few:
Hardways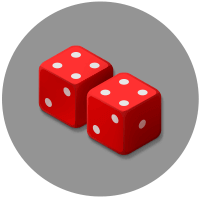 This is the most popular dice set that offers the ultimate protection against rolling a 7.
Keeping your dice on an axis reduces the presence of 7s and focuses on box numbers.
All 7s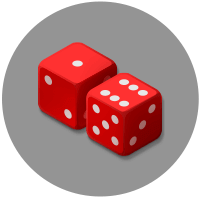 Shooters often use this set on the Come Out roll.
It shows a 7 on all sides, so if rolled correctly, it offers the best odds of hitting a natural 7 or 11.
Flying "V"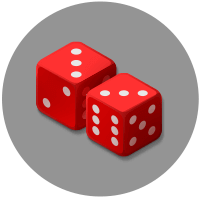 The two 3s pressed together at the top form a "V."
This set is great for rolling inside numbers (5, 6, 8, 9).
Mini "V"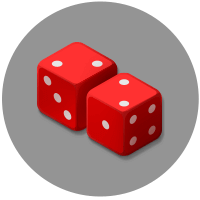 Press 2s together, and you get a mini "V."
Shooters use this combination when aiming at outside numbers (4, 5, 9, 10).
Straight 6s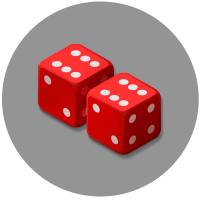 Here, the 6s run across the top of the dice, with 2s and 5s in the front/back.
This is a good set for a Come Out roll with a Pass Line bet.
Throwing Technique
Besides setting the dice right, knowing how to throw them is critical in dice control. When gripping the dice, shooters must ensure not to disturb the setting; otherwise, everything falls apart.
On top of that, the angle at which the shooters roll the dice and the motion is critical. Most shooters use a swinging arm motion while maintaining a ~45-degree angle. This throw will ensure the dice go far on the table, drop on the felt first, and gently hit the side of the table in an attempt to reduce randomness.
The throwing technique takes a lot of practice. Even experienced players have failed to master it, so don't be disappointed if you don't succeed on the first few tries.
Conclusion
People will always try to beat the casino at its game, but we're still skeptical regarding dice control. Although it may work in some instances, learning how to throw the dice will never guarantee a win.
So, is it worth it? Probably not. Should you try it? It's up to you. But remember, casinos always win in the long run, so don't get carried away trying to beat the house. 
FAQ
What is dice control?
Dice control is a technique some craps players use to gain an advantage over the casino. The idea is to control how the dice land by throwing them in a certain way. This can give the player an edge over the house and potentially lead to big winnings.
How can dice control be used to improve one's chances of winning at craps?
There is no way to predict the outcome in craps, but dice control can give players a slight edge. By using a controlled throw, players can place their bets on the numbers that are most likely to come up. While it might increase the odds of winning, dice control never guarantees a win.
Is dice setting illegal?
Craps players have been practicing dice setting for a long time, and there's no indication it's illegal. However, a casino can modify its dice-setting policy and prohibit the practice.
Can I practice my dice throwing skills?
Mastering dice throwing takes patience and effort, but you can practice it at home and improve it over time. However, perfecting a dice throwing technique still doesn't guarantee a win in craps.
About the Author