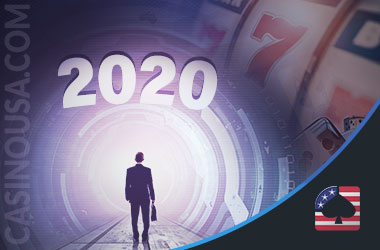 2020 has been a challenging year for everyone living on this planet. The world as we know it changed overnight thanks to a pandemic that affected all spheres of life in some way, including the casino industry.
Even the most popular brick-and-mortar casinos in the world's gambling capitals such as Las Vegas and Macau had to close their doors to their visitors, which significantly affected their profit.
Yet, not all the parts of this billion-dollar worth industry have suffered such a loss during 2020.
On the contrary, for online counterparts of land-based casinos, this notorious year has been more than prosperous.
Land-Based Casino Venues Shut Down in 2020
The global pandemic that quickly spread to every part of the planet in 2020 created the most damage to all the industries that base their business on in-person services. The casino industry belongs to this unlucky group as all the gambling action happens in large casino venues full of people around the clock.
The initial precaution measures weren't at all that bad. The authorities demanded from owners of brick-and-mortar casinos to impose and follow a strict policy regarding health protection.
In 2020, the casino hotels sector in the US plummented by 83% compared to 2019 due to the pandemic. Meanwhile, the sector is forecast to recovered by 58% in 2021.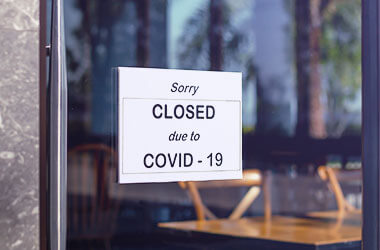 The maximum number of people who could be in a casino simultaneously was determined according to the venue's size. Everyone was supposed to wear a mask and sanitize their hands.
However, since the end of the pandemic wasn't in sight, the majority of countries eventually ordered the closure of all non-essential industries to minimize the chance for people to get sick. Therefore, all brick-and-mortar casinos had to put their operation on hold until the global health crisis finally comes to an end.
This practice cost the casinos a lot of money, as they were basically out of profit for months. Yet, they hoped that everything would go back to normal once they got the approval to start operating again.
Unfortunately, the reopening didn't go as planned.
Namely, the authorities decided to allow land-based casinos to resume their operation provided that they put in place certain health-protection measures, including the following and more:
Casino capacity capped between 25% – 50%
Temperature checks before entering
Splitting machines up for social distancing
Banning table games
Players can only eat or drink while seated
These restrictions caused the decrease in the number of people casinos could fit within their venues, but this wasn't the only thing that changed.
People got scared for their health and wellbeing, and so they avoided large gatherings. Moreover, during the pandemic, people discovered that they could play their favorite casino games online without actually visiting casino venues, which led to a further decline in land-based casino visitors.
Pandemic Helped Online Casinos Flourish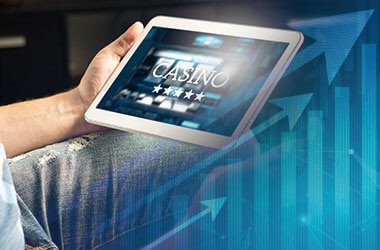 When it comes to online casinos, things could not have been more different. While brick-and-mortar casinos suffered the worst fate and could do nothing about it, online casinos started gathering more followers day by day.
Nevertheless, it wasn't the closure of land-based casinos that caused this enormous success of online casinos. It was the quarantine that kept people locked inside their homes and limited all the outdoor activities. As they couldn't spend a lot of time outside, people had nothing better to do with their free time but spent it on the internet.
Apart from the regular casino players who simply substituted land-based casino visits with online ones, many new players started joining online casino platforms. This caused massive online gaming traffic that hasn't been seen so far, and online casinos decided to snatch the golden opportunity.
The existing casino sites focused on updating their game libraries and making them as similar as possible to real-life casinos. They paid particular attention to live dealer games that were the perfect solution for all the players longing for real casino action.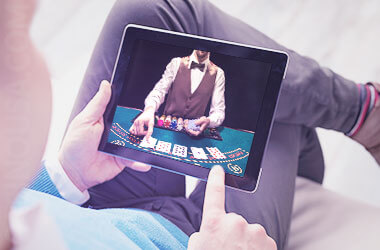 Furthermore, many new casino sites were launched during 2020 due to the high demand for online venues for playing casino games.
Another reason why online casinos quickly made players forget about land-based gambling halls was the number and variety of games on offer. While brick-and-mortar casinos could only fit as many tables and slot machines as the physical venue would allow, online casinos don't have any limits in this regard.
Some web-based casino operators have joined forces with the best game developers and created game portfolios counting thousands of games players can choose from any time they want.
Additionally, players can easily switch from one online casino to another, and the bonuses are usually highly rewarding.
Lack of Sports Events Further Helped the Progress of Online Casinos
The 2020 pandemic affected the sports industry as well. But how did that help online casinos become more popular?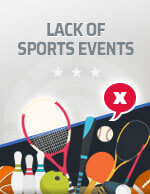 Well, for a start, a total lockdown at some point also applied to sports, and even the world's most popular competitions, such as the Olympic Games, got postponed or even canceled.
Consequently, the sports betting industry, one of the major products of the popularity of sports, felt the ground it stood on shaking.
Obviously, with sports betting gone from the gambling map, online casinos were the only dash of hope in this niche.
The majority of avid sports bettors who needed their daily dose of excitement turned to classic casino games while waiting for sports to get back on schedule.
Once that happened, many sports lovers went back to their online sportsbooks, but many players kept visiting online casinos along with online sportsbooks or joined one of the platforms that offer the best of both worlds.
Future of the Casino Industry
Fast-forward to 2021, and we're witnessing many changes in the casino industry and life in general.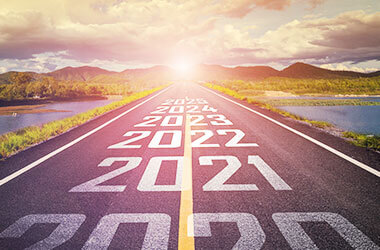 In many countries, people went back to their daily life, while there are still some areas of the world where the pandemic dictates the rules.
When it comes to land-based casinos, they are trying to operate in accordance with all the safety measures and bring back their regular customers while attracting new ones at the same time.
The current vaccination process has been immensely helpful here as the casinos whose employees have vaccinated will be allowed to increase the gaming floor occupancy, which is crucial for their financial recovery.
As for online casinos, there's nothing to worry about. Their virtual premises allow them to accept as many players as they want, and they don't have to worry about vaccination either.
Perhaps online casinos will lose a small percentage of visitors once land-based casinos return to their former glory, but this certainly won't be anything major. After all, there's nothing a slightly bigger bonus, and lower wagering requirements can't fix.
If you interested in how online casino bonuses work, check out our in-depth blog post here.
Final Thoughts
In 2020, we realized that the world around us could significantly change in a flash. The casino industry has felt this too, and its future can only be discussed but not predicted with certainty.
If you have an opinion on how 2020 changed this lucrative industry, please share it in the comments below so we can learn how the situation is viewed from different perspectives.
About the Author