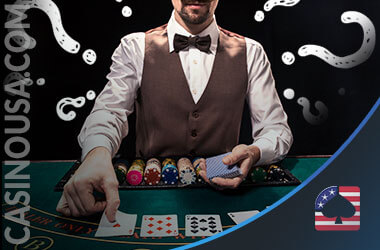 The basic course of action to take if you want to become a casino dealer/croupier is straightforward:
Learn how the job works and what the tricks of the trade are
Apply and obtain a casino dealer license
Apply for a role to start working
It sounds simple enough, but you need to know many things up front, especially for the first two steps.
I can't give you a license so you can go ahead and apply for the job you like, but I can certainly give you some tips on what you need to do to improve your chances of getting accepted.
But that's not all, and since we have a lot of ground to cover, let's jump right in!
Pros and Cons of Being a Casino Dealer
Before we begin, we should first discuss the advantages and disadvantages of being a casino dealer. Some of these are likely known to most, but there are some that people rarely consider.
High tips — Dealers can make up to 30% more just from tips.
Free food — In most casinos, dealers can get free meals as part of the job.
Meeting new people — As a dealer, you'll come into contact with a wide range of interesting people.
Flexible working hours — This is true in most cases, but bear in mind that sometimes, you'll be required to work specific hours.
Opportunity to earn a lot more — The best thing about being a dealer is that the more sociable a dealer you are, the more money you can make. Such dealers get more tips and are often placed at VIP and high-roller tables where the pay is higher.
Low starting salary — The base salary of a live dealer is usually around $14,700 a year in the US, but this can grow exponentially over time, especially when you combine it with tips.
Working late hours — In some cases, you'll be required to work late in the night or during some other unsociable hours.
Types of Dealers You Can Choose to Be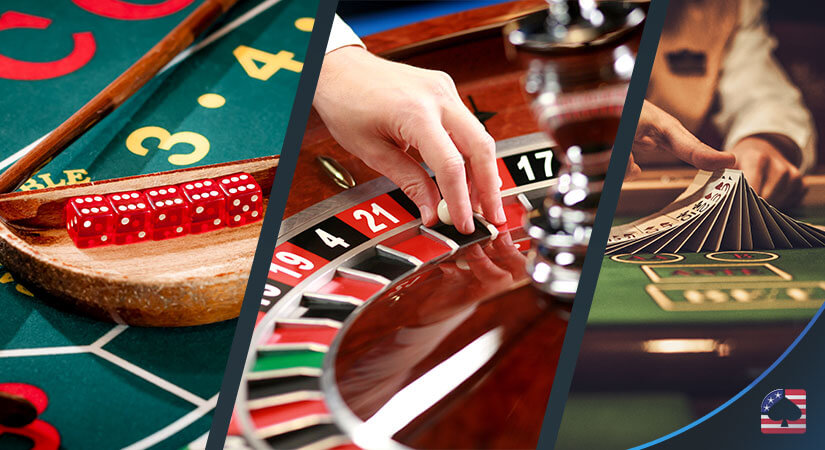 As you can expect, there is no one-size-fits-all when it comes to dealers. Here are the most common types of dealers:
Croupier
A croupier is typically the dealer working at a roulette table.
Their responsibility is to direct the game by:
Spinning the wheel
Dropping the ball
Issuing chips and winnings to players
Making announcements like the results and lost bets.
Craps Dealer
The craps dealer has a unique role as this is the only dice game on offer in a regular casino.
In most cases, the craps dealer works together with a second dealer, and they need to collect bets and make payouts besides directing the game.
The first dealer is responsible for one half of the table and the second dealer for the other half.
Live Casino Dealer
Live dealers have a unique role in the sense that they don't work in a typical casino but a studio from where the game is broadcasted online so players can enjoy it from the comfort of their homes.
So, the live dealer never comes in contact with the players.
Some consider this to be the ideal position as there is always work for a live dealer, while regular dealers often only keep seasonal jobs while the casino is open.
Skills and Abilities You Need to Have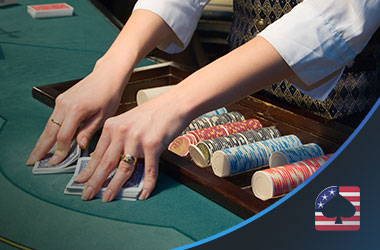 Before you begin learning about what you'll need for this career, you need to ask yourself:
Is being a casino dealer the right thing for me?
Even if you truly want to become a croupier, you need to understand if the role fits you and vice versa.
Bear in mind that the role is not what most people think it is. They believe it's all money and glamour, but it's quite different than that, and it's wildly different from what you see while sitting on the other side of the table.
It's a big responsibility as well. As a dealer, you're entirely in charge of your table and what happens on it.
So it's certainly not all fun and games. Here are the things most casino dealers are responsible for:
Setting up the table before the game
Ensuring all the wagers and chips are in place before the game begins
Welcoming new players
Keeping players feeling good and comfortable
Maintaining the pace of the game
Explaining the rules and procedures when necessary
Handling the equipment effectively and without damaging it
Keeping the math in mind all the time, especially about the bet amounts
Keeping an eye out for professional gamblers and card counters
Reporting illegal or suspicious activities to floor managers promptly
To gain a better perspective of the role, here are the abilities and skills you need to have if you want to be a good dealer:
Amazing hand-eye coordination
Good math skills
Resilience and calmness
A friendly and warm personality
Professionalism
Good communication skills
Ability to stay concentrated for a long time
Flexibility in regards to working hours
Clean and tidy appearance
Perfect color vision
Education a Potential Casino Dealer Needs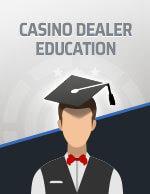 Becoming a dealer doesn't require a college degree, but you still need some education. The best way to go is to apply at a dealer school, where the course usually takes around eight to twelve weeks to complete.
Once you've done with the course, you'll have the requirements to get accepted at a dealer position you desire.
However, the schools themselves have requirements of their own. You need to:
Be 18 years of age or older
Have a GED or high school diploma
Have no theft-related felonies or misdemeanors
Naturally, you also need to ensure that the school has what you need. You want the school to:
Have teachers who are also full-time dealers or at least have enough experience as dealers
Have teachers for all types of dealers you can become, especially the type you are most interested in
Provide interactive training
Offer assistance for the job search after you finish
It's best to attend a school, but you can also opt for another path. You can always try for on-the-job-training, which is something many casinos offer, especially newer ones.
You also need to know that each state has its own gaming control board in charge of regulating gaming licenses, including the licenses for casino dealers. So you need to check the rules and regulations in your state before you begin.
Additionally, a casino might have some unique requirements as well, so make sure to check that before you apply. One common is passing a drug test.
Tips for the Job Interview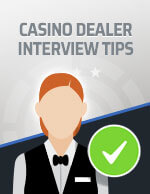 As always, it's best to be prepared for every job interview. Besides the usual, you would do well to learn some tricks of the trade from professional croupiers.
Here are a few I've managed to collect from extremely talented casino dealers:
Dress professionally, as this will show you already look the part.
If you are a man, you need to be freshly shaven, and if you are a woman, your hair should be tidy and tied back if it's long. You shouldn't wear any jewelry, and you should have your piercings and tattoos covered if you have any. This is how a dealer is expected to look, so it's good to look like that in the interview as well.
Practice the card games you'll be working on. You'll likely be required to demonstrate your skills during the interview, so it's good to come prepared. The best thing you can do is organize a game night for your friends with you as the dealer.
Never gamble in the casino before or after the interview, as this is not something the management wants to see from a potential new employee.
Learn some dealing tricks from YouTube. Alternatively, you can buy some books on dealing from Amazon.
About the Author