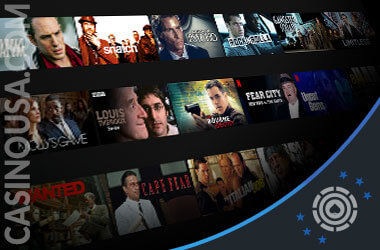 Whether you've visited real land-based casinos before or you've only experienced the excitement of their online counterparts, you know how intense and thrilling gambling can be.
If you ever need a break and you're looking to unwind from all the intensity and high stakes, I've got the solution for you, which will help you relax without straying away from your favorite pastime. Namely, Netflix has plenty of highly regarded casino-themed movies, including a few dramas, comedies, and actions.
So, if this sounds interesting to you, take a look at some of the best casino movies you can find on Netflix.
Croupier (1998)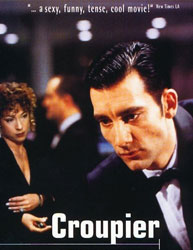 Although it received a lukewarm response upon its release in the UK, Croupier won over the US audiences in a flash. Regarded as one of the best neo-noir movies from the late 1990s, Croupier stars Clive Owen as an aspiring writer who takes a job as a croupier to make ends meet.
Owen's character finds himself drawn into the casino world, showing the viewers the dark sides of gambling.
However, don't expect to see any tension-filled poker scenes in this movie. Croupier offers a different perspective on gambling, including players' characteristics, their fortunes and misfortunes, as well as the life of a disregarded croupier.
Even though this movie's portrayal of the casino world is brilliant, it might not be entirely realistic. However, it might make you look at the croupiers differently next time you visit a casino.
Casino (1995)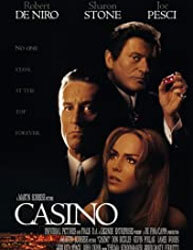 One of the most intriguing casino-themed movies stars some of the biggest Hollywood names, such as:
Robert de Niro
Joe Pesci
Sharon Stone
Don Rickles
Judging by the list of the actors, you know you're in for a masterpiece. Casino was directed by Martin Scorsese, who also co-wrote the screenplay.
The movie showcases the casino and mafia-run scene in the '60s and '70s Las Vegas. Viewers can expect tons of action, as Casino explores the lives of high-rollers in one of Vegas' most prestigious locations.
This cinematic work of art covers a range of human emotions and characters through Scorsese's visually extravagant narrative.
If you're interested in learning more about the Las Vegas casino world, this movie should be on your must-watch list. After you watch it once, you'll want to watch it over and over again.
21 (2008)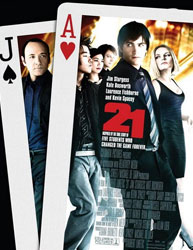 Despite receiving a mixed reaction from both the public and the critics, 21 is still regarded as one of the top blackjack movies ever made.
Starring Jim Sturgess and Kevin Spacey, 21 tells a story of what happens when a talented student gets involved in the dark casino world.
Sturgess takes on the role of a mathematical genius recruited by an MIT professor, who is played by Spacey. From there, a group of gifted people travels to Vegas intending to win big bucks through blackjack deceit. This movie might be your cup of tea if you're into the perfect combination of drama and action.
To learn what happens to Sturgess's character, head on over to Netflix. Just make sure to watch the whole movie before you get any ideas about counting cards!
Ocean's Eleven (2001)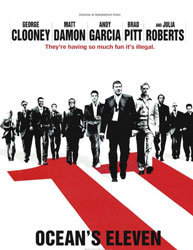 Even if you've already seen Ocean's Eleven, it might be time for a rewatch.
The movie directed by Steven Soderbergh is one of the most popular casino-themed movies in the world. And how could it not be? When you take a look at the star-studded cast, including George Clooney, Brad Pitt, Matt Damon, and Andy Garcia, among others, you can only expect action-packed and thoughtfully directed scenes.
This mind-blowing ensemble takes you on a heist of three major casinos in Las Vegas without leaving out the comic relief. That's probably one of the reasons why Ocean's Eleven was such a commercial success. Besides, Soderbergh's characteristic style is noticeable in the movie, so you can expect to see elegance, glamour, and entertainment at every turn.
If you love the never-ending glamour of Las Vegas and its top-tier casinos, this is the movie for you. But don't get any ideas while watching it!
Molly's Game (2017)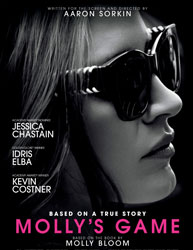 If you're into an entirely different genre of movies, Molly's Game might be the right casino-themed choice for you.
This American biopic is a directorial debut of an award-winning writer, Aaron Sorkin. The star-studded ensemble led by Jessica Chastain tells the story of Molly Bloom, a young woman who had and lost it all.
So, if you've ever been interested in finding out what happens during illegal high-stakes poker games and whether celebrities really attend them, you should check out this one.
The movie was based on Molly's autobiography called Molly's Game: The True Story of the 26-Year-Old Woman Behind the Most Exclusive, High-Stakes Underground Poker Game in the World. It's a good read if you have the time, but if not, you'll find the movie on Netflix.
Mississippi Grind (2015)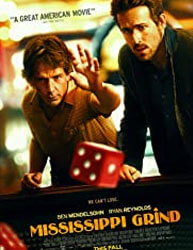 If you're looking for a hidden treasure of casino-themed movies, you'll find it in Mississippi Grind.
The movie starring Ryan Reynolds, Ben Mendelsohn, and Yvonne Landry is considered one of the best casino-centered movies. Don't expect to see the glamour of high-stakes casinos in this one, though. Instead, you'll get to follow the two main characters on their road gambling journey down the Mississippi River.
Mississippi Grind was well received by both audiences and critics, thanks to its drama-inspired script with hints of comic relief. On top of that, it offers a deeper look into players' psyche and the mindset that's always focused on triumphing.
Watching it, you'll notice an homage to the 1970s character-driven, landscape-besotted movies. Even though you might be left with some unanswered questions, one thing is for certain — Mississippi Grind will keep the wheels in your head turning.
The Gambler (2014)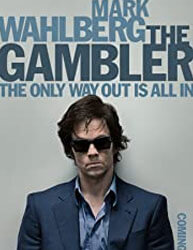 The 2014 version of The Gambler is based on the 1974 original of the same name.
The newer production stars Mark Wahlberg as a literature professor who uses gambling as means of self-destruction. Once he finds himself way over his head, the main character has only seven days to pay off his debt.
As you can tell, The Gambler is filled with drama and action. While following Wahlberg's character's ups and downs, you'll also see how loan sharks and underground casino owners collect debts.
Both critics and audiences praised Jessica Lange, who played Wahlberg's mother, and Brie Larson, who had a role of a student and part-time croupier in one of the underground casinos. So, if you're looking for an exciting drama that you will watch without blinking, this is the perfect choice for you.
Win It All (2017)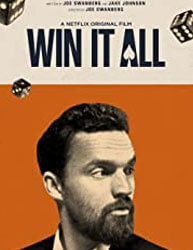 This movie premiered at the South by Southwest festival. It gained a lot of attention from critics and praise from movie buffs. After that, it went straight to Netflix, so you can watch it from any location in the world.
Win It All tells a story of a gambling addict portrayed by Jake Johnson. The main character finds himself in many unfortunate situations that only aggravate his addiction further. By watching these, you'll get a chance to learn more about the psychology of a gambling addict.
Critics praised Johnson's performance in the movie, and the directorial and editing styles of Joe Swanberg. So, if you're intrigued to learn what happens next, make sure to find Win It All on Netflix.
About the Author