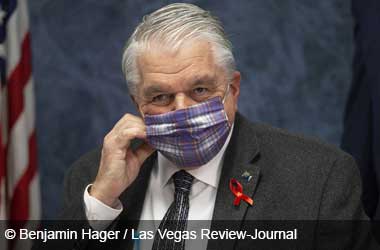 Nevada was keen to get its casinos industry up and running at the earliest. Casino operators put in place a number of measures before they reopened but have found that it is has not been easy to get patrons to follow protocols.
COVID-19 is still hitting everything hard and the risk of infection is still high, especially in crowded places like casinos. Nevada Governor Steve Sisolak has decided to add to the precautions by requiring mask usage in various public settings. This includes using it at Nevada's casinos.
This announcement was made on June 24 and will become effective on June 26. The reason for this directive is a recent spike of COVID-19 cases. According to Nevada Health Response , 483 cases were reported on June 23, which is part of the nationwide spike that has seen more than 14,000 cases reported.
KTNV Channel 13 Las Vegas
Masks and social distancing are the main ways for people to protect themselves from person-to-person transmission. This is especially so when they are planning to outside. Governor Sisolak agrees on this which is why he has required people to cover their nose and mouths while they are in a public space.
Considering that Nevada is dominated by the tourist and gambling industry, many places are now part of that restriction. With constant contact in casinos, these establishments are especially risky. There have already been reports that several Strip casinos have had their employees test positive for COVID-19, despite all the current precautions. The reason might be because while employees are all required to wear masks, customers do not have to cover their faces with masks.
Recent Reopening
Nevada's casinos are still trying to recover from their forced closure for nearly 3 months. They finally reopened their doors to the public on June 4, after being closed for 78 days. Casino Operators are serious about their patrons' health and they are already taking steps to be more vigilant. Caesars Entertainment required facial masks to be worn at all times inside the company's casinos nationwide, even before Governor Sisolak's directive.
Gaming operators have been happy with the Governor's decision to require masks to be worn at their casinos. Wynn Resorts said that they see no problem with masks and they don't affect their employee's performance. MGM Resorts has also agreed with the Governor's decision and plans to integrate the usage of masks in all of its casinos
About the Author