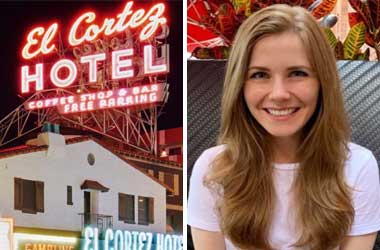 iGaming operators tend to experiment with different digital marketing strategies to stay ahead of their competition. Land based casinos in Las Vegas are borrowing some of these marketing strategies to see if they can generate more foot traffic during the COVID-19 pandemic.
Las Vegas casinos have suffered a significant decline in foot traffic ever since the COVID-19 epidemic forced a shutdown. Land based casino operators are realizing that players need to be coaxed a little to step out of their homes and visit the casinos.
El Cortez Hotel and Casino which is located in downtown Las Vegas is one of the casinos that decided to experiment with a digital strategy to increase foot traffic. The casino has teamed up with a female YouTube influencer Sarah, aka "Slotlady" who has over 170,000 subscribers.
The YouTuber who is based in Canada visits El Cortez Hotel and Casino and plays a lot of different slot machine games. The entire experience from start to finish is live streamed to her growing audience. The livestream gives players a breakdown of how she selects the slot machines, starts the game, places her bets and their outcomes.
Slotlady
The video records all of her wins and losses and gives viewers a real time streaming experience. Viewers get to see the highs and lows of playing the slot machines and also take away tips and advice from the YouTuber.
One of her videos for example focuses on the Wheel of Fortune gold spin slot machines. She starts out with a $500 bankroll and plays at $10 per spin. While she has a good audience in the United States, the YouTube has subscribers from all over the world.
Casino Impressed With Results
Casino operators experiment with different marketing strategies and not all of them work. However, this YouTube streaming experiment has paid off for El Cortez Hotel and Casino as GM Adam Wiesberg confirms they get a lot of foot traffic coming in and asking whether the YouTuber is currently streaming from the casino.
Wiesberg said this new marketing strategy is working well during the COVID-19 pandemic as viewers can see that everyone in the casino are wearing masks and people are playing the slot machines. Given the fact that a lot of the YouTuber's audience is female, it is also a positive for the casino as more female players are starting to come in.
We will have to wait and see if more Las Vegas casinos adopt the YouTuber influencer marketing strategy.
About the Author