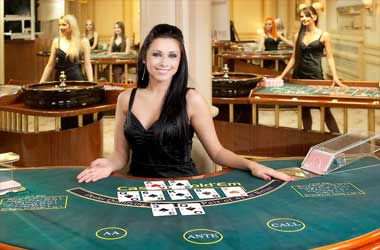 The Golden Nugget online casino has just added a new offering to its line-up: a live-dealer game called Casino Hold' Em.
This is an interesting game that is similar to poker. The main difference is that instead of betting against other players, Casino Hold' Em allows bettors to bet against a bank. It retains a bit of the Texas Hold' Em rules in that the players and the dealer each get two cards and a river of three cards is laid in the center of the table. The main bet is whether the dealer or the player has a better hand.
Live dealer casino games have become very popular in recent years as it allows players to gamble online while also providing them with a real dealer. The dealer is filmed on a live set in a particular location. One of the most attractive features that make live-dealer games so popular is that it allows players to interact with other players thanks to the chat window.
Ezugi Platform
Normally, when you play at an online casino it ends up being mostly a solitaire affair. These live dealer games change the dynamics of an online casino as players have lot more interaction and also have the option of tipping their live dealer. Golden Nugget entered the live dealer casino market in 2016 and has an impressive list of live dealer games including Blackjack, American Roulette and Dragon Bonus Baccarat. These live dealer games have done very well for the online casino and have beat initial profit projections. As a result, Golden Nugget has decided to add to its list of live dealer casino games by launching Casino Hold'em.
The quality of the live dealer casino software is critical to the success of these live dealer games and Golden Nugget decided to partner with Ezugi New Jersey. The live dealer will work out of a studio in Atlantic City and will be live streamed from the Golden Nugget website.
In a statement, Kfir Kugler, CEO at Ezugi New Jersey said
We are again honored to partner with GoldenNuggetCasino.com and Golden Nugget Atlantic City to bring the first ever Online Live Dealer Casino Hold'em to America and New Jersey. America is in love with poker, and by using the Live Dealer platform; the game retains its strong connection between the player and the dealer in a live environment.
About the Author