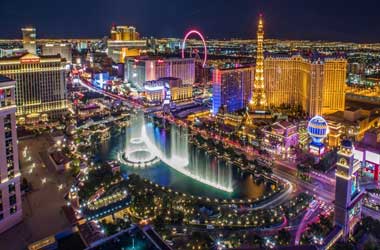 It's been 10 years since Nevada saw its gaming industry in full bloom as the casino industry took a major hit after the global recession in 2007. Nevada is finally steering clear of the effects of the recession as a new report has shown that the casino industry has done rather well in the 2017 fiscal. One of the main reasons for this recovery is because the Nevada casino industry has continued to focus on developing non-gaming amenities.
The Nevada Gaming Control Board released its annual Nevada Gaming Abstract to showcase the total revenue made by state casinos grossing $1 million or more for the fiscal year that ended in June 2017.
According to the report, the 272 casinos that were included in the report generated a net income of almost $1.6 billion after a total revenue of $26.2 billion. The numbers reflect a 3.7 percent increase in total revenue and a whopping 59 percent increase in income from last year's earnings.
But while the numbers are rising again, Michael Lawton, senior research analyst for the board, noted that earnings are still well below the peak. In 2007, the control board reported in its Gaming Abstract a total net income of $2.3 billion after total revenues touched $25.3 billion.
This year, gambling only accounted for 42.4 percent of the total revenue. The major portion of revenues came from non-gaming components of the industry which includes room occupancy rates, food and beverage and other entertainment options.
According to Lawton, this is the 6th straight year gambling revenue has increased, totaling $11.1 billion in 2017. While it looks good for Nevada's casino industry, this is still 11 percent lower than 2007 levels.
Zooming into the breakdown of the revenue per county, Clark County generated $1.3 billion out of the $1.5 billion total income. The Las Vegas Strip contributed largely to this sum, bringing in $814 million in net income to the state total, a huge 191.4 percent increase from last year's numbers. This is the second year that the Strip has seen an increase in profits, bouncing back from the seven years of consecutive net losses from 2009 to 2015.
Some of the other counties that have done well include Washoe County which brought in $126 million, Elko County which made $49 million, South Shore Lake Tahoe recorded $27 million, and Carson Valley Area which brought in $11 million.
About the Author