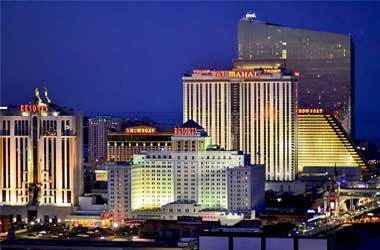 Atlantic City's economy has suffered during the last decade mainly because the once thriving gaming industry has been in decline. After years of declining casino revenues, the city might be on the verge of turning things around. There are several factors that seem to indicate that 2018 will be the year, when this southern New Jersey city will experience a revival.
The biggest indication of this potential rise is the reopening of the former Trump Taj Mahal. Once a piece of Donald Trump's casino empire, it will now reopen as a Hard Rock casino resort this summer.
Billionaire Carl Icahn was forced to close the Trump Taj Mahal back in 2016 because of a union dispute and the Hard Rock went on to purchase the property since then. Hard Rock has invested quite a bit of money into creating a great entertainment destination. The main focus of this new location will be music and a the company has plans to showcase indoor performances, beach concerns and will also bring in top performers to put on a show going forward.
Another sign of Atlantic City's resurgence is once again connected to Icahn and Trump. Icahn also bought the Trump Plaza Casino and plans to demolish it this year. Located near the foot of the Atlantic City Expressway, it is a prime location for any project that will come up.
However, this may be delayed since Icahn is applying for $5.6 million in state assistance to help with the $13.2 million cost. Besides these changes, the reopening of the former Revel casino seems to be on the horizon.
CBS Philly
The former Revel casino, which closed back in 2014 is the current target of a revitalization plan. Bruce Deifik is a Colorado developer that leads a group with a lot of money to burn. They have already revealed their plan to purchase the property for $200 million and then pump in an additional $175 million to transform it.
Before 2014, there were 12 casinos in the city. Five of them closed down by the end of 2016. With the potential of two casinos opening soon, it could put a bit of pressure on the seven current casinos in Atlantic City.
Another big opportunity in the pipeline is the New Jersey case before the Supreme Court to legalize sports betting. Only four states in the US allow sports betting as of now: Delaware, Montana, Nevada, and Oregon. They all benefit from the large revenues that sports betting generates. If New Jersey gets approval to offer sports betting, Atlantic City's gaming revenues will increase significantly and the city will see a boost in its economy.
About the Author