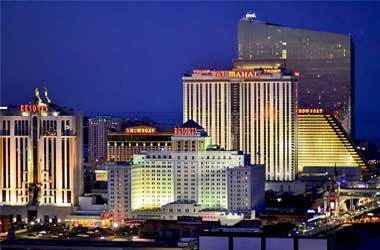 Casinos in Atlantic City have started the new year on a positive note with a 7.7 percent increase in their January gambling revenue.
The latest results released by the New Jersey Division of Gaming Enforcement (NJDGE) shows that the remaining seven casinos in the city netted $204.6 million from gamblers in the first month of the year.
The revenue collections yielded $16.5 million in taxes to the state. The strong performance is welcome for the struggling gambling hub which has seen five of its 12 casinos shut down, with the latest being Trump Taj Mahal.
Internet gaming was a key contributor to the growth witnessing a healthy rise of 28.6 percent over the previous year, bringing in revenue of $18.8 million. The simultaneous increase in both forms of gambling has sparked interest in industry observers.
SNJ Today
In a statement Tony Marino, an independent transportation analyst and former Atlantic City Expressway executive said,
It is well to remember that brick and mortar versus internet gaming win numbers do not always move in the same direction in any given month. This January, however, both significantly increased
While all casinos registered an increase in their revenue, Caesars Atlantic City topped the list with growth of over 41 percent to record $28.2 million. Apart from Caesars, Borgata Hotel Casino & Spa and Tropicana Atlantic City recorded double digit growth. Bally's saw the smallest gain.
Borgata with $64.3 million had its best January ever, seeing an increase of 13.5 percent. Next was Harrah's which was up by 1.1 percent to $28.1 million. Tropicana saw an increase of 14 percent reaching $27.3 million. Golden Nugget at $23 million was up by 20.2 percent, followed by Bally's at $14 million, up by 0.6 percent and finally Resorts at $12.3 million with a growth of 8.6 percent.
In the internet gambling market, the Golden Nugget and Caesars Interactive NJ moved ahead of Borgata hitting $4.7 million while Borgata was at $3.7 million. Resorts Digital grew by over 120 percent to $3.1 million and Tropicana climbed by 6.5 percent to $3 million. Colin Mansfield, a casino analyst with Fitch Ratings expects the casino industry to remain stable in the coming months despite the sharp rise in revenue.
There was a referendum in November 2016 that wanted to remove Atlantic City's monopoly over the casino industry in New Jersey but voters decided against the move as they believed setting up new casinos outside of Atlantic City will further hurt the struggling casino industry. The fact that the casinos have done well in the first month of the year, will be an encouraging sign to the NJDGE.
About the Author