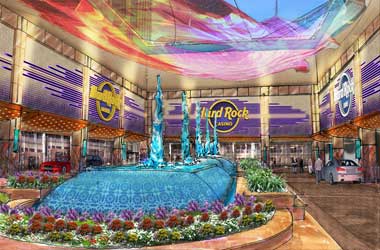 The Hard Rock acquired the shuttered Trump Taj Mahal casino earlier this year but had to wait nearly 7 months to commence construction at the site.
The Hard Rock Hotel and Casino Atlantic City showcased its very first billboard on the site earlier this week and announced that the casino is set to open in the summer of 2018.
The unveiling was attended by Matt Harkness, president of the Atlantic City Hard Rock and investment partners Joe Jingoli, Jr. and Jack Morris.
The signs stands along the corner of Absecon Boulevard (U.S. Route 30) and Virginia Avenue.
The rebranding of Trump Taj Mahal casino hotel into Hard Rock Hotel and Casino was first announced in April this year. The reconstruction was then estimated to cost nearly $400 million but that number has now been updated to mirror demolition costs among others and has been set to $500 million.
CBS Philly

Demolition work has been going on since July as workers had to remove the remnants of the old Taj Mahal. Interior demolition work is almost finished and renovation and construction work is expected to commence shortly and provide more than 1,000 employment opportunities.
The soon-to-be-erected 21,000-square- foot Hard Rock Casino in Atlantic City will feature 2 separate performance arenas that will offer a seating capacity of 7,000 and house more than 2,400 slot machines. The company also teased that the new casino will bring back Hard Rock's signature décor concept, featuring nostalgic rock and roll pieces and memorabilia.
The opening of the casino has been met with both positive and negative sentiments but the company believes that Hard Rock Casino will only serve to strengthen Atlantic City as the second biggest gaming market in the United States. Atlantic City has been hit hard with the expansion of gambling in Pennsylvania and New York and the City is still recovering from its losses from the shutdown of five of its 12 casinos over the last three years.
Morris believes that the opening of the new casino will bring back people to Atlantic City and the new casino resort will also create as many as 3,000 new jobs once fully opened. Hard Rock is yet to fully disclose its plans for the new property but is expected to do so in the coming months.
In a statement, Matt Harkness, Hard Rock's property president said
We're going to have the fun, relaxed vibe that we specialize in at all of our properties but what you will see here will be like nothing else anyone has seen along the East Coast
About the Author