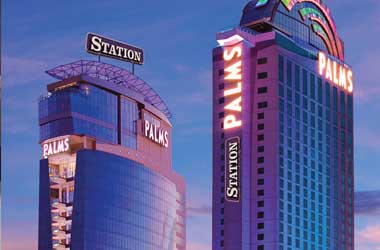 Station Casinos has announced that it will invest $485 million into its Palms Resort which is located off the Vegas Strip to give the iconic property a major makeover. The company will concentrate on non-gaming offerings going forward as it looks to attract a new demographic that are more interested in spending money on entertainment services than the casino.
Station Casinos owns and operates a number of properties in Las Vegas including the Red Rock Casino, Boulder Station, Palace Station, Texas Station, Fiesta Rancho and Santa Fe Station.
Station Casinos which is owned by the Fertitta's had a minority stake in the Palms which opened in 2001. They decided to acquire the property for $313 million in May 2016 and will now invest over and above the purchase amount to give the Palms a major makeover.
Some of the new additions to the property will be a dayclub pool that can accommodate up to 5,000 people and be opened throughout the year; a new nightclub that will be run by Tao; a makeover for the existing 282 hotel rooms and luxury suites plus the addition of 60 new hotel rooms; the opening of four new restaurants – two of which will be run by celebrity chefs, a renovation of the Pearl Theatre which currently seats 2,600 and the addition of a new spa which will have 16 rooms.
Frank Fertitta III who is the Chairman and CEO of Station Casinos generally keeps a low profile but was open to sharing his optimism for the Palms Resort as well as for Station Casinos in 2018. He said they had partnered with Palms for the last 10 years and were confident that they knew what would work for the property going forward.
In a statement, Fertitta said
I think we're very confident with what we're doing at both Palace Station and the Palms, given their location along the I-15 corridor and the middle of Las Vegas, with what's going on with the Las Vegas Convention Center and the new Raiders stadium. Las Vegas tourism is outperforming almost every domestic gaming market there is. Same with the locals market
Station Casinos expect the renovations at the Palms to be completed by the end of 2018, if everything goes as per plan. The company also has four development sites in Las Vegas, two in Reno and one in Fresno, California which has positioned Station Casinos for strong growth in the coming years.
About the Author