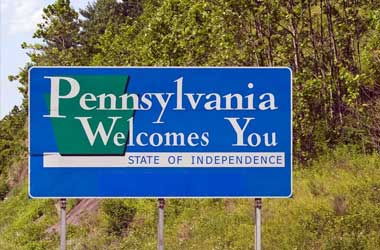 It has been little over a week since Gov. Tom Wolf signed into law a new measure expanding gaming regulations in Pennsylvania, which allows online and mobile gambling, the licensing of gaming terminals in airports and truck stops, and the creation of satellite casinos all over the state.
Mid-state communities within Pennsylvania are now debating whether they should look to attract or ban the mini-casinos brought about by the new expanded gaming bill.
According to the expanded law, a mini-casino housing up to 750 slot machines and 30 table games could be developed 25 miles from a larger competing casino. Bidding for these mini-casino licenses will be held by the Pennsylvania Gaming Control Board on January 16.
CBS Pittsburgh
As of now, only 10 of Pennsylvania's biggest casinos can submit their sealed bids, which start at $7.5 million. The licenses for table games start at an extra $2.5 million.
The problem now emanates on the location of these mini-casinos. As licensed casino operators seek to expand their customer base, mid-state cities such as Williamsport, Altoona, Reading, Lancaster, Gettysburg, York, State College, and Johnstown are being targeted for the construction of these mini or satellite casinos.
The Pennsylvania government and supporters of the expanded gambling law believe that mini-casinos in these cities will bolster tourism, bring in revenue from construction and investments, and create permanent casino jobs for the residents. But the mayors of the targeted cities have different opinions on the matter.
One of the strong opponents of the new measure is the Lancaster Mayor who will probably vote to ban the development of mini-casinos in his city. In a statement, Lancaster Mayor Rick Gray said,
I'm a strong believer that if you want revenue, you should raise taxes. You shouldn't really impose a regressive fee on the hopes of poor people
Some mayors are more flexible about the new gambling measure. Mayor Gabriel Campana of Williamsport admitted he has yet to read up on the new law but said that he would rather raise revenue from different ventures than raise taxes. According to him, he will sit down with his residents to seek their thoughts on the construction of mini-casinos in their city before he decides on his vote.
The municipalities of Pennsylvania have until January 1 to decide on whether they are allowing or prohibiting new casinos in their area. The location provision of the expanded gambling law already crosses out some parts of Pennsylvania as new sites for these mini-casinos. A huge chunk of northeastern Pennsylvania around Mount Airy Casino Resort are banned, including Fayette and Montgomery counties since Resort casinos the size of the proposed mini-casinos are already in place in Fayette and Montgomery.
About the Author