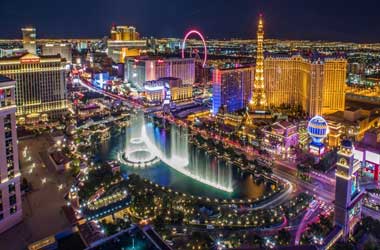 Las Vegas Casinos are currently operating but not at full capacity as casino operators have to strictly comply with the new social distancing regulations that have been imposed. As a result, all of their gaming and non-gaming facilities have not yet opened nor are they running at full capacity.
Fitch Ratings Service, a research specialist in global capital markets has said the Las Vegas strip is recovering a lot slower than expected and a full recovery may only be possible in 2024.
Fitch analysts Connor Parks, Colin Mansfield and Alex Bumazhny pointed out that the Las Vegas strip generated gaming revenues of $6.58 billion in 2018 and 2019. They say that the COVID-19 pandemic will cause gaming revenues to drop by sixty percent in 2020.
CNBC Television
The sixty percent decline does not come entirely as a surprise as Las Vegas casinos were shut down in April and May due to COVID-19. Analysts expect gaming revenues to decline by 50 percent in 2021 and a 20 percent decline in 2022. If there are no other major market interruptions, Las Vegas gaming revenue should return to normal in 2024. The Las Vegas gaming market was predicted to make a much slower recovery last month when compared to all the other gaming markets across the world.
Why Is Las Vegas Struggling To Recover?
Given the fact that Las Vegas is the second biggest gaming market after Macau, it is a bit surprising to see Las Vegas struggle to recover. However, when you take a deeper look into the numbers, it begins to make more sense.
Las Vegas generates over 60 percent of its overall revenues from the non-gaming sector. This includes hotel accommodation, entertainment, shopping, dining and nightclubs. However, with the restriction of airline travel and the ability to hold conventions, non-gaming revenues have been hit hard.
There have been no conventions in Las Vegas for the last 5 months and there is no indication as to when conventions will resume. McCarran International Airport in Las Vegas reported a 56 percent decline in air traffic in August 2020.
Gaming revenues have also been hit because casinos are not operating at full capacity and VIP gamblers coming in from China has slowed down. VIP gamblers generate over 16 percent of gross gaming revenue in Las Vegas.