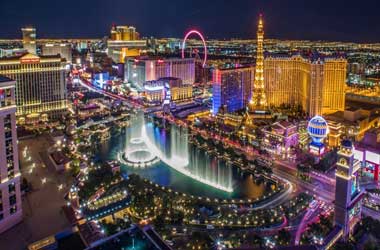 Market analysts and observers evaluating the economic effects of COVID-19 on Las Vegas' casino industry believe that the world-famous Vegas Strip will need at least three years to recover financially. Based on the analysis of Macquarie Securities' Chad Beynon, the Vegas Strip's recovery within three years depends on one key factor.
Beynon stated that the Las Vegas casino industry cannot regain their losses without a vaccine for COVID-19 becoming available to the public.
Dr. Anthony Fauci, the head of the National Institute of Allergy and Infectious diseases and a chief contributor to the continuing recovery efforts of the US, believes that the earliest possible date for a COVID-19 vaccine is at the tail-end of 2020.
Currently, the US has to deal with periodic spikes in COVID-19 positive cases in specific areas and the only answer as of now is to be in lockdown mode.
Beynon pointed out that the Las Vegas casino industry can only recover in the next three years provided the COVID-19 vaccine is ready before the end of 2020. The three-year timeline offered by Beynon is simply an estimate as to when Las Vegas can break even since the casino shutdowns imposed by the COVID-19 pandemic.

ABC News
After the break even period, Las Vegas casinos will still have a long way ahead of them to return to their profitable ways. As of now, there is no clear indication as if and when a COVID-19 vacation will be ready for release.
Nevada's Core Industry Threatened
Gaming and tourism are key tourism drivers to Las Vegas. In 2019, Nevada generated $19 billion in revenue from these sectors, with $6.8 million coming from just Strip-based casinos. The casino industry also provided employment for close to 450,000 individuals.
In April 2020, amidst widespread casino shutdowns, Nevada's unemployment rate spiked to 28.2% and would eventually settle at around 15%, which is still 5% higher than the national average. Nevada's revenues were slashed by around 61% due to the changes.
The development of new casinos in Las Vegas has also stalled due to the pandemic. In the past few years, Las Vegas approved a number of casino projects, such as the $4.3 billion Resorts World Las Vegas on the Vegas Strip, originally slated for a late-2020 opening, now scheduled to open in summer 2021. The integrated resort project is now facing an uncertain economic situation once it does open, since the US tops the list of countries being the most negatively impacted by COVID-19.
About the Author